Finding the Root of My Stress – the Most Common Eczema Trigger
Was this helpful?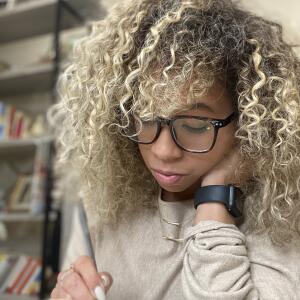 If you are currently living with eczema, it's probably not a surprise that stress is one of the most common triggers of this condition.
Growing up, I don't recall my doctors ever mentioning how my stress may be impacting my eczema. Perhaps it was because they couldn't understand what a child or adolescent would have to be stressed about. Umm, what about our physical appearance, lack of sleep, and pure confusion on why we look different than our peers?
I always knew there was a correlation. Any time I experienced worry or fear of any sort, my eczema would flare up right away. I would feel my heart racing, body temperature increasing, and the rise of an itch boiling underneath my skin. The next thing I knew, I would enter into a vicious itch-scratch cycle, despite desperately trying to calm myself down. I would scratch so intensely that I would lose sight of where I was and what I was doing to myself. In order to bring the itch-scratch cycle to a halt, I would do some breathing exercises and immediately jump into my skincare routine, which included things like taking medication, taking an oatmeal bath, and lots of moisturization. Unfortunately, this was a common pattern throughout different periods of my life, especially around major events like going to prom, graduating college, starting my first "real" job, and dating.
But even though I knew that stressing out would activate my eczema, I never actually thought to get to the root cause until a few years ago.
In 2016, I took a deep interest in self-development books and courses that supported my ability to understand myself better. I realized how much my stress was connected to my mindset and the way I responded to life's circumstances, including my attitude towards my eczema.
One of my favorite books, Power vs. Force, explains it best. Author David R. Hawkins, M.D., Ph.D., writes: "It is generally held by traditional medicine that stress is the cause of many human disorders and illnesses. The problem with this diagnosis is that it does not accurately address the source of the stress. It looks to blame external circumstances, without realizing that all stress is internally generated by one's attitudes. It is not life's events, but one's reaction to them, that activates the symptoms of stress."
Passages like this really got me thinking about how I was dealing with stress, and furthermore, how my stress was impacting my eczema. I went from saying, "I'm stressed out and that's why my eczema is flaring up," to challenging myself by asking, "Why am I stressed out and what can I do to alleviate this stress?"
For example, the eczema on my hands recently flared up so intensely that I couldn't help but scratch some skin off. After going through my own routine of calming myself down – doing a quick breathing exercise while running cold water over my hands – I immediately analyzed whether an emotion triggered the flare-up to occur. I journaled about it and concluded that I was in fact stressed out that I was not meeting my weekly work and personal goals. Instead of staying stressed out, I sought support from a dear friend and created measurable goals that gave me the confidence I needed to get back on track. This process of moving from stress to clarity to confidence alleviated the itch I was feeling on my hands and prevented the flare-up from getting worse.
Once I realized that I had a responsibility to choose how I responded to life's ups and downs, I became better equipped to handle my stress and eczema symptoms when they arose, as well as prevent those symptoms from arising in the first place.
Here are a few steps I have taken to ground myself and get to the root cause of my stress:
I'm a big fan of writing down my thoughts to better understand what is currently taking place in my mind. This is especially the case when I feel stressed out or bothered about something, whether it's eczema-related or not. Journaling provides me with the clarity I need to do something different about my situation.
If you're currently feeling stressed out, I recommend journaling about it. Just let your pen flow without any self-judgment or criticism. Be as honest as you can in order to get the best results. Remember, if you can't be present to what is bothering you or stressing you out, you cannot take the proper action to release it. Repeat this exercise as often as you need to.
When my eczema flares up, I like to "back track" and reflect on what stressors may have caused it to do so. Is it something about my physical location? Was I around others who made me feel uncomfortable? Was I doing something that was causing me anxiety?
I invite you to think and reflect on the last few times your eczema flared up. Was there something happening around the same time that was creating stress or worry in your life? Ask yourself these key questions:
Where were you?
What were you doing?
Who were you with?
Why were you feeling the way you were feeling?
Every time I identify the cause of my stress, I take immediate action that will support me in alleviating that stress. These next steps vary depending on the situation, but they can include things like talking to another person, doing some research, or reaching out to a professional.
For example, if your current job is stressing you out and causing eczema flares, speak with your boss or HR manager on what can be done to help you feel less overwhelmed. If you're having problems with a close friend or partner, invite them to lunch or dinner and have a vulnerable conversation about how you're feeling.
Remember, it's one thing to know about what creates stress in your life and it's another thing to do something about it. As you become aware of what is stressing you out, be sure to take the necessary steps to work through it, ease the burden, and get support so you can prevent it from causing an eczema flare-up.
Was this helpful?