SOCIAL VOICES

Finding the Eczema Management System That's Right for You

Was this helpful?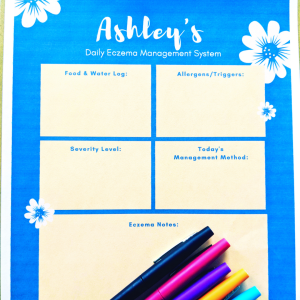 Managing my eczema should be added to my resume as a full-time job, as it leaves me exhausted and overwhelmed. Even with an abundance of resources out there, it's easy to reach the point of misinformation burnout. There's a popular saying: "If you're a jack of all trades, you're a master of none." This is a perfect description of information overload when it comes to finding what works best to treat my eczema.
5 Things You Didn't Know About Stubborn Eczema
At my regular appointments, I'll check in with my doctor about how my treatment plan is working, but there's so much that goes into eczema management beyond just treatment. Lifestyle choices, skincare regimens, mental health–they all play a role, and everyone out there has an opinion. Navigating through the noise to find the best system for me has been a tremendous challenge, but I've grasped the necessary steps to land on what works for my skin.
First, I try to narrow down my main issue so I can focus my research. Recently, I was concerned about continuous eczema flare-ups on specific areas of my body. I started by pinpointing the exact locations: my hands, the front of my ankle, small patches on my upper thighs, and isolated patches on my stomach spreading to my back. It helped to identify affected areas so I could think about possible causes relevant to each spot.
It's important to set clear goals and I'm a huge advocate for writing them out. I believe in the power of jotting down your words with intention for the most beneficial outcomes. Any time I set a goal, I break it down into smaller, doable steps; this helps me not feel so overwhelmed and allows me to notice improvements. It's helpful to mark your calendar for deadlines or progress tracking milestones. I remind myself that any goal takes time to achieve, so I need to allow room for pitfalls when my skin isn't improving.
When I went through this process a short time ago, after I pinpointed my problem areas, one of my goals was to curate a better solution for managing flare-ups if and when they occur. After doing some research, I broke that goal down into parts: one involved deciding to stick to all-natural skincare products with minimal ingredients to avoid irritation, although this isn't always easy. Then I took the smaller step of researching the best products for sensitive, eczema-prone skin, purchased a few that matched what I was looking for, and tested each product one at a time. Changing the shampoo I used while showering, for example, led to a big improvement, as it doesn't irritate my already-inflamed skin while trickling down. I carefully tracked my eczema symptoms after testing each product, and intentionally reserved a period of time to try each one to notice its effects. Now that I've landed on a milder shampoo, I've got another tool in my toolbox to prevent flare-ups from worsening or from developing altogether.
Although healing takes time, you want to make sure you're on the right path by progressing forward. Planning the different stages of these goals helps provide clarity on the outcome. If the results aren't what I expect, then I pivot to a new strategy and keep pushing for improvement.
I'm an avid researcher of eczema information, especially when some new symptom or frustration pops up. But every time I try to look something up online, I'm bombarded with new innovative ways to "cure" eczema from "experts." While I appreciate the various options when it comes to managing my eczema, it's become overwhelming. I've spent hours sorting fact from fiction and wading through content.
Recently, it came to a point of analysis paralysis–I felt like I couldn't make any decisions because there were too many opinions and non-credible sources. I decided I'd had enough of being inundated by the sheer volume of eczema news, because something had to give. Whenever I read an article, I ask myself, "Where did the information come from? Is it biased? Do they only care about profit or are they genuinely trying to help me manage my eczema?" Instead of wasting time on fluff pieces, I seek out accredited information backed by doctors or researchers, as well as content from publications that include evidence-based sources with each article.
Additionally, I read testimonials from patients with eczema alongside medical experts. The eczema communities are genuine and will not lie about their experiences. I know my fellow eczema warriors understand eczema better than anyone. What works for one person may not necessarily work for another, but their insights and perspectives are always valuable.
Remember, there's no "right" way to manage your eczema. However, there are ways to try and give your skin what it needs, the best way you see fit. If you're feeling overwhelmed, then get out of your comfort zone and make a change to your eczema management routine by following these steps–and learning from trustworthy sources. It's one of the best solutions I've found to keep my skin healthy and the stress of my eczema at bay.
Was this helpful?