Atopic Dermatitis Treatments to Relieve Itching
Was this helpful?
With atopic dermatitis, a type of eczema, managing itchy skin can be tricky. You might need to try a combination of anti-itch treatments to best control this unpleasant symptom. If you have eczema and can't seem to manage itching, ask your doctor for advice on treatment options that may work better for you.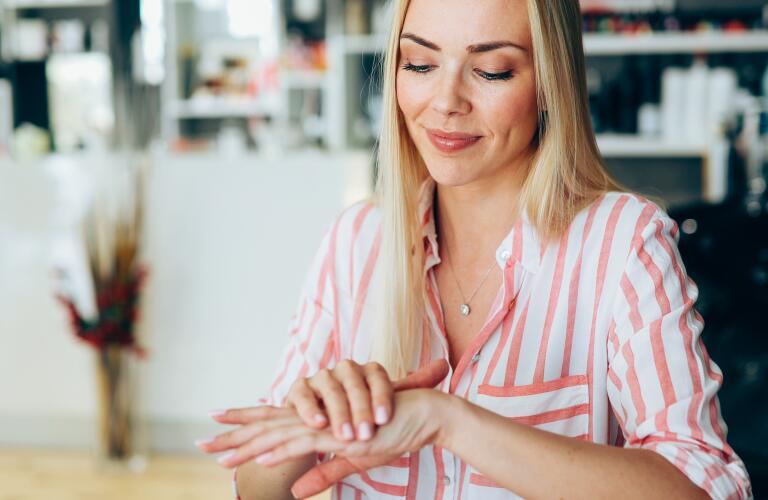 Regardless of the severity of the disease, the majority of people with atopic dermatitis experience itchy skin. And since scratching further irritates the skin the local inflammation intensifies, as does the itchiness! The chronic, or long-term, nature of this type of itching can actually lead to other issues, such as depression, anxiety, and sleeping problems. That's why it's important to try to get a handle on eczema symptoms like itching.
It's also important to try to prevent itch in the first place. You should know your eczema triggers and avoid them as much as possible. Also, your daily moisturizing skin care routine can help keep itching at bay. Topical medications such as hydrocortisone cream and in some cases corticosteroid creams can help, as well as systemic medications like biologics if your eczema symptoms are moderate to severe. You may find it helpful to take a daily bath that includes a soothing agent, such as oatmeal, baking soda, or apple cider vinegar.
Since itching and scratching further damages your skin, it's important to try not to itch areas affected by eczema. If you have unbearable itchiness, first try to substitute another behavior for itching. For example, you can try to pinch the affected skin, or gently press a fingernail into the skin that itches. Some people find that placing a bag of frozen vegetables over the affected area helps, especially if the itching is severe. Be sure to wrap any frozen bags in a towel instead of placing the bag directly on your skin.
Other tips for managing eczema itching include:
Applying a wet wrap to your skin: This typically involves wrapping your affected skin with a topical medication and wet bandages.
Moisturizing frequently throughout the day: You should plan on applying a moisturizing ointment at least twice a day, but more if necessary.
Recognizing stressful situations: Actively work to manage your response to stress.
Staying cool: Overheating can be a primary cause of itchy skin.
Trying a complementary or alternative therapy: Some research indicates acupuncture may help significantly decrease itching while also helping your skin heal.
Using anti-itching creams: Your doctor can let you know which type of over-the-counter anti-itch product is safest to use.
Avoiding dry air: Use a humidifier inside your home or workplace.
Picking the right bedding: Use cotton sheets and blankets on your bed. Be sure to avoid feather beds to prevent overheating.
Sleeping smart: Wear cotton gloves or cut your fingernails to prevent itching while you sleep.
Dressing comfortably: Wear breathable, natural fiber clothing that is soft next to your skin.
It's thought that a variety of factors play into the itchiness that most people with eczema develop. When eczema affects a portion of skin, it causes that part of the skin to release certain chemical messengers. These messengers work by stimulating nerves — and this results in the feeling of itchiness.
Also, the nerve pathways of people who live with eczema appear to be different from those without the condition. It seems as though the nerves affected by eczema become much more sensitive. That means that even the slightest touch can trigger itchiness.
For some people, psychological factors may play a role in itchiness. This may include the conscious or unconscious urge to itch. For many, those urges become a habit. Other people may itch in response to stressful situations.
It's interesting to note that histamine, the chemical messenger responsible for the itch that comes with a bug bite, doesn't play a role in eczema. Therefore, antihistamine medications usually don't help people find any eczema relief.
Chronic eczema itching can be one of the most difficult eczema symptoms to live with. But scratching that itch can actually further harm your skin and make your eczema worse. Knowing how to best prevent itching, as well as knowing how to treat the itch, can make a huge difference in your quality of life. And if you've tried to manage itching on your own and it isn't working, your doctor can help you find other methods of itch relief.
Was this helpful?