5 Signs It's Time to Step Up Your Eczema Treatment
Was this helpful?
If you're treating your eczema, it's not unusual to switch treatments for better results. If your routine doesn't fit your lifestyle, your symptoms worsen or spread, you develop other health problems, or you can't tolerate medication side effects, it's time to talk to your doctor about trying a different eczema treatment.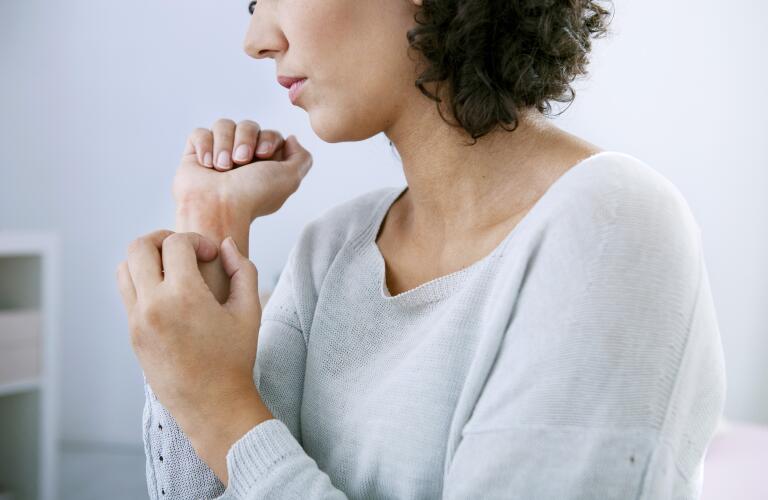 Eczema is one of the most common skin conditions, affecting more than 31 million people in the United States. If it isn't treated properly, eczema symptoms can profoundly affect your quality of life. If you have eczema, your treatment goals likely center on preventing flare-ups and helping your skin heal.
However, there are certain signs to watch for that could indicate your treatment isn't working as well as it should. If your eczema symptoms are getting out of control, ask your doctor about treatment alternatives. Your doctor will help you find the treatments which work best for your skin.
Even if you avoid your eczema triggers and do everything you can to take care of your skin, you may eventually need to change up your treatment routine. If you notice any of the following problems, it's time to talk with your doctor about making changes to your eczema treatment.
1. You can't keep up with your skin care routine.
Most people with eczema have a complex skin care routine that helps their skin stay moisturized and healthy. But it can be difficult to keep up with every aspect of such routines. Most people moisturize their skin at least twice a day. Many take bleach baths, and some with severe symptoms require wet dressing changes every day. It's a lot to keep track of, and not doing so can make eczema symptoms worse. Adding a new treatment to your arsenal can relieve some of the pressure of keeping up a strict skin care regimen.
2. You have new or worsening symptoms.
Unfortunately, even if you do all the right things, it's still possible for eczema to get worse. Eczema is unpredictable, and many people experience flare-ups seemingly out of the blue.
Eczema symptoms vary widely from person to person and can change over time. If you notice your current treatment is no longer effectively managing your symptoms, or you start to experience new ones, it's time to talk with your doctor. Look out for common eczema symptoms, including:
dry skin
itchiness
red or brownish-gray patches
scaly, leathery, or crusty patches of skin
sensitive, raw, or swollen skin
small, raised bumps on your skin
3. Your eczema seems to be spreading to new locations.
Eczema usually causes red to brownish-gray patches of dry, irritated skin. These usually appear on the hands, feet, ankles, wrists, neck, upper chest, eyelids, and the elbows and knees. But it's possible for eczema to spread. Widespread lesions require much more intensive treatment. If you notice your eczema is spreading, let your doctor know.
4. You develop other conditions, like depression.
Research indicates that people with eczema have a higher likelihood of developing certain other medical conditions, called comorbidities. If you develop one of these conditions, this might be a sign that your eczema treatment isn't working well enough, or that another medication would be better suited for you. Conditions that commonly occur with eczema include:
anxiety
asthma
depression
sleep problems
Eczema also increases your risk of infections. If you're noticing frequent infections, that's a sign your eczema is not well managed. Let your doctor know if you develop any of these conditions, so you can work together to determine if another treatment would be more effective. If you're struggling with anxiety or depression, your doctor can also refer you to a mental health professional for support.
5. Your current treatment causes bothersome side effects.
Medical treatment for eczema usually includes a combination of topical, injectable, and oral medications. Some of these medications may cause side effects, like high blood pressure, thin skin, or weight gain. If you notice unpleasant side effects of your current treatment, ask your doctor about trying something new. You don't have to live with intolerable side effects; your doctor can help you find something that manages your eczema while preserving your quality of life.
It's common to need to try several treatments to find what works best for your eczema. If you think it's time for a change up, be sure to talk with your doctor about other possible treatment options.
Was this helpful?