4 Tips for People of Color with Eczema
Was this helpful?
Itchy, dry skin from eczema flare-ups is inconvenient, uncomfortable, and distracting. People of Color have an especially hard time getting appropriate treatment for skin conditions like these because it can present in different ways.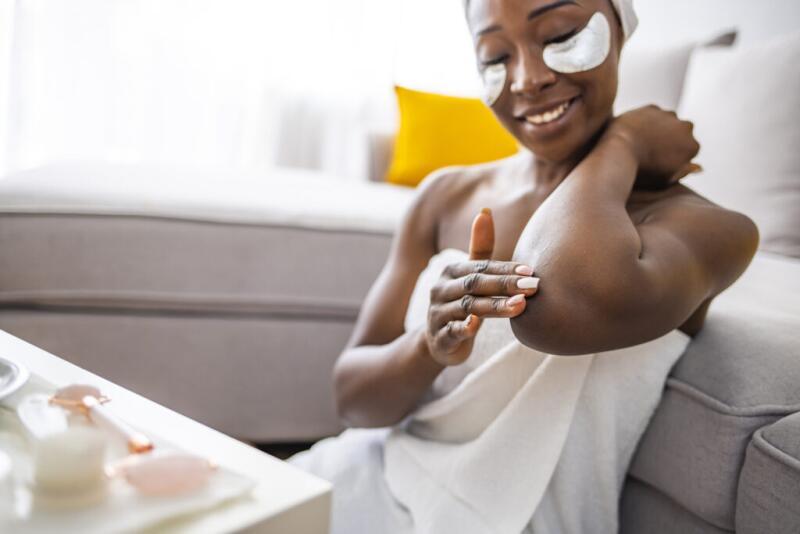 Black people may experience eczema more frequently, but they share similar symptoms with other People of Color. Some may experience redness or flaking, while others may have darkening and rough patches of skin. Whether you have one or all of these symptoms, you may be able to prevent or manage them using a few eczema tips.
People of Color may experience eczema flare-ups in response to allergens. In fact, about half of all eczema cases are linked to allergies, especially from food. Avoiding known allergens can be challenging, but avoiding unknown allergens is nearly impossible. If you're a Person of Color and you experience eczema flare-ups, a visit to an allergist can help you identify and avoid specific triggers.
Dry skin provides the perfect environment for xerotic eczema, also known as asteatotic eczema, to flourish. When a flare-up of this type of eczema happens, People of Color may experience darkening of the skin — due to hyperpigmentation — in addition to rough patches with fissures all over. It's more common in the winter because of the colder, dryer conditions.
Especially hot or cold bathing can also dry out the skin. Thick moisturizers and raw butters and oils can help keep your skin moisturized to prevent these symptoms.
The fragrances beauty companies add to their products can trigger allergies. Up to 15% of allergic eczema, also known as contact dermatitis, is the result of cosmetic fragrances. When you choose moisturizers, body washes, and other products to maintain your skin, be sure to pick something without added fragrance. Natural fragrances like rose oil and sweet almond oil may still be present in unscented products, so make sure you read the ingredients label.
The National Eczema Association makes it easy to find products to soothe your skin. Check out their directory to find a product that works for you. They even have products created by People of Color, like Eczema Honey.
It's important for People of Color to find dermatologists familiar with treating eczema on varied skin complexions. Doing so makes it easier for you to receive appropriate treatment since eczema looks different across a wide range of skin tones.
Once you have chosen the dermatologist who is right for you, follow their treatment recommendations closely. They may prescribe light therapy, topical treatments, steroids, or other options. Their recommendations can help you get control of your eczema and prevent flare-ups in the future. The Skin of Color Society can help you find a dermatologist experienced in treating skin conditions in People of Color. Visit their website to learn more about how they support education, research, and other activities to ensure adequate dermatological care for People of Color.
Was this helpful?