What to Know About Biologics for Nasal Polyps
Was this helpful?
Biologics offer a new form of treatment for people with chronic sinusitis resulting from nasal polyps when conventional treatments are not effective.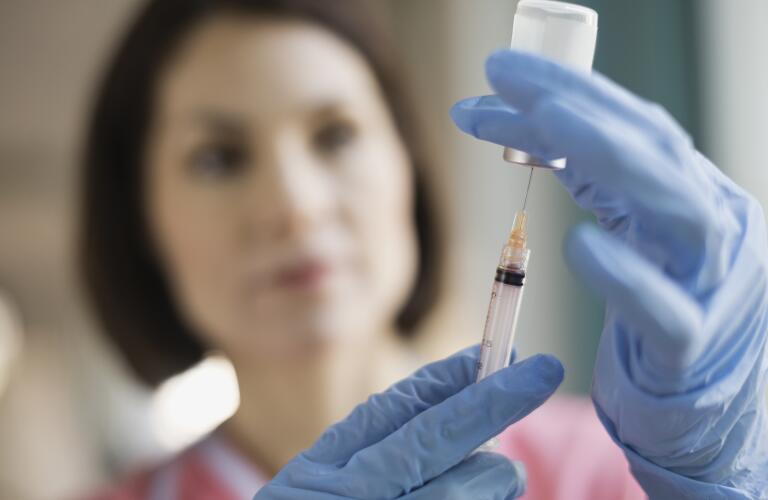 Nasal polyps are noncancerous, painless growths that can develop in your nasal passages and sinuses. In some cases, nasal polyps can significantly block the nasal cavities and make it hard to breathe, as well as cause frustrating symptoms. Some people may suffer from chronic rhinosinusitis with nasal polyps (CRSwNP), characterized by symptoms like nasal drainage and congestion, face pressure or pain, and even loss of your sense of smell for more than 12 weeks.
In 2019, the U.S. Food and Drug Administration (FDA) approved the first biologic treatment for chronic rhinosinusitis with nasal polyps. Learn how biologics are different from other medicines and what makes someone a good candidate for the new treatment for nasal polyps.

Biologic treatments have been in use for more than 100 years. Today, they're considered the leading edge of medical science. Unlike medication that's made from chemicals, biologics are made from proteins, acids, or other organic materials from living organisms. They work with the immune system, targeting specific cells in the body and changing how those cells behave, often in an effort to cut down on inflammation.
Biologic treatments are now available to treat the following conditions, among others:
Chronic rhinosinusitis with nasal polyps
Inflammatory bowel disease

Biologics are given either by injection or by IV (intravenously), and side effects vary depending on the drug.

Nasal polyps develop as a result of inflammation in the nose and sinuses, so most treatments focus on suppressing that inflammation. Dupilumab (Dupixent) is a biologic that treats nasal polyps by blocking processes in the body that promote inflammation. It's given by injection every two weeks. The injection can be given in a doctor's office, or you can give it to yourself at home. Your doctor may recommend adding dupilumab to your treatment plan if corticosteroids alone aren't providing enough relief. Common side effects include injection site reactions and eye inflammation.
The biologics mepolizumab (Nucala) and omalizumab (Xolair) have also been approved to treat chronic sinusitis caused by nasal polyps.
Clinical trials are currently investigating the safety and effectiveness of additional biologic drugs.

The advances in biologics for chronic rhinosinusitis and nasal polyps are exciting because they offer a new way for people to get relief when conventional treatments don't work for them or they're opposed to surgery. Conventional treatments remain effective for many people and are typically tried one at a time, in order:
Corticosteroids taken by mouth short-term
Corticosteroid nasal spray or rinse
Minimally invasive sinus surgery to open the sinus passage is now more common than traditional surgery to remove damaged sinus tissue. Every treatment has benefits and side effects. Weigh them with your doctor to determine the best way forward for you.
Was this helpful?