What to Expect With Surgery for Nasal Polyps
Was this helpful?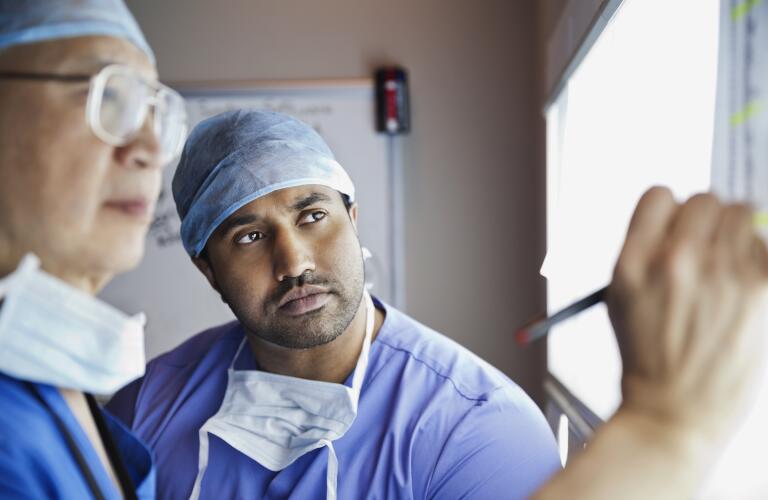 Nasal polyps are soft growths on the lining of your sinuses and nasal passage. They're noncancerous, but if they're large or numerous enough, nasal polyps can block your nasal and sinus passages, causing breathing problems and preventing your sinuses from being able to drain properly. Medication can successfully treat many nasal polyps, but some don't respond well to medicine. At that point, surgery to remove the nasal polyps may be your best option.
Many people don't need surgery to remove their nasal polyps. For them, medical treatment, which usually begins with nasal corticosteroid sprays, successfully shrinks or even eliminates their nasal polyps. Some people need more than a nasal spray but find relief with the addition of oral corticosteroids. Antihistamines don't shrink the polyps, but some people also take them to manage the allergy symptoms that cause inflammation and make nasal polyps more likely to develop. Newer biologic medications, which prevent inflammation from building, can also help.
Unfortunately, some polyps refuse to shrink or disappear. If your nasal polyps seem to be resistant to medication and they're causing significant problems for you, it may be time to consider surgery to remove them.
Once you and your doctor agree that surgery is the best option for you, it's time to prepare for the surgery to remove the polyps. Look at your calendar and choose a date that will allow you to have enough time afterward to recover before launching back into your regular activities.
Prior to your procedure, your doctor will talk to you about some of the potential risks of the surgery. Possible complications, although rare, include bleeding, polyp recurrence, and cerebrospinal fluid leaks. It's also possible that surgery can damage the orbital cavity housing your eye and cause some vision loss. If you've lost some or all of your sense of smell–a condition called anosmia–you may or may not regain some or all of it. Your doctor will talk to you about that, as well as the importance of diligent follow-up care after your surgery.
Additionally, you may need to undergo a pre-operative CT scan. This imaging test can provide a clear image of your sinus and nasal passage so your surgeon can see exactly where those polyps are located.
You'll most likely undergo a minimally invasive type of surgery called functional endoscopic sinus surgery to remove the polyps. Most surgeries of this kind are carried out under local anesthesia in an outpatient setting, although there are some patients who may require general anesthesia. Your surgeon will start by threading a thin tube with a lighted magnifying lens on the end through your nose and into your sinus cavities. Using tiny tools, the surgeon will then carefully remove the polyps.
In the past, surgeons would usually pack your sinus cavities with gauze after operating on your nasal and sinus passages. It was very uncomfortable, but it's very uncommon these days. However, some surgeons will insert a small stent into the sinus cavity to keep it open and deliver medicine while you heal. It's designed to dissolve on its own, so you won't need an additional procedure to remove it.
After your surgery, it's time to focus on recovery. You do need to devote some energy toward caring for your nasal area. Talk to your doctor to get specific recommendations, but in general, you can expect to need to use:
Nasal corticosteroid spray, which can reduce inflammation in your nasal passages and help prevent recurrences
Nasal spray or rinse, which can keep much-needed moisture in your nasal passages so they don't get dried out
A humidifier to keep the air you breathe moist, which also helps your nasal passages stay moist so your mucus is able to flow more effectively
It's also a good idea to avoid being around substances that might irritate your already sensitive nasal passages, like dust, smoke, and pollution, while you heal. Don't forget to notify your doctor if you start experiencing any symptoms that concern or alarm you.
Nasal polyps are stubborn. Even surgery doesn't guarantee a polyp-free future for you. Your doctor will help you determine the right combination of treatments to continue using after surgery to reduce the likelihood that nasal polyps will return. If yours do return, you can discuss whether you want to try another type of medication, or if you're a candidate for a repeat surgery.
Was this helpful?