What to Expect With Over-the-Counter Drugs for Nasal Polyps
Was this helpful?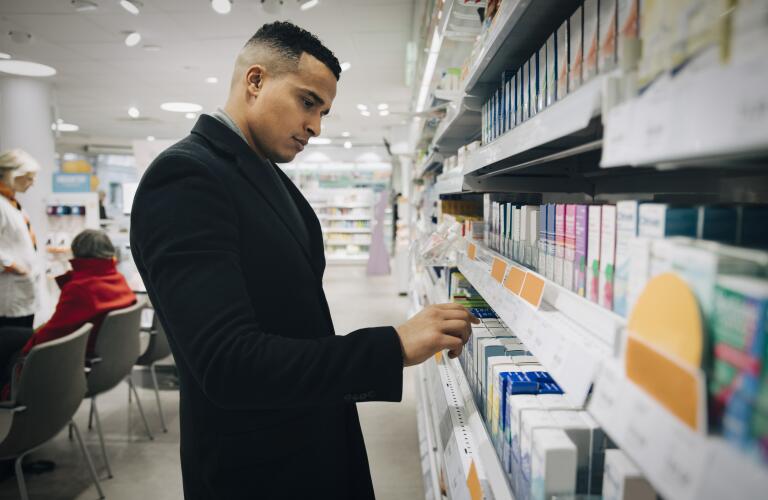 Each day, millions of Americans endure uncomfortable symptoms that are often chalked up to allergies. If you have symptoms like persistent stuffiness and sinus pain, you may choose to seek treatment from your doctor. But instead of allergies, nasal polyps may actually be to blame for interfering with your quality of life.
Nasal polyps often occur along with a condition known as chronic rhinosinusitis. Doctors diagnose this problem when the nasal cavity and sinuses experience long-lasting inflammation, sometimes for 12 weeks or more. As a result of this inflammation, polyps, or small noncancerous growths, form inside the nasal passages and sinus cavities.
Fortunately, several treatments for nasal polyps can help, and many people can manage symptoms with certain over-the-counter (OTC) drugs. But before using any OTC product, check with your doctor. Like prescription medications, OTC drugs may cause unintended side effects which require further treatment. Your doctor can help you determine whether it's safe to try OTC options for nasal polyps.
For many, nasal polyps cause a variety of unpleasant symptoms, such as a sense of pressure over the sinuses, decreased or absent sense of taste or smell, frequent nosebleeds, headache, facial pain, or pain in the upper teeth, runny nose or postnasal drip, snoring, and stuffiness that doesn't go away.
Usually, doctors focus treatment on relieving these symptoms and, in some cases, shrinking the size of nasal polyps. Although they are soft, polyps may grow large enough to block your nasal passages or sinuses, making normal breathing through the nose difficult or even impossible. Some people do need more intensive treatment, like surgery, but many find that OTC nasal polyps medications work effectively.
Depending on your specific needs, your doctor may recommend one or several OTC nasal sprays for treating nasal polyp symptoms, such as:
Nasal corticosteroids: These steroid medications work by reducing inflammation inside your nose and sinuses, relieving nasal congestion, sinus pain, and runny nose. For some, these drugs also directly shrink nasal polyps and may get rid of them entirely.
Nasal antihistamines: Antihistamines block the effects of histamine, a compound released by cells when they come in contact with an allergen or are injured. Antihistamines may help stop or prevent runny nose or postnasal drip.
Nasal decongestants: These drugs act on blood vessels inside your nose, causing them to narrow. This, in turn, reduces swelling and inflammation while also allowing greater air flow through the nasal passages.
Certain OTC nasal polyp medications, such as nasal corticosteroids, may be used every day for effective symptom management, but these drugs take time to work. You may need to take a nasal corticosteroid for several weeks before feeling its full effects. In contrast, nasal antihistamines typically work quickly and may be more appropriate to take on an as-needed basis. Your doctor will recommend a dose and treatment schedule best suited to your particular needs.
Like any other medication, OTC drugs for nasal polyps may cause certain side effects which may or may not go away on their own. Common side effects include:
Nasal corticosteroids: Irritation of the nose or throat, nosebleeds, and an unpleasant taste or smell after using the medication.
Nasal antihistamines: Drowsiness, fatigue, and a bitter taste after using the medication.
Nasal decongestants: Dizziness, high blood pressure, heart palpitations, and sleeping problems after using nasal decongestants.
Also, it's important to keep in mind that you shouldn't use a nasal decongestant spray for longer than three days. Research shows that, if used for longer periods, the body may actually become dependent on decongestants. If your body becomes dependent, you'll feel even more stuffed up when you stop using decongestants.
Some OTC nasal polyps medications aren't appropriate for everyone. Your doctor can help you determine whether you should try OTC drugs instead of taking prescription medications, like biologics, or having surgery. And if you experience any side effects while using OTC nasal polyp medications, tell your doctor. Your doctor can review your medication list, ensuring the dose and frequency of use of these drugs is safe for you.
Was this helpful?