What to Expect With Biologics for Nasal Polyps
Was this helpful?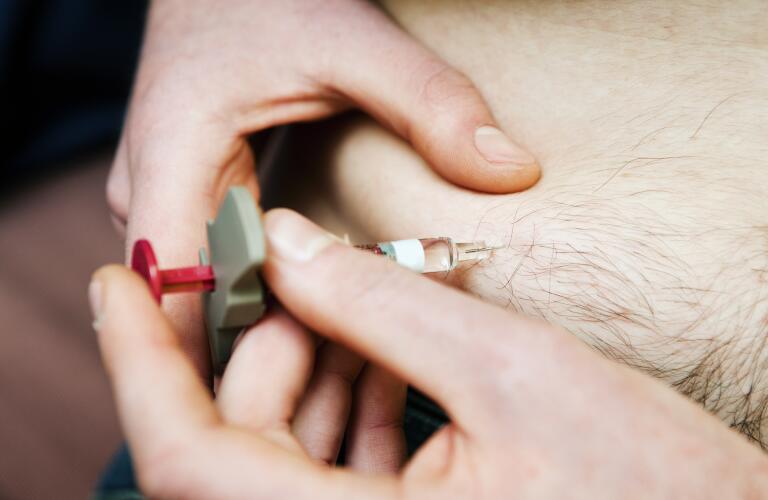 Persistent stuffy nose, loss of smell, postnasal drip, facial pressure—if you suffer from chronic sinusitis with nasal polyps, symptoms like these may be part of your everyday experience. If you don't respond well to existing therapies, a new treatment for nasal polyps known as a biologic medicine may bring you some relief. Here's what you need to know.
Nasal polyps are soft tissue growths that develop as the result of long-lasting inflammation within your nasal passages or sinuses. They usually are found on both sides of your nasal cavity and often appear during early adulthood. When nasal polyps are small, you may not even notice them, but as they swell and grow, they can cause uncomfortable obstruction or congestion. This can lead to difficulty breathing through your nose and complications including sinus infections, worsening asthma, sleep apnea, or permanent changes in your sense of smell and taste.
Traditionally, nasal polyps are treated with steroid nasal sprays, such as fluticasone (Flonase) and mometasone (Nasonex). The spray reduces swelling and inflammation within your nose, helping to shrink the polyps. When this isn't enough, oral steroids, like prednisone, may be prescribed, or surgery may be performed to remove the polyps. But the effectiveness of oral steroids are often short-lived, and nasal polyps can grow back after surgery.
Chronic sinusitis and nasal polyps can negatively impact your quality of life, so it's important to find a treatment that works for you.
Biologics are medicines produced from parts of living organisms, such as cells or proteins. Recently, a biologic called dupilumab (Dupixent) was approved to treat adults with poorly controlled chronic sinusitis and nasal polyps. Dupilumab has been previously used to treat certain types of asthma and eczema. There are several other biologics being studied to treat nasal polyps, but right now, there's only one approved.
Dupilumab is a type of biologic known as a monoclonal antibody. It blocks two molecules that signal your body to stimulate inflammation. Inhibiting this process can result in smaller nasal polyps, less congestion, and decreased need for surgery and oral steroids. In addition, many patients report that their sense of smell returned or improved as well.
Other biologics such omalizumab (Xolair) are currently being studied in clinical trials to determine their safety and effectiveness in treating nasal polyps. Researchers are also investigating how biologics can treat nasal polyps related to severe asthma.If you're prescribed dupilumab for your nasal polyps, you'll need an injection every two weeks. It's given into your subcutaneous tissue just beneath your skin, such as your abdomen or thighs. You or a caregiver can even be trained to do your injections at home. But don't stop taking other medications, including steroids, without first talking to your doctor.
Dupilumab is generally safe and well tolerated. But just like any medication, it can have side effects. Some people may experience reactions at the injection site. Eye problems can occur, such as redness or swelling. Allergic reactions are possible and, in rare cases, can be severe. You should always let your doctor know if you develop any new or troubling symptoms.
Biologic medicine is proving to be an exciting treatment option for some difficult-to-treat medical conditions, including nasal polyps. They can be expensive, but there are programs that may help offset some of your costs. Ask your doctor if you'd like to learn more about whether a biologic is suitable for you.
Was this helpful?