What to Expect With a Telehealth Appointment for Nasal Polyps
Was this helpful?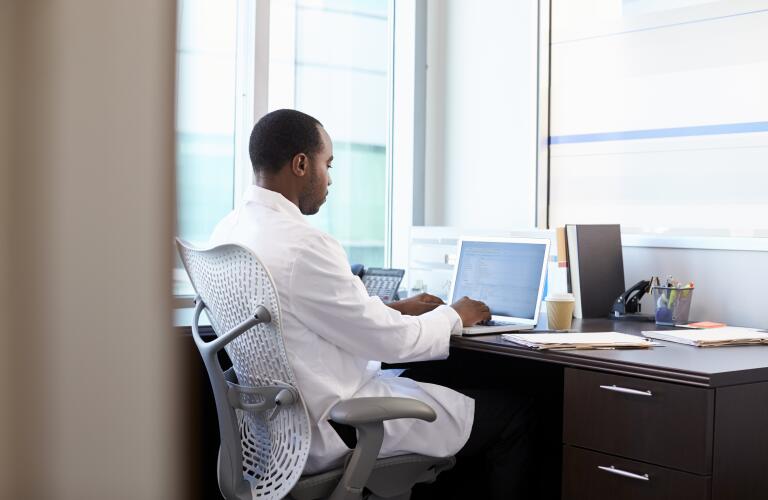 Nasal polyps are tear-shaped growths found in the lining of your sinuses. They develop as the result of chronic inflammation often caused by sinus infections or allergies. They're not cancerous, but they may require treatment if they block your nasal passages and cause symptoms like facial pain or headache, so you should be monitored by your doctor.
If you've scheduled a telehealth appointment for your nasal polyps, you're probably wondering how the process works—and you're not alone. Telehealth isn't a new way of delivering healthcare, but it may be new to you, so let's cover some of the basics.
Telehealth provides you and your doctor a way to communicate and share information even when you aren't in a room together. For managing nasal polyps, depending on your case, you may make an appointment with your primary care provider, an allergist, or an otolaryngologist, also referred to an aars, nose, and throat (ENT) doctor. If you are scheduled for a video visit, you'll use the microphone and camera on your smartphone, tablet, or computer to allow you to talk to and see your doctor in real time. Some telehealth appointments may also take place over a phone call.
Though the concept is similar across the board, your doctor's office can let you know specifically what's required for your visit. You may need to download certain software or an app to connect to your doctor online, or you may be sent a link to simply click at your scheduled appointment time. You'll be notified if you need to register or complete any patient information forms online ahead of time.
In many ways, a telehealth appointment is very similar to a regular doctor's visit. You can ask questions or discuss what's troubling you. Your doctor will ask about your symptoms and your overall health. When nasal polyps are small, you may not even notice them, but if they are growing or your treatment isn't working, you may develop new or worsening symptoms. Be sure to let your doctor know if experience any of the following:
Long-lasting stuffy or runny nose
Decreased sense of smell and taste
Difficulty breathing through your nose
Snoring or signs of sleep apnea
This is also an opportunity to discuss your current treatment plan. Is it working effectively? Are you following it as directed? Are you experiencing side effects? Nasal sprays, oral steroids, antihistamines, antibiotics, and injectable biologic medications may be used to treat nasal polyps. Your doctor may adjust or change your treatment as needed. Surgery to remove nasal polyps may be discussed if medical treatment isn't helping.
After a nasal polyp diagnosis is established, telehealth appointments are great for routine monitoring, medication management, providing patient education, and addressing questions or concerns. However, there are times when a physical examination is needed or procedures, such as an endoscopy or CT scan, are required to visualize the size and location of the polyps.
Telehealth is also not meant to be used for emergencies. Call 911 or seek immediate care if you have the following:
Extreme breathing difficulty
Sudden changes in your vision or severe swelling around your eyes
Worsening headache with a high fever and neck stiffness
If you're looking to stay on top of your nasal polyps and keep symptoms under control, telehealth can help you connect with your doctor from the comfort of your home. Before your appointment, write down any questions you have or new symptoms you're experiencing; make sure your phone, tablet, or computer is charged so you're ready to go once your appointment time arrives, and keep a pen and paper handy for taking notes during your visit. It may feel strange at first to talk to your doctor from afar, but if you come prepared and know what to expect, you're empowering yourself to effectively manage your condition.
Was this helpful?