The Nasal Polyps and Allergies Connection
Was this helpful?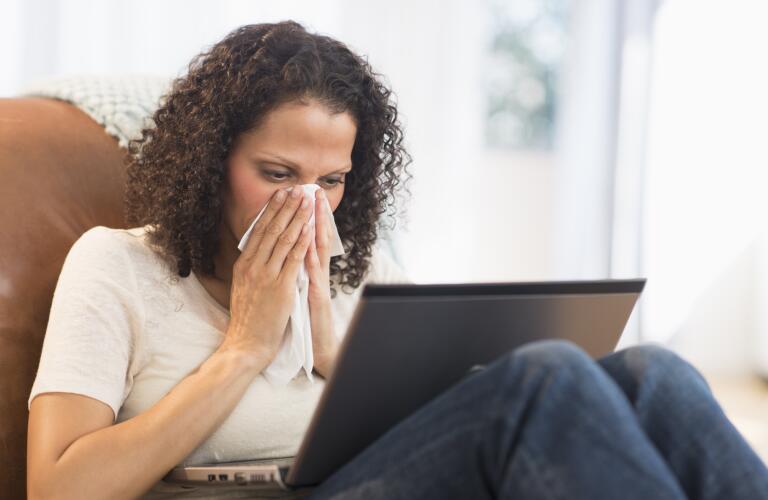 If you have allergies, you may be at a higher risk of developing nasal polyps. These tear-shaped growths occur within your nasal passages or sinuses. While they aren't cancerous, nasal polyps can cause unpleasant symptoms and may require treatment if they block airflow in and out of your nose. One thing you can do to relieve nasal polyps symptoms? Understand their connection to allergies and reduce allergy triggers as much as you can.
Nasal polyps are believed to grow as a result of long-lasting inflammation of the moist tissue lining your nose and sinuses, called the mucosa. Allergens can act as a trigger, irritating the mucosa and causing it to swell with fluid. If the swelling persists, fluid-filled nasal polyps may form.
Both seasonal allergies and perennial allergies (allergies that can occur at any time of the year) can be connected with the growth of nasal polyps, though perennial allergies seem to be more strongly linked. Possible allergens include mold, pet dander, dust mites, pollen, and aspirin.
Other conditions, such as asthma and sinus infections, are also associated with nasal polyp development.
If nasal polyps are small and not causing significant obstruction in your nasal passage or sinuses, you may not know they are present. But as they grow in number or size, symptoms of nasal polyps include:
Stuffy nose
Runny nose
Postnasal drip
Snoring
Upper teeth pain
Decreased or lost sense of smell or taste
Facial pain or pressure
Difficulty breathing out of your nose, requiring you to breathe through your mouth
If you have persistent symptoms, you should schedule an appointment with your doctor. Although many of these symptoms can seem like typical allergies, if they're long lasting, it's important to have your doctor take a closer look. (Note: any severe symptoms, such as struggling to breathe, require emergency treatment.) Your doctor may use an otoscope, a handheld lighted instrument, to look inside your nose and check for nasal polyps. Sometimes, if your nasal polyps are located deeper into your sinuses, you may need an endoscope, using a camera on a long flexible tube that can be inserted in your nose, or a computerized tomography (CT) scan.
If allergies are causing your nasal polyps, it's helpful if you can identify the trigger. Allergy testing, either through a skin prick or blood test, may be used to pinpoint any specific allergens, so you can eliminate exposure to them if possible.
Treating nasal polyps involves making them smaller or removing them altogether. Your doctor may suggest:
Steroid sprays: Nasal sprays, such as fluticasone (Flonase) or mometasone (Nasonex), are a common first-line medication. They treat swelling and inflammation, shrinking nasal polyps and making it easier to breathe.
Steroid pills or shots: An oral or injectable steroid, like prednisone, may be prescribed for harder-to-treat nasal polyps. Because of side effects, they should only be used short-term.
Antihistamines and other allergy medications: Antihistamines or medications used to treat seasonal allergies can help decrease congestion and other nasal polyp symptoms.
Surgery: A minimally invasive procedure to physically remove polyps may be needed in some cases. Unfortunately, nasal polyps may grow back.
Injection of a biologic medication: Dupilumab (Dupixent) is a newer medication that works by blocking certain proteins in your body that cause inflammation. It's used to treat nasal polyps that don't respond to nasal steroids and may decrease the need for systemic steroids and surgery.
Living with nasal polyps can be frustrating at times. Whether it's allergies, asthma, sinus infections, or a combination of causes, your doctor can help you get to the source of your problem. Together, you can work to develop an effective treatment plan and hopefully prevent your nasal polyps from returning.
Was this helpful?