How to Get the Most Out of a Virtual Doctor Visit for Nasal Polyps
Was this helpful?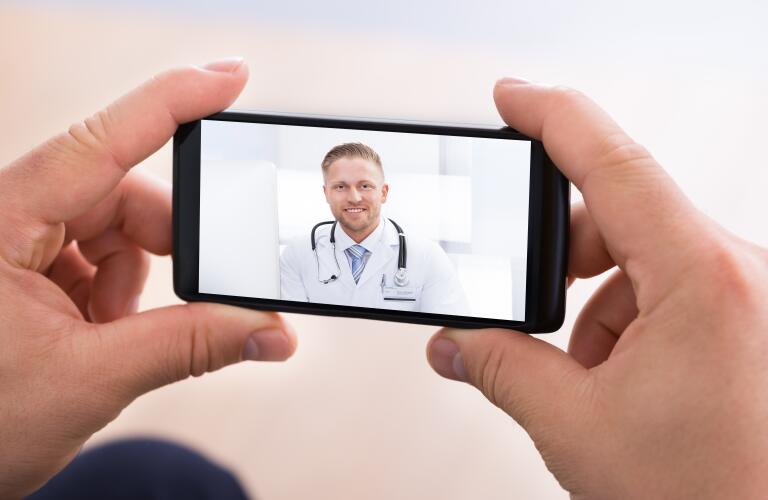 Chronic inflammation in your nasal cavity, often due to sinus infections, asthma, or allergies, can cause nasal polyps to develop. If you've been diagnosed with nasal polyps, you may see a primary care doctor, an allergist, or an Ear, Nose, and Throat (ENT) doctor for follow-up and treatment. Nasal polyps may not cause you any problems, but if they get bigger, they can obstruct your nasal passages and lead to unpleasant symptoms.
Many types of doctors' appointments can be carried out using telehealth, or telemedicine, allowing healthcare to be delivered remotely. And in light of the COVID-19 pandemic, more people are turning to it than ever before. If you're contemplating trying telemedicine to manage your nasal polyps, here are some tips to make sure your online doctor visit runs smoothly.
When scheduling your telemedicine appointment, find out what you need for your visit. As with any doctor's appointment, time is of the essence, so it's important that you are properly set up in advance.
If you're doing a video visit, you'll need a computer, tablet, or smartphone with a camera and microphone. Ask what platform will be used for conducting the visit, in case you need to download an app or a specific software program, and if you need to register beforehand. Make sure you can open the app or access software without any glitches.
Think about where you want to set up for your appointment as well. Find somewhere comfortable and quiet where you can focus on the appointment without distractions. You'll also want good lighting and a location with a strong internet connection.
Lastly, don't forget to charge your device or have it plugged in during the visit. You don't want a dead battery to cut an important appointment short.
It's a frustrating feeling to leave a doctor's appointment and realize you forgot to ask an important question. So, before your telehealth appointment, think about what symptoms you've been experiencing and if you're happy with your treatment plan. If your nasal polyps are growing or if your current treatment doesn't seem to be working well, you may notice the following:
Difficulty breathing through your nose
Decreased sense of smell and taste
Symptoms of sleep apnea (like excessive fatigue or sore throat, among others)
Try to recall when your symptoms started and if anything exacerbates or relieves them. Jot down any concerns you want to address. If you're not feeling well in other ways, even if it doesn't seem related to your nasal polyps, make note and be sure to let your doctor know during your virtual visit.
Make a list of all medications you are taking, including over-the-counter drugs and supplements. This is important information if your doctor wants to start you on a new treatment.
Though there are some limitations on what can be done during an online doctor's visit, it helps to think of it just like an appointment in the office. Make it a priority to be "on time" when you log in to join your appointment—bonus points if you are a few minutes early, in case you need to troubleshoot anything.
When it comes to your interaction with your doctor, remember this is meant to be a normal two-way conversation. Be honest about what you're experiencing and ask any questions about your condition or your treatment. There are a number of medical treatments available for nasal polyps, including nasal steroid sprays, oral steroids, and injectable biologic medications. Minimally invasive surgery to remove nasal polyps is an option as well. A thoughtful discussion with your doctor can help direct you down the right treatment path. Successful treatment can reduce the size of your nasal polyps and improve your symptoms.
Keep in mind, based on your telehealth appointment, your doctor may suggest you be evaluated in person for a physical exam or for imaging studies to look at the size and location of your polyps. In some cases, this additional information may be necessary to determine how to proceed.
Was this helpful?