How Telehealth Can Help People With Nasal Polyps
Was this helpful?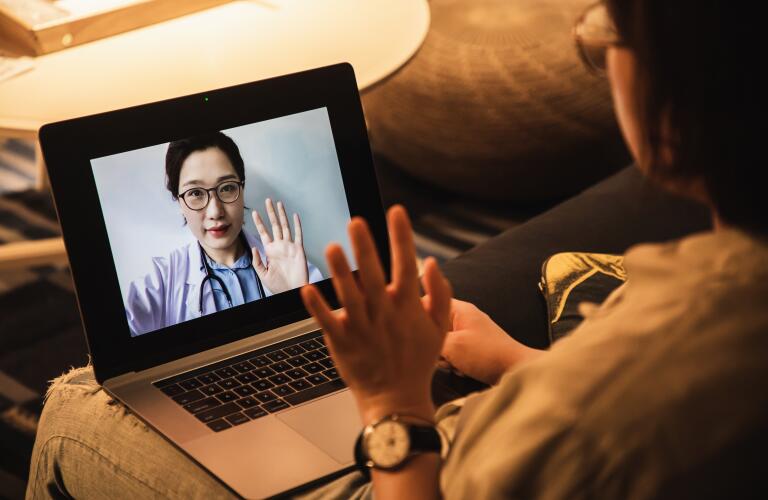 If you've been diagnosed with nasal polyps, you'll need follow-up care to monitor your symptoms and response to treatment. These teardrop-shaped growths develop in your nasal cavity, and though they may not cause any problems if they are small, they can obstruct your nasal passages if they increase in size or number.
If you're like many others, the COVID-19 pandemic may have sparked your interest in the use of telehealth. Here are some of the ways telemedicine can be incorporated into the management of your nasal polyps—and may make it even easier.
Nasal polyps are often associated with allergies, asthma, and sinus infections, and you may be referred to an allergist or an otolaryngologist also known as an Ear, Nose, and Throat (ENT) doctor. But, depending on where you live, you may have to travel a long way to see a specialist. Or if you have limited access to transportation or difficulties with mobility, making it to any doctor's appointment can be challenging. And if you're trying to avoid potential exposure to the coronavirus or other contagious illnesses, you may be trying to stay out of doctors' offices altogether.
If any of this applies to you, ask if you can schedule a telehealth appointment for your nasal polyps instead. Though there are still times when you'll need to be evaluated in person, a virtual doctor's visit may suffice for things such as routine follow-up and medication management. Using videoconferencing technology on a smartphone, tablet, or computer, you can book an appointment to meet with your doctor online. You'll be able to have a two-way conversation in real time, just like you would during a regular doctor's visit. You can expect to discuss topics such as the following:
Are you experiencing new or worsening symptoms, such as congestion, facial pain, or decreased smell or taste?
Is your current treatment plan working? Are you experiencing side effects? What other medications may be available to treat nasal polyps? Should you have surgery to remove them?
Do you have questions about your nasal polyps or your current health?
What should be your next steps in managing your condition?
Telemedicine appointments may allow you to get the care you need with less time missed from school or work, decreased transportation costs, and the ability to conduct a visit from the comfort of your home.
It's important to realize that telehealth refers to more than virtual doctor's visits. Telehealth encompasses all uses of medicine and technology to provide health-related services remotely. Other aspects of telehealth you may utilize for managing your nasal polyps include:
Using secure patient portals to communicate with your doctor or other healthcare providers between appointments
Viewing test results and visit summaries online
Scheduling appointments or requesting medication refills from your phone or computer
Using apps to track your symptoms or remind you to take your medications
Accessing educational videos or information about nasal polyps via the internet
Telehealth can't completely replace traditional hands-on care, but it can supplement it. Sometimes you will need to see your doctor for an in-person examination or have imaging studies, such as endoscopy or CT scan, to visualize your nasal polyps. Telehealth may still be used in these situations to allow doctors to communicate with one another about your condition or view your results remotely.
According to a report by the American College of Allergy, Asthma & Immunology, telemedicine may enhance collaboration between you and your doctor, improve your health outcomes, and increase your access to care. Want to learn more? Contact your doctor's office.
Was this helpful?