When to See a Doctor for Trouble Swallowing
Was this helpful?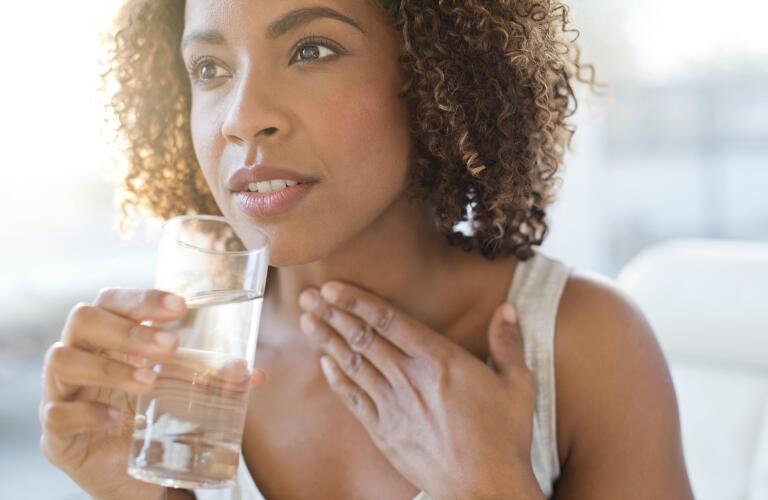 Ever had trouble swallowing food, or feel like it got stuck in your throat or chest? Do you gag on large pills? Sometimes the cause is as simple as a dry mouth. But difficulty swallowing, known as dysphagia, can also be a persistent, serious problem, usually associated with a medical condition or injury. This type of dysphagia often requires treatment to overcome.
About 15 million American adults have dysphagia, and 1 in 25 of us will experience some form of it in our lives, including 22% of people 50 and older. How can you tell if you need to see a doctor for trouble swallowing?
Dysphagia is most often seen in older adults, babies and people who have brain or nervous system disorders. Some of the most common causes of trouble swallowing include:
Depending on the cause of your dysphagia, you may need treatment from a speech therapist, who can help you learn techniques to help swallow safely (which you can also practice at home with a caregiver or loved one). For example, you may be taught to tuck your chin or turn your head a certain way when swallowing. You also may learn and practice exercises to strengthen your throat muscles, perhaps using electro-stimulation equipment or biofeedback tools.
To prevent choking on food, you or your caregiver will need to be careful with food preparation. You may need to adjust food textures, such as adding thickeners to thin liquids like coffee, water or juice so you can swallow them more safely. You may need to avoid some foods, such as peanut butter and caramel, which are sticky and can be hard to swallow. You may need to cut food into smaller pieces and chew longer before swallowing. You may need to plan smaller meals, eaten more frequently.
If your dysphagia is triggered by acid reflux, you should avoid alcohol, tobacco and caffeine, which can make heartburn worse, as well as any other foods that trigger your GERD symptoms.
For trouble swallowing due to a sore throat, gargle with salt water (1/2 teaspoon in 8 ounces of warm water) or by drinking warm tea or water with honey.
If you regularly have difficulty swallowing, you should make an appointment to discuss this with your physician. Other signs of dysphagia that should prompt a visit to your doctor include:
If you have trouble swallowing pills, this is also worth discussing with your doctor at your next appointment. About 30% of us dislike or have difficulty ingesting pills. There are strategies that can help (such as leaning forward to swallow) or alternatives to oral medications. Don't try to break up pills or capsules on your own, without talking to your doctor about it.
Sometimes trouble swallowing presents an emergency. If you choke on food and can't breathe, you need to dial 911 and seek immediate help. If you can't swallow because it feels like food is stuck in your throat or chest, go to the nearest emergency room.
Dysphagia also can cause aspiration pneumonia, which occurs when some of the food you're swallowing gets into your trachea, and from there into your lungs, causing an infection. Signs of this potentially serious condition include:
If you or your loved one has these symptoms, call your doctor or seek emergency care.
Your primary care doctor is likely your first step. He or she may refer you to a specialist, depending on the cause of your dysphagia. Specialists you may encounter include:
It's important not to dismiss trouble swallowing, since it can be a sign of a treatable condition. In most cases, the earlier you diagnose and begin treating a condition, the better your outcome is likely to be. For dysphagia, that means symptom improvement and reduced risk of complications. Dysphagia treatments exist, so when in doubt, consult your doctor.

Was this helpful?