When to See a Doctor for Constipation
Was this helpful?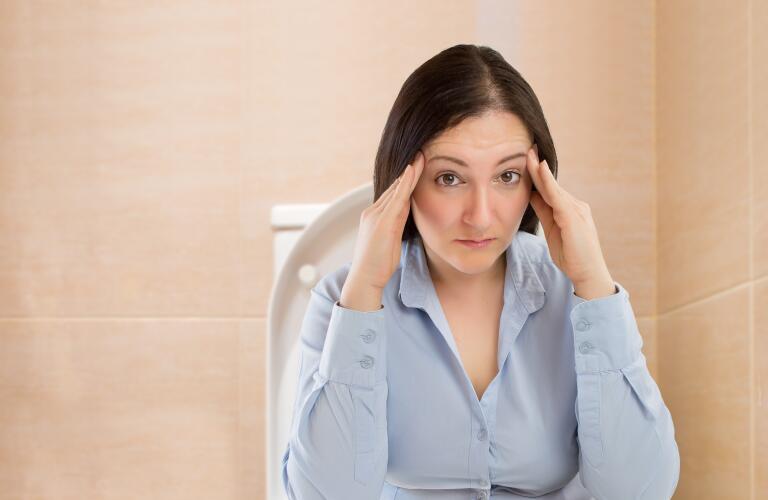 Bowel habits are highly individual. Some people have a bowel movement every day, while other people only go once a week. Constipation occurs when your bowels don't move as frequently as usual for you. Nearly every person will experience an episode of constipation at some point in their lifetime. And while constipation pain can prompt you to visit the doctor, the condition usually is benign and will resolve on its own within a few days. You can even try some home remedies for constipation relief.
However, if constipation persists, or if you cannot pass any stool at all for several days in a row, then you should see a doctor. Your doctor may be able to determine what's causing constipation, provide you an accurate diagnosis, and recommend an effective treatment.
If you don't have a bowel movement despite trying home remedies for 4 to 5 days, you should see a doctor. Constipation is rarely life threatening, but you should call 911 or seek emergency medical attention if you experience these symptoms in conjunction with constipation:
altered level of consciousness, such as fainting
black stool, bloody stool, or stool that resembles tar (very dark brown/black and viscous—thick but still runny)
breathing problems of any kind
extended, bloated abdomen that is rigid to the touch
fever higher than 101 degrees Fahrenheit
racing or rapid heart rate (tachycardia)
severe abdominal pain
severe rectal bleeding
vomiting, especially if it resembles coffee grounds
yellowing of the skin or the whites of the eyes (jaundice)

If you experience difficulty having a bowel movement, it's usually safe to try constipation home remedies before seeing a doctor. The following remedies are for otherwise healthy adults with constipation. Home remedies for children with constipation are different. Ask your pediatrician or a pediatric nurse for specific instructions on what to try at home.
1. For the first couple of days, try either of these two options:
Drink prune juice

Take a stool softener, such as docusate sodium according to the label instructions

2. If no improvement, escalate to either of these two options:
Take a fiber-based laxative that mixes with water, such as psyllium

Take an osmotic laxative, such as polyethylene glycol (MiraLax) or milk of magnesia

3. If the gentler laxatives above do not work, try one of the following options one time only:
Use a glycerin suppository according to the package instructions

Use an enema, such as Fleet

4. Only if the above remedies do not provide relief:
Try a stimulant laxative, such as Correctol or Dulcolax (only if other measures fail to provide relief)

The best constipation treatment is prevention. To reduce your risk of future episodes of constipation, be sure to eat a diet rich in fresh fruits and vegetables, drink plenty of water (not including sodas or caffeinated beverages), and exercise regularly. Walking is an excellent way to keep your colon working well.
Constipation can arise for a wide variety of reasons, ranging from dietary issues to changes in your daily routine. Some causes of constipation, from most to least likely, are:
Dehydration from not drinking enough water

Low-fiber diet due to not eating enough fresh fruits and vegetables

Lack of exercise, which can cause the colon to become sluggish

Medications, including certain antacids, diuretics (water pills), and opioid pain relievers

Various life changes, from traveling more frequently to becoming pregnant

Gastrointestinal disorders, including irritable bowel syndrome with constipation (IBS-C) or diverticulitis

Medical conditions that slow the colon's activity, such as hypothyroidism, or affect the nerves of the intestine, such as multiple sclerosis

Blockage of the colon (bowel obstruction), such as a tumor pressing against the intestine, or blockage of the rectum, such as rectocele (bulging of the vaginal wall into the rectum)

Constipation can be acute or chronic. Acute constipation is the lack of a bowel movement that occurs every once in a while in an otherwise healthy individual. Chronic constipation caused by medication or a coexisting medical condition results in repeated episodes of constipation over a long period of time.
If your insurance company offers a nurse advice line, you can start by calling an RN (registered nurse) to discuss your constipation symptoms and decide whether or not you should see a doctor. In most cases, your primary care physician can diagnose and treat your constipation. If your doctor suspects an underlying medical condition may be causing the constipation, she might refer you to a specialist, such as a gastroenterologist. Emergency room physicians and urgent care doctors also evaluate and treat acute episodes of constipation.
Because constipation can sometimes be caused by a serious underlying medical condition, it's wise to pay attention to your bowel habits. Know what bowel schedule is normal for you. If you experience a bout of constipation, you can take notes regarding when it began and what remedies you tried before seeing a doctor. This will help the medical team establish a diagnosis and provide you high-quality care.

Was this helpful?