What to Expect with a Telehealth Appointment for Eosinophilic Esophagitis
Was this helpful?
Eosinophilic esophagitis telehealth appointments let you meet with your gastroenterologist or allergist over your smartphone, tablet, or computer. These online visits work well for things like refilling prescriptions and reviewing your symptoms. Your doctor's office will send you a link for the appointment. You can prepare by having a list of questions ready and making sure your audio and video are working before your appointment time.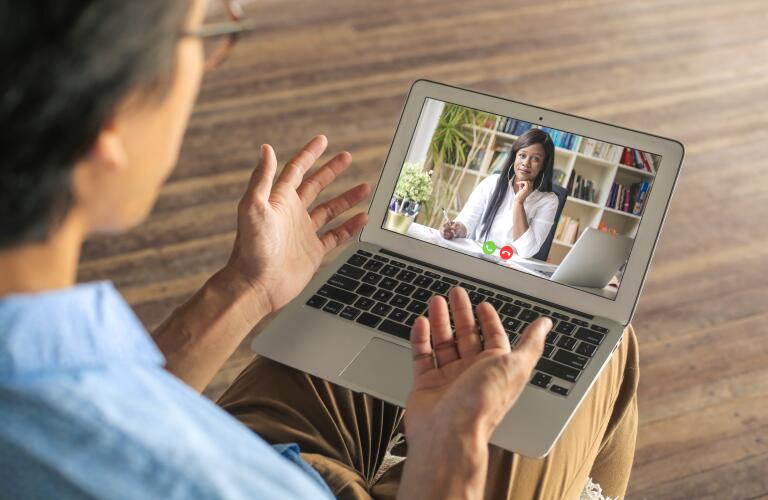 When you have a chronic condition like eosinophilic esophagitis (EoE), you'll need regular follow-up visits with your treatment team. Some appointments must be in person, but at times, telehealth visits can be a great alternative. These online visits are a convenient way to keep your doctor updated on symptoms, track any allergy triggers, and make sure treatments are continuing to provide relief. Before your first eosinophilic esophagitis telehealth visit, there are a few things you may want to know in advance.
During your telehealth visit, your doctor will join you via video to talk about your condition and address any concerns. It will likely feel like an in-person visit in many ways. Online visits are good for following up with your gastroenterologist or allergist about your treatment plan, prescription refills, and test schedule. Your doctor can also ask about your symptoms and do some parts of the exam remotely.
To diagnose your condition or find your allergic triggers, you'll need to visit the office. Skin prick testing, blood tests, food patch tests, and endoscopies can only be done in person.
Your doctor's office will tell you what types of technology and software you'll need before your first online allergist or gastroenterologist appointment. Some doctors provide virtual visits through a patient portal. Others use an app or send out a link. You'll need a computer, tablet, or smartphone, and a fast internet connection for your virtual visits.
Before your eosinophilic esophagitis telehealth visit, check that your device is set up in a quiet and private spot. Test your camera and microphone to make sure they're both working. Check in for your session about 15 minutes early, just in case there are any problems to troubleshoot.
You will only have a limited amount of time for a telehealth appointment. Make the most of the session by preparing in advance. Write down a list of questions you want to ask, along with any symptoms or issues you'd like to discuss with your doctor.
Have a list of your prescriptions and test results nearby in case your doctor asks about them. Also be ready to share details like your weight or temperature if your doctor has asked for them. Keep a piece of paper nearby to take notes.
In response to COVID-19, many private health insurance plans have expanded their coverage to include telehealth visits. Medicare Part B also covers certain telehealth services.
Even if your visit is covered, you may still be responsible for a co-pay. Ask your doctor's office how much you will be responsible for paying before your online allergist or gastroenterologist visit, so there won't be any surprises afterward.
It's normal to be concerned when you're about to share personal information over the internet. Ask how the gastroenterology office handles its patients' health information.
They may use encryption, which converts your information into an unreadable form to prevent anyone from accessing it. The office's technology should be compliant with the Health Insurance Portability and Accountability Act of 1996 (HIPAA), which protects sensitive health information.
Today it's possible to get eosinophilic esophagitis treatment without leaving your home. Telehealth makes gastroenterology and allergy visits easier and more convenient. Preparing for your visit will ensure that you get the most out of the time you have with your doctor.
Was this helpful?