What to Expect After an Eosinophilic Esophagitis Diagnosis
Was this helpful?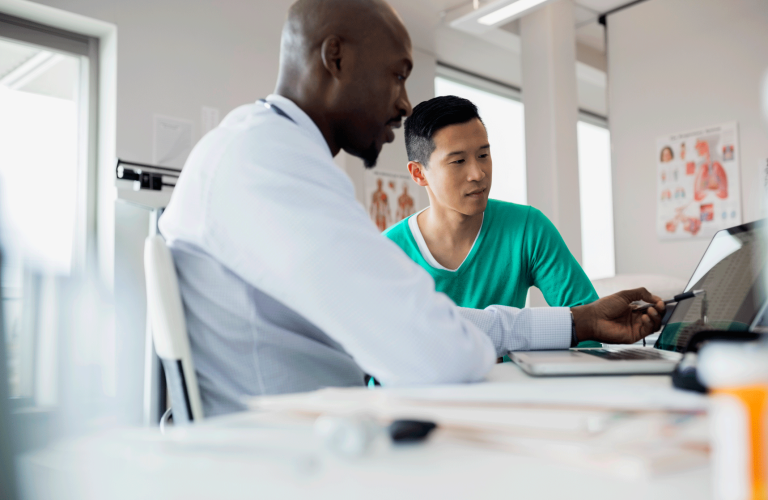 If you or a loved one has recently been diagnosed with eosinophilic esophagitis (EoE), you likely have a lot of questions. Most people have never heard of EoE, which isn't surprising given that the disease was first identified about 20 years ago.
The good news is that a diagnosis of EoE can be the first step toward improved health, comfort and quality of life. Here's what you can expect after eosinophilic esophagitis diagnosis.
EoE is characterized by inflammation of the esophagus, the tube-like structure that leads from the mouth down to the stomach. Medical treatment can decrease this inflammation.
Healthcare providers commonly prescribe medication to manage EoE symptoms. Medications used to treat eosinophilic esophagitis include:
Steroids. Inhaled or swallowed steroids can decrease inflammation in the esophagus and improve symptoms. Often, doctors will begin treatment with a high dose of steroids and gradually decrease dosage over time. Steroid treatment may be used daily.
Acid suppressors. Acid-suppressing medications, including omeprazole and lansoprazole, decrease the amount of acid produced by the stomach. Less acid in the stomach means it's less likely for acid to back up into the esophagus.
Your healthcare provider will monitor your symptoms and the condition of your esophagus throughout treatment. Occasionally, your provider will assess the inside of your esophagus via an upper endoscopy, a procedure that uses a lighted tube to see inside the esophagus. Physicians use this test—as well as patients' reports of symptoms—to gauge the effect of treatment.
Sometimes, physicians dilate, or enlarge, the esophagus to make swallowing easier.
Specific foods seem to trigger EoE symptoms. Avoiding these foods can cause a dramatic improvement in symptoms. However, it can be difficult to figure out which foods trigger symptoms. An elimination diet can help patients and families identify triggers and give the esophagus time to heal.
Common eosinophilic elimination diets include:
Targeted elimination diets. Often, allergy testing can reveal food allergies that may cause EoE symptoms. A targeted elimination diet is one that excludes any identified food allergens. Avoiding these foods may lead to an overall improvement in health.
Empiric elimination diets. Six primary foods—dairy, egg, wheat, soy, peanuts/tree nuts, and fish/shellfish—account for the majority of food allergies. Empiric elimination diets remove these common allergens. Some healthcare providers recommend beginning with a 6-food elimination diet, which calls for patients to avoid all six common food allergens for a six-week period. Other healthcare providers recommend an incremental approach: Patients begin with a 2-food elimination diet (avoiding milk and wheat, the two most common food allergens) for a period of weeks. If symptoms have not yet improved, patients embark on a 4-food elimination diet (skipping milk, wheat, eggs and peanuts/tree nuts). Patients only progress to the 6-food elimination diet if needed.
Elemental diets. Patients who do not improve on other diet and medication regimens may improve on an elemental diet that eliminates all protein. Instead, patients receive nutrition from a special formula composed of amino acids. Often, the formula is administered via a feeding tube. A few weeks on an elemental diet may allow the esophagus to heal enough that food can be reintroduced.
Patients and families must work closely with healthcare providers when making dietary changes. A dietician can help you figure out how to meet caloric and nutritional needs while on a restricted diet, and physicians will monitor the condition of the patient's esophagus over time to assess the response to dietary changes.
Many people are able to control eosinophilic esophagitis with diet alone.
If a person with EoE is exposed to a trigger food, they may experience a flare-up of symptoms. Some patients also notice symptom flare-ups during particular seasons (usually, when pollen counts are high).
If you experience an eosinophilic esophagitis flare-up, contact your healthcare provider. Additional treatment may be needed to calm down your symptoms.
In time, most patients and families develop a close relationship with their healthcare team. With appropriate treatment, people with eosinophilic esophagitis can lead healthy, satisfying lives.
Was this helpful?