Treatment Options for Eosinophilic Esophagitis
Was this helpful?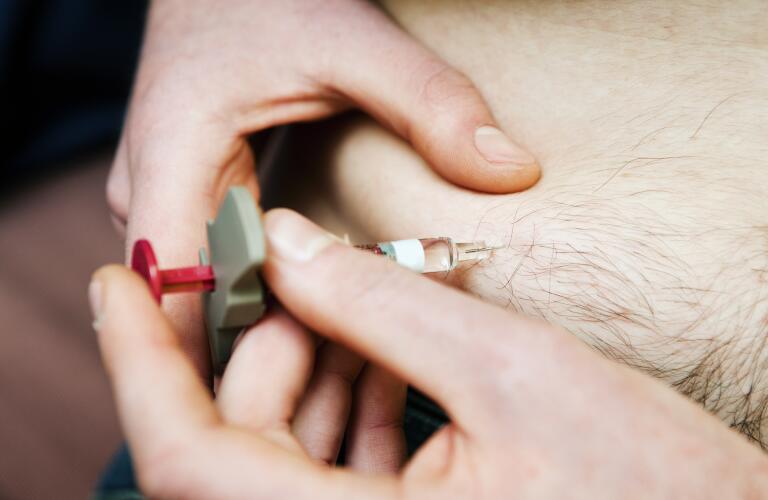 Eosinophilic esophagitis (EoE) is a chronic inflammation of the esophagus, or tube-like structure leading from the mouth to the stomach. Because EoE affects an essential part of the digestive system, it can make eating difficult and uncomfortable. There is currently no cure for eosinophilic esophagitis, but treatment can relieve symptoms.
Learn more about eosinophilic esophagitis treatment, including dietary changes, medication, natural treatments, and other alternatives.
Scientists have discovered that eosinophilic esophagitis is an overreaction of the immune system to particular foods. Avoiding the foods that trigger EoE can drastically improve symptoms. However, it takes time and experimentation to figure out which foods to avoid because different people have different food sensitivities.
There are three main approaches to an eosinophilic esophagitis diet: targeted elimination diet, 2- 4- or 6-food elimination diet, and element diet.
Targeted elimination diet
In the targeted elmination diet, the affected individual undergoes food allergy testing first. Then, the individual eliminates any foods shown to be an allergen from their diet.
2-, 4- or 6-food elimination diet
Clinicians know six foods cause the majority of food allergies (and EoE symptoms): dairy products, eggs, wheat, soy, peanuts/tree nuts, and fish/shellfish. In the traditional 6-food elimination diet, an affected individual removes all of those foods from his or her diet for a period of six weeks. Then, a physician will re-assess the patient's symptoms and esophagus; hopefully, there will be marked improvement. Over the next few weeks, each food is reintroduced, one at a time, while the patient is carefully monitored for a return of symptoms.
Another approach is to begin with the 2-food elimination diet instead, which restricts milk and wheat (gluten). According to the American Academy of Allergy, Asthma & Immunology, up to three-quarters of patients on a 6-food elimination diet have only one or two food triggers; the most common triggers are cow's milk, wheat and egg. So, some clinicians recommend beginning with a 2-food elimination diet. If symptoms don't improve, patients try the 4-food elimination diet (eliminating egg and legumes—including peanuts—in addition to milk and wheat). If needed, the patient can progress to the 6-food elimination diet.
The element diet involves removing all protein from the diet. In lieu of eating protein, the patient drinks only a special amino acid formula. (A feeding tube may be inserted to administer the formula.) Typically, an elemental diet is only used if food allergy testing is negative and the patient has not responded to medical treatment. Six weeks on the elemental diet can give the esophagus time to heal. Then, food may be reintroduced.
Prescription medication can ease the symptoms of eosinophilic esophagitis. Commonly prescribed medications include:
Topical steroids. Steroids decrease inflammation. Many people with EoE find relief using an inhaled or swallowed steroid medication. Topical steroids can control inflammation and may put EoE into remission.
Acid suppressors. Acid-suppressing medications, including omeprazole and lansoprazole, can decrease reflux and increase comfort.
Allergy medication. People with EoE and diagnosed allergies may need to take daily allergy medication.
Additionally, a biologic medication called dupilumab (Dupixent) has been approved by the U.S. Food and Drug Administration (FDA) for people over the age of 12 with EoE, and other treatments are currently in development.
To date, no alternative health treatments have been proven to improve symptoms or long-term outcomes in people with EoE. However, some people like to use herbal remedies and teas (including licorice, chamomile and marshmallow) to ease heartburn and reflux. If you are using any herbal substances, be sure to tell your healthcare provider, as some prescription medications and herbs should not be administered together.
If EoE has caused significant narrowing of the esophagus, your physician may need to dilate, or enlarge, it. This procedure can be done during endoscopy, or an examination of the esophagus with a lighted tube; the area is numbed in advance.
Because all patients have different food sensitivities and symptoms, it will likely take some time to determine which treatments are most effective to control your symptoms. The good news is most EoE patients thrive with appropriate medical treatment.
Was this helpful?