Symptoms of Eosinophilic Esophagitis
Was this helpful?
Eosinophilic esophagitis (EoE) is a chronic allergic condition that can cause difficulty swallowing, heartburn, and other symptoms. If EoE develops at a young age, growth and weight gain can be adversely affected, too. Though there isn't a cure for EoE, changes in diet and certain medications may help manage symptoms and prevent further problems with swallowing and digestion.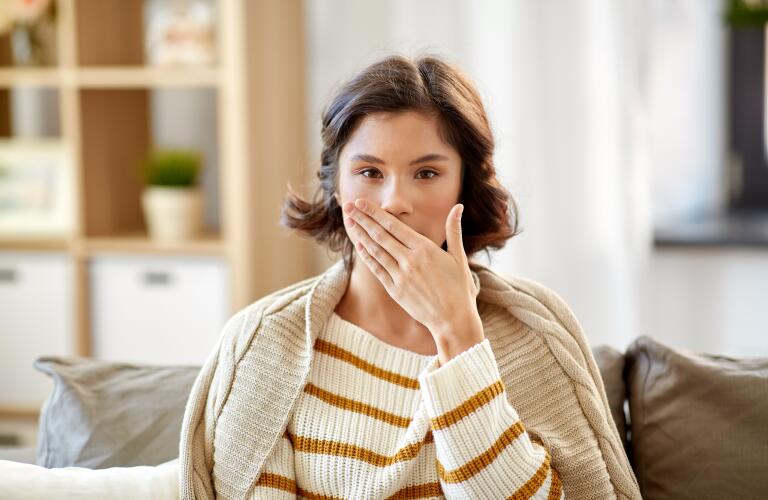 Eosinophilic esophagitis symptoms occur because of an allergic reaction to certain foods or substances. As part of this reaction, the immune system produces a type of white blood cell, called eosinophils, which accumulate in the lining of the esophagus — the tube that carries food from your mouth to your stomach. Eosinophils can cause inflammation, and in time, the buildup of eosinophils can damage the esophagus. As a result, food can get stuck in the esophagus, leading to numerous health complications. In children, EoE can cause vomiting and abdominal pain. In adults, chest pain that mimics a heart attack can occur. Working with a gastroenterologist and an allergist can often help people manage this challenging digestive disorder.
The primary symptom of EoE in children and adults is difficulty swallowing, also known as dysphagia. This is brought on by changes in the esophagus, which can develop rings or sores. The esophagus can also become less able to contract, which is necessary to move food down to the stomach.
In adults, heartburn is another common symptom. EoE is sometimes misdiagnosed as gastroesophageal reflux disease (GERD), a condition in which stomach acid moves up into the esophagus, irritating it and causing heartburn and the sensation of food being caught in your throat. One way doctors distinguish between eosinophilic esophagitis and GERD is by noting whether a person responds to anti-GERD therapy. If antacids don't provide relief, a doctor may start testing for EoE.
Other common eosinophilic esophagitis symptoms in adults include:
food impaction (food getting stuck in the esophagus)
central chest pain
regurgitation (the backflow of food into the throat or mouth)
In children, some of the more common symptoms include:
feeding or eating difficulties
vomiting
abdominal pain
food impaction
poor growth, malnutrition, and weight loss
Effectively treating eosinophilic esophagitis usually requires a combination of medications and dietary changes. Your doctor may prescribe you medications called proton pump inhibitors (PPIs), like lansoprazole (Prevacid), for an 8-week trial period followed by an endoscopy to determine whether the treatment is working. Your doctors may also suggest administering certain topical steroids, like budesonide (Entocort), orally to help reduce eosinophilic esophagitis inflammation. Additionally, a biologic medication called dupilumab (Dupixent) is approved by the U.S. Food and Drug Administration (FDA) for people over the age of 12 with EoE, and other drugs are currently in development.
For sustained symptom control, a diet that eliminates dairy, wheat, eggs, soy, nuts, and seafood can be effective for many people with EoE. Your doctor will likely recommend you try eliminating these six foods altogether at first, and then slowly reintroduce them one by one to see if your symptoms change.
If you suspect that you or your child has eosinophilic esophagitis, see your primary care physician or a gastroenterologist promptly. You may also need to consult an allergist to confirm any allergens causing the immune system response. The sooner you get a diagnosis and start a treatment plan, the less damage may be done to the esophagus.
Was this helpful?