What Is Sigmoid Volvulus? Symptoms, Causes, and Treatment
Was this helpful?
Sigmoid volvulus is when the sigmoid part of the colon twists around itself and enlarges. It causes bowel obstruction, preventing gas and stool from passing through. Volvulus is a painful, life threatening condition that may involve emergency surgery and removal of the sigmoid colon.
Sigmoid volvulus is the most common type of intestinal volvulus. It can occur in children, but it is more likely in adults.
Read on to learn about sigmoid volvulus causes, risk factors, and symptoms. This article will also describe the treatment options and answer questions that people often ask about sigmoid volvulus.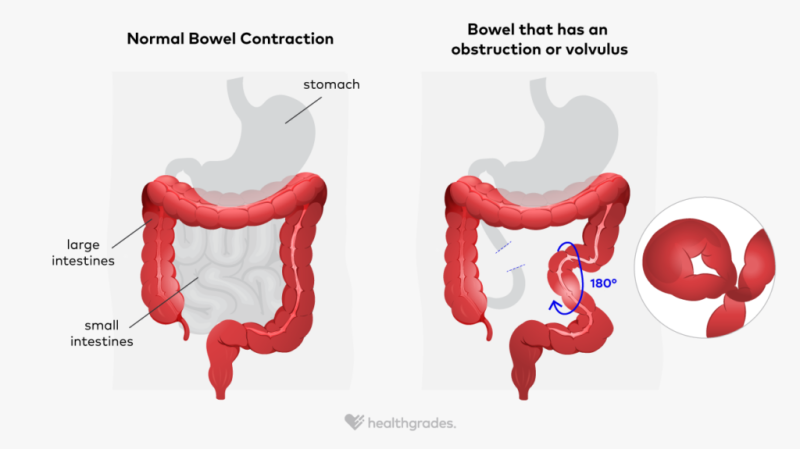 The sigmoid colon is an S-shaped portion of the large intestine located at the end of the digestive tract. It is the last part of the colon before the rectum. Usually, the mesentery holds the intestines in place. It involves a series of folds of the inner lining of the abdominal wall.
Changes in the structure of the sigmoid colon or mesentery can cause sigmoid volvulus. For example, the colon and attachments may weaken and stretch out with age. This frees up the expanded colon to loop out and twist, forming a volvulus.
Volvulus obstructs the bowel, trapping gas and stool inside. Volvulus can also reduce blood flow to the area. A lack of adequate blood supply can damage the colon.
Volvulus is a serious condition that often requires emergency surgery to resolve and help prevent complications.
Sigmoid volvulus is more likely to occur in adults, especially adults between 50 and 80 years old, says the National Institute of Diabetes and Digestive and Kidney Diseases. It is rare in children.
Sigmoid volvulus tends to be more likely in older adults, who:
Structural differences that increase the chance of sigmoid volvulus include:
Causes of pediatric sigmoid volvulus include:
Symptoms of sigmoid volvulus include:
People with sigmoid volvulus may experience symptoms for several days.
A 2019 research review of pediatric sigmoid volvulus points out that children may have a history of unexplained constipation and abdominal distention that comes and goes.
Additionally, symptoms of sigmoid volvulus may be due to its complications. These include:
Contact a doctor for symptoms of volvulus, infection, or severe pain, even if the pain comes and goes.
Call 911 for symptoms of shock.
Your doctor will confirm the diagnosis of sigmoid volvulus through:
Experts consider sigmoid volvulus a medical emergency that requires prompt treatment. The specific treatment plan may depend on whether the diagnosis is early or late. The two main procedures are:
If volvulus does not damage the colon, your doctor may perform flexible sigmoidoscopy. By gently passing the flexible colonoscope up the rectum to the volvulus, they may be able to unravel it. However, this is a temporary solution because it will likely form again.
If the sigmoidoscopy is effective but another volvulus is likely, your doctor may recommend partial colectomy. Your doctor will help you decide on the treatment plan that is safe for you.
You may or may not need a colostomy. This is when the end of the resected colon connects to a new hole in the abdominal wall. Your stool collects in a pouch outside your body. Whether or not you need a colostomy may depend on how much colon the surgeon needs to remove, your overall health and surgical history, and other factors.
Late diagnosis and complications
If there are complications, such as perforation or reduced blood flow to the area, known as ischemia, you will need an emergency partial colectomy. During emergency surgery, the chance of colostomy is higher.
Read about what to expect after a colectomy here.
In addition to surgery, you will have IV fluids and possibly antibiotics to treat or prevent dehydration and infection, respectively.
Early diagnosis and treatment for sigmoid volvulus has a greater chance of a positive outcome. A 2020 study concluded that emergency surgery for sigmoid volvulus led to more complications than elective surgery.
The study specifically noted that flexible sigmoidoscopy followed by minimally invasive partial colectomy may be the "optimal clinical option." Minimally invasive means the surgeon makes small incisions in the abdomen and inserts surgical instruments through them. They perform the surgery as they view the surgical area on a computer screen.
Open surgery is more likely with emergency surgery, according to the study. Open surgery involves a larger incision.
Learn more about colectomy surgical approaches here.
Kelsey Trull, PA-C, reviewed the following questions.
Is a sigmoid volvulus life threatening?
Sigmoid volvulus is a serious condition that requires prompt attention. Any delay in treatment may lead to life threatening complications.
Can you feel sigmoid volvulus happening?
If you have sigmoid volvulus, you will feel:
Sigmoid volvulus is a gastrointestinal condition and medical emergency. It occurs when the sigmoid colon becomes twisted and traps stool inside it. Volvulus can be quite painful. It can also reduce the blood supply to the bowel tissues, which can cause permanent damage.
Surgery to unravel the sigmoid colon is the main treatment. Removal of that part of the colon may also be necessary.
Was this helpful?