Incomplete Bowel Movement: Everything You Need to Know
Was this helpful?
Incomplete bowel movement is the feeling that you have not emptied the bowels completely. There may or may not be more stool in the bowels. This feeling is also known as incomplete evacuation. If you have an incomplete bowel movement, you may feel like you are straining to stimulate a bowel movement. It may be that there is more stool present that you cannot pass in that moment. Alternatively, you may feel like there is stool still to pass, but your bowels are empty.
This article explains the causes and symptoms of incomplete bowel movement. It also provides information about treatment options and when to contact your doctor.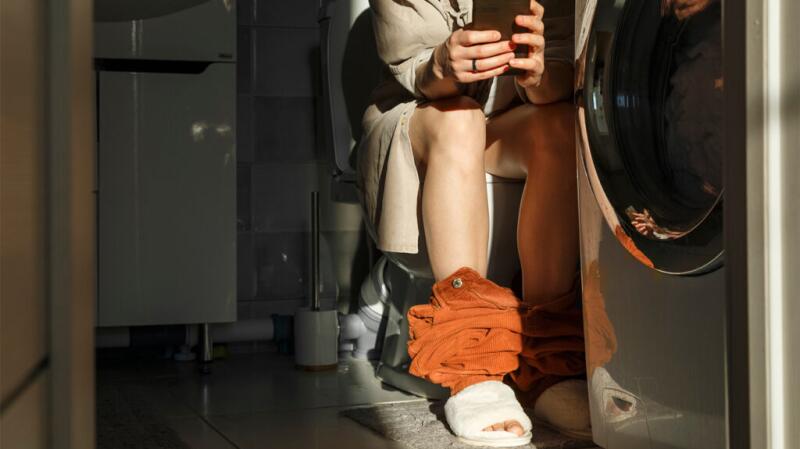 An incomplete bowel movement is a feeling of needing to empty your bowels. You may strain in an attempt to cause a bowel movement, but you are unable to pass much or any stool.
Feeling the urgent need to have a bowel movement is known as tenesmus.
If you are struggling to pass stool that is indeed present, the cause of your incomplete bowel movement may be different. The cause may be constipation or a motor condition, such as dyssynergic defecation.
Various other health conditions can cause incomplete evacuation.
There are various reasons why you may be experiencing incomplete bowel movement or tenesmus. Tenesmus may be a symptom of inflammatory bowel disease (IBD) or other changes in the rectum or intestines. Other possible reasons are:
Constipation can be the result of:
Dyssynergic defecation, or pelvic floor dyssynergia, affects the pelvic floor muscles that help bowel movements to pass as they should. The pelvic floor muscles cannot work properly with the muscles and nerves of the bowel. Pelvic floor dyssynergia can cause about 25% of cases of constipation.
Treatment for incomplete bowel movement may depend upon the underlying health condition. If IBD is the cause, your doctor may prescribe medication, including:
When your doctor treats the underlying condition, this may also relieve your incomplete bowel movement condition. The type of treatment depends on each individual cause.
Treatment for dyssynergic defecation will vary among individuals. Some people find that they need to try several treatment options before finding the right one for them. Treatment can involve:
Crohn's disease and ulcerative colitis
Crohn's disease and ulcerative colitis are not curable. However, prescribed medical treatments alongside healthy dietary and lifestyle choices can help you to manage the symptoms.
Your doctor may prescribe anti-inflammatory medications to reduce inflammation in the affected parts of your gastrointestinal tract. This can help to reduce
incomplete bowel movement.
Rectal lesions can include polyps, which can be either benign or malignant. If a polyp is cancerous and is in the early stages, treatments that target the affected area can be effective. These treatments can include surgery, radiation therapy, and cryosurgery.
Chemotherapy or immunotherapy can also treat certain types of colorectal tumors. Successful treatment can help to alleviate incomplete evacuation.
Proctitis is an inflammation of the lining in the rectum. To treat proctitis, your doctor may prescribe medications such as antibiotics, corticosteroids, aminosalicylates, and immunosuppressants.
The medications may reduce inflammation and heal the lining of your rectum. Surgery may also be an option.
There is not a cure for irritable bowel syndrome (IBS). However, you may relieve your symptoms by doing the following:
Learn more about IBS treatments and symptoms.
Treatment for thrombosed hemorrhoids focuses on relieving pain, as the body often heals itself within a few weeks.
To relieve pain that results from constipation, try eating more fiber, drinking more fluid, and taking laxatives.
If your pain worsens, your doctor may recommend that you take a sitz bath or try oral or topical pain relievers. Surgery to remove your hemorrhoids may be necessary.
Contact your doctor if hemorrhoids do not go away on their own after a few weeks.
Endometriosis in the bowel generally is classified as stage 4, severe disease. It may affect about 1 in 100 females (assigned at birth) during their reproductive years. Symptoms of painful and irregular bowel movements typically coincide with menstruation.
Treatment options include hormonal suppression using a combined contraceptive pill, oral progestins, menopausal-inducing medication, or surgery.
Contact your doctor to discuss treatment options for endometriosis of the bowel.
Changes to your diet may help relieve chronic constipation. Eating more fiber and drinking more water are the first to try.
If those changes do not help, your doctor may prescribe a laxative medication. If there still is no relief, various tests will help a specialist determine further treatment. This may include behavioral treatments, such as bowel retraining to reestablish bowel control or biofeedback to retrain the bowel muscles.
To diagnose
incomplete bowel movement, your doctor will examine your rectum. This can include a colonoscopy or sigmoidoscopy. During these procedures, the doctor inserts a thin tube with a camera on the end of it into the rectum. The camera allows the doctor to examine your rectum and bowel from the inside.
Other possible tests for incomplete bowel movement include:
Various conditions can cause incomplete bowel movement, so symptoms can differ for each person. Contact your doctor if you experience any of the following:
Incomplete bowel movement can be a sign of an underlying medical condition. Further medical issues may develop If you do not treat the condition, such as:
If you do not manage Crohn's disease, you may experience complications, including:
Ulcerative colitis may cause further health problems, including:
Ongoing constipation can lead to your stools building up, becoming dry and hard, and sitting in your rectum or anus. This is known as fecal impaction, which can lead to:
Learn more about the symptoms of fecal impaction.
Incomplete bowel movement is also known as incomplete evacuation. It is the feeling of needing to pass a stool, even though you can pass only a small amount or no stool at all. You may also experience pain and cramps. This feeling can be temporary or ongoing.
To help your doctor diagnose incomplete bowel movement, they may refer you to a specialist to perform a camera test to determine the cause. Treatment for incomplete bowel movement depends on the cause. Various options for treatment include medications, enemas, suppositories, and dietary changes.
If you think you may be experiencing an incomplete bowel movement, contact your doctor to arrange for a test. It is important to find out the cause and get the right treatment.
Was this helpful?