What is Dysbiosis? Causes, Treatment, Diet, and More
Was this helpful?
Dysbiosis refers to an imbalance of bacteria in the body. The body contains trillions of bacteria, some of which benefit bodily health and function. When there is an imbalance in the levels of beneficial bacteria and harmful bacteria, it can cause symptoms of illness. The body contains various strains of bacteria.
Dysbiosis occurs when there is a disruption to the balance of beneficial, or "good," bacteria and non-beneficial, or "bad," bacteria in a body system. For example, gut or intestinal dysbiosis can result from diet, stress, or medication use.
Dysbiosis can also affect other areas of the body.
This article will discuss the types of dysbiosis, including symptoms and causes. It will also explain treatment options and outlook.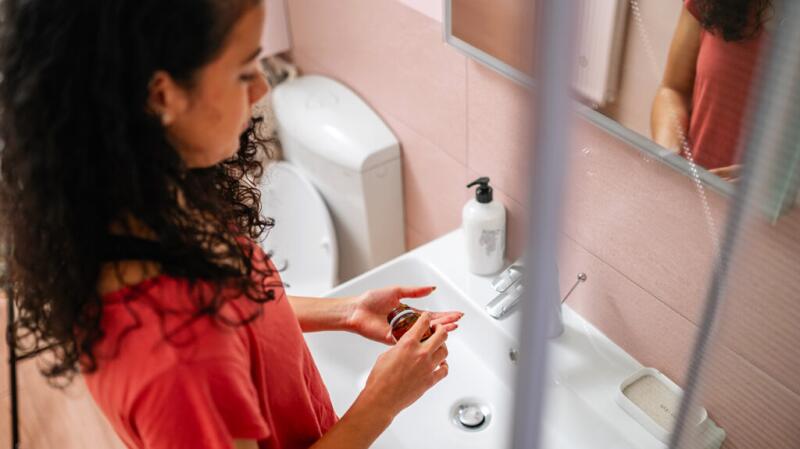 Bacteria are microorganisms that live in colonies in many areas of the body, such as:
the nose
the upper respiratory tract, such as the throat and mouth
the vagina
the genital tract
the gut, or gastrointestinal system
They form the microbiome of the body, or human microbiota. Typically, these bacteria exist peacefully in the body, meaning they do not cause harm, such as infection, and may even have benefits.
Dysbiosis occurs when this microbiota undergoes changes that affect the balance of good and bad bacteria.
Your symptoms will depend on where in the body dysbiosis occurs.
General symptoms of dysbiosis may include:
gastrointestinal symptoms, such as:
vaginal symptoms, such as

vaginal itching or burning
increased discharge
changes to discharge color or unpleasant odor

skin conditions, such as rashes, changes to pigmentation, or acne
oral symptoms, such as halitosis, tender gums, or sensitive teeth
inflammation of the affected site
Dysbiosis can lead to secondary conditions, resulting in additional symptoms.
An imbalance of bacteria or lower bacterial diversity can have wide-ranging effects on health. Researchers suspect dysbiosis can cause inflammatory effects and dysregulation of the immune system.
Dysbiosis of the gut may lead to conditions such as:
intestinal disorders, including:
other, non-intestinal disorders, such as:
Dysbiosis of the gut may also lead to dysbiosis in other body systems, such as the skin.
Dysbiosis can lead to the development of or increased susceptibility to secondary conditions. These conditions can include:
acne
psoriasis
periodontitis and other inflammatory oral conditions
infections such as bacterial vaginitis or vulvovaginal candidiasis, a type of yeast infection
sexually transmitted infections, such as:
Vaginal dysbiosis may also have links to some non-infectious conditions, such as miscarriage, polycystic ovary syndrome (PCOS), and menstrual disorders.
Disruptions to the body's microbiota can occur due to lower levels of good bacteria, an overgrowth of bad bacteria, or a decrease in the diversity of bacterial strains in the microbiome.
This can occur as a result of:
taking antibiotics
eating a diet high in ingredients such as:

simple carbohydrates, including artificial sweetener
protein

physical or mental stress
high intake of alcohol
smoking or exposure to nicotine
infection or inflammatory disorders
gastrointestinal disorders
genetic variations
improper hygiene
Other factors, such as a lack of exercise, may also impact microbial health.
When diagnosing the cause of your symptoms, doctors may first seek to rule out other conditions that can produce similar effects.
This may include performing a physical exam of any visible symptoms and asking about your medical history, including any illnesses you have had. They will also ask you if you take any prescription or over-the-counter medications or supplements.
A doctor may also order tests to help gain insight into your condition.
Once doctors have excluded other conditions that could be causing your symptoms, they may then investigate possible dysbiosis.
A doctor might suggest a hydrogen breath test. A hydrogen breath test can detect the presence of gases produced by bacteria in the gut. When there is too much or too little gas, it could indicate an imbalance in the gut bacteria.
They may recommend other tests depending on your symptoms and any secondary conditions you may have.
Treatment for dysbiosis will depend on where the microbiota disruption occurs and its underlying cause.
For example, if your diet is the root cause of dysbiosis, your doctor may recommend you follow a nutritional plan to allow the bacteria in your gut to rebalance.
Additional treatment options for dysbiosis can include:
taking antibiotics to remove pathogenic bacteria
taking supplements such as synbiotics, which are a combination of prebiotics and probiotics
fecal microbial transplantation
Fecal microbial transplantation is a relatively new approach to help manage dysbiosis. The treatment involves reintroducing a healthy community of gastrointestinal bacteria into the dysbiotic community.
The treatment has reached a 90% success rate among individuals with severe gastrointestinal dysbiosis. The treatment may also help a person's bowel function return to standard.
Research is ongoing, and our understanding of how the human microbiome relates to illness and health continues to develop. New discoveries offer the potential to improve diagnosis and treatment for many conditions, including dysbiosis.
Learn more about probiotics vs. prebiotics.
Diet can play a significant role in managing some cases of dysbiosis.
A 2021 review suggests that a Mediterranean-style diet may positively affect gut microbiota by increasing its diversity and adjusting the balance of good and bad bacteria.
While the Mediterranean diet can vary slightly, its general features include a high intake of whole, high fiber foods and a lower intake of processed foods. For example, it can include:
high intake of:

fruits and vegetables
olive oil
whole grains
legumes, nuts, and seeds

moderate consumption of seafood, dairy, and wine
low intake of:
Bacteria populate many body areas, including the gut, upper respiratory tract, skin, and vagina. Dysbiosis occurs when there is an imbalance of bacteria in the body. This can happen due to an overgrowth of harmful bacteria, a lack of beneficial bacteria, or a lack of bacterial diversity.
Dysbiosis can lead to secondary conditions, such as IBS, psoriasis, and infection, depending on where in the body it occurs.
Treatment also depends on the site of the dysbiosis and can include antibiotics, probiotics, or fecal microbial transplantation.
Contact your doctor regarding any symptoms of inflammation, stomach upset, or skin changes.
Was this helpful?