Don't Let the Shame of Chronic Constipation Prevent You From Getting Help
Was this helpful?
You might not want anyone to know you struggle with chronic constipation, but it's a much more common problem than many realize. By asking your doctor about possible treatments and lifestyle modifications, you can find some much-needed constipation relief.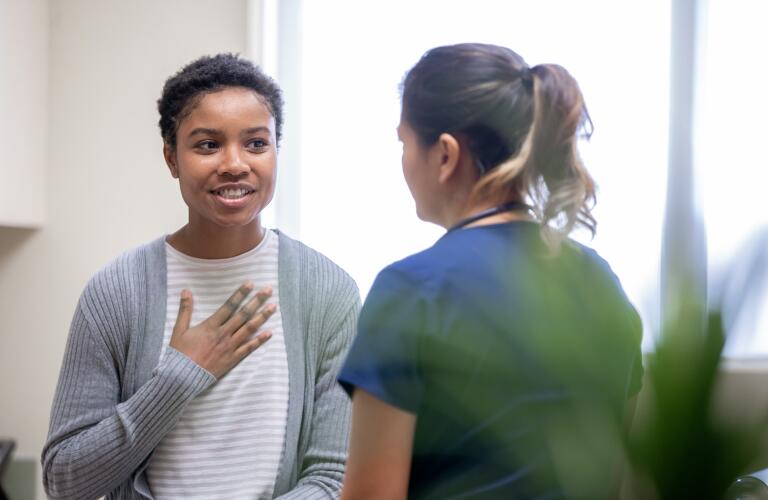 You may feel like you're the only one struggling with it, but chronic constipation is actually fairly common. An estimated 16 out of every 100 adults in the U.S. suffer from symptoms of constipation — and as many as 80% experience constipation at some point in their lives.
You're far from the only person grappling with abdominal pain and bloating, or experiencing anxiety over finding a toilet when you eventually need one. However, you might never know it, since talking about anything involving defecation and bowel movements makes a lot of people squeamish. As a result, it's all too easy to feel ashamed and alone, which can make an unpleasant situation worse.
When you're caught up in a shame spiral, it can be hard to feel hopeful. You may be unable to feel optimistic about managing your chronic constipation – and figuring out how to keep living your life as normally as possible. You might not even bother seeking out a doctor for help.
However, a doctor can find out what's causing your chronic constipation. While in some cases it can be hard to pinpoint the exact cause, there are plenty of situations where your doctor can make a diagnosis. They may determine that you have functional constipation or irritable bowel syndrome with constipation (IBS-C), which are the two main syndromes associated with chronic constipation.
Knowing your diagnosis can help you figure out how to proceed. And even if you can't determine the exact cause, there are a variety of treatments that can help.Your doctor might recommend:
fiber supplements
laxatives
medications such as lubiprostone (Amitiza), linaclotide (Linzess), prucalopride (Motegrity), and colchicine (Colcrys)
biofeedback therapy
pelvic floor retraining
You may also need to change medications or treatments that you are receiving for another medical condition that can contribute to your constipation. And in some severe cases, surgery is a possibility.
In other words, you don't have to just grin (or grimace) and bear it. Talk to your doctor about which strategies are the most appropriate for you. If you're worried about talking to your doctor, rest assured that they have seen countless other patients who have had similar challenges. Nothing you can say about your chronic constipation will faze them. Your doctor is there to help you find some constipation relief.
While you're talking to your doctor, ask about lifestyle modifications that you can make, as well.
Even with treatment, it may not be possible to completely avoid constipation, especially if it's the result of a medication you need to take or a condition you have. However, in many cases, you can ward off some of the worst effects.
Don't give up your treatment, but consider embracing these strategies, too:
Boost the amount of fiber in your diet: Generally speaking, experts recommend that most people aim for 25 to 30 grams of fiber each day to help keep stools soft and easier to pass. Your situation may vary, depending on your specific situation, and research suggests that a specific type of fiber, called soluble fiber, is best to keep things moving along. A doctor or registered dietitian can help you figure out what to add to your diet.
Drink more water: Upping your fluid intake can keep your stools from getting hard, dry, and difficult to pass.
Get moving: Regular exercise can help keep your digestive system regular, too.
Listen to your body: If your body tells you that it's time to defecate, don't wait. Head for the toilet.
Plan your schedule: You may find that rearranging your daily schedule to allow bathroom time may help you avoid constipation problems.
With some trial and error, you can find a combination of strategies that work effectively for you.
If you've been reluctant to talk to your doctor, you may also have been reluctant to admit to your family or close friends that you struggle with chronic constipation. That's understandable. Remember: this is a medical condition that's nothing to be ashamed of. Some of your loved ones may have experienced constipation, too – and might have some empathy or even some good advice for you. They may be able to provide support to you when you need it most.
Was this helpful?