Can Stress Trigger Stomach Ulcers?
Was this helpful?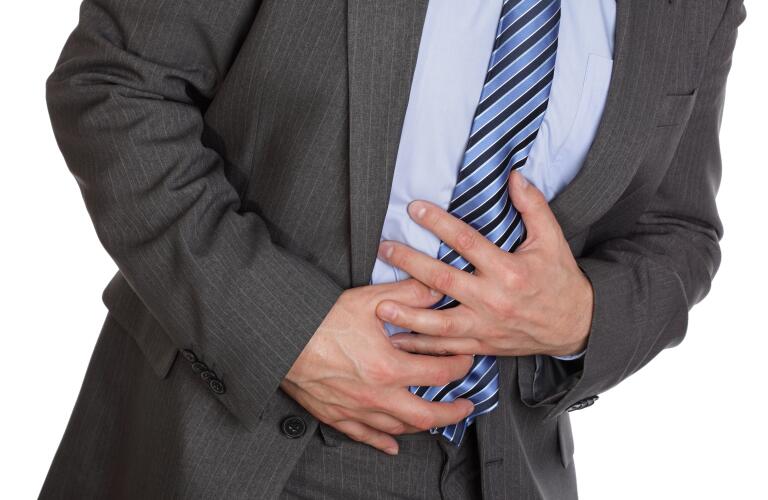 It sounds like common wisdom: Too much stress will give you a stomach ulcer. But the truth is a bit more complicated.
Stomach ulcers—also called peptic ulcers or gastric ulcers—are small sores that can develop in the lining of your stomach. They have two commonly recognized causes. Infection with Helicobacter pylori (H. pylori), a bacterium that can damage the lining of your stomach and intestines, is responsible for many ulcers. Long-term use of nonsteroidal anti-inflammatory drugs (NSAIDs), like ibuprofen or aspirin, is another common cause.
The role stress plays in developing stomach ulcers has been debated for years. But a recent study in the journal Clinical Gastroenterology and Hepatology may offer some new answers.
The Danish study followed nearly 3,400 adults for more than a decade to see how stress affected their risk of developing peptic ulcers. They found that participants who had the most stress doubled their odds of developing an ulcer. Even among those who didn't take NSAIDs and weren't infected with H. pylori—the two main causes of ulcers—stress increased the risk. Additional research is necessary to confirm the finding.
How stress contributes to the development of ulcers was not explored in this study, but the authors mention a few possible ways. Your body's natural response to stress could increase the amount of acid in your stomach, which can make an existing ulcer worse. There's also the known effect of stress on hormones. Stress affects an area of your brain—the hypothalamic-pituitary-adrenal axis—that produces glucocorticoids. Glucocorticoids are hormones involved in both inflammation and your immune system throughout your body, including your stomach.
The way you deal with stress could increase your risk of ulcers as well. People in the study who reported feeling stressed also reported an increased use of NSAIDs and a higher rate of smoking—two practices known to contribute to ulcers.
The classic symptom of a peptic ulcer is a dull, burning pain in your stomach that usually occurs between meals or at night. It might be accompanied by:
If you experience these symptoms, don't wait to talk with your doctor. Left untreated, peptic ulcers can lead to broken blood vessels in your stomach, holes in the wall of your small intestine, or blockages that can stop food from passing through your digestive system. These problems could require surgery to correct.

If you're worried that tension in your life may lead to an ulcer, or make an existing ulcer worse, there are things you can do to manage your stress level. Try these tips:
Avoid alcohol. Alcohol doesn't relieve stress, and it can contribute to the development of ulcers.
Stay active. Walk your dog, go for a bike ride, or volunteer in the community.
Seek help. Talk with a friend or family member, or visit a counselor to help manage your stress.
Take a break. Get plenty of sleep, have a massage, or meet up with friends.
Was this helpful?