What Is an Anal Fistula?
Was this helpful?
An anal fistula is the abnormal formation of a tunnel that connects the internal anus to the outside skin around it. Also called fistula-in-ano, it is often a complication of an anal abscess. Anal fistulas are one of the most common anorectal conditions. Treatment of anal fistulas depends on the location and complexity of the fistula. Surgical removal of the fistula is often necessary.
Keep reading to learn more about anal fistulas, including the causes, diagnosis process, and treatment.
An anal fistula is a small tract that starts internally at the anal canal and ends externally at the skin around the anus.
In most cases, this tunnel develops due to drainage from an anal abscess. An anal abscess is an infected collection of pus that can form in the rectum or anus.
Learn more about abscesses, including symptoms and treatments.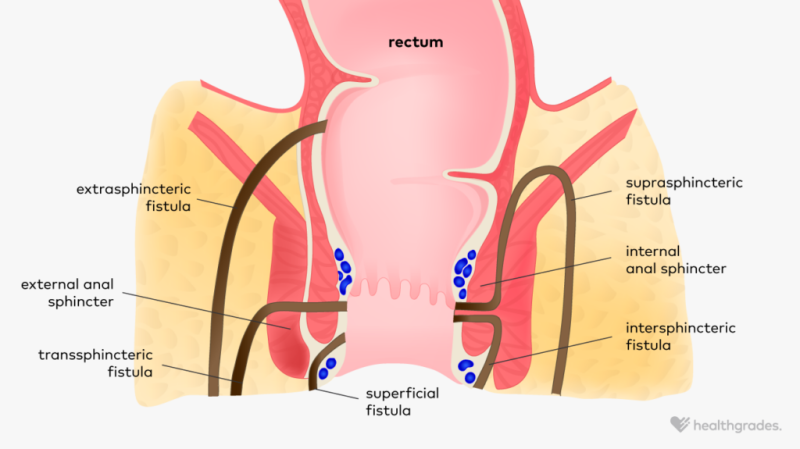 The anus has two sphincters inside the body to control movement. One is internal and the other is external. Doctors classify anal fistulas depending on where the formed passageway develops and ends.
| Type | Description | Percentage of cases |
| --- | --- | --- |
| intersphincteric | goes through the internal sphincter to outside skin without passing through the external sphincter | 45% |
| transphincteric | goes through both the internal and external sphincters to the outside skin | 30% |
| suprasphincteric | goes up through the internal sphincter and around the external sphincter to the outer skin | 20% |
| extrasphincteric | bypasses both sphincters and connects directly from the rectum to the perineum | 5% |
The type of anal fistula will also help determine your doctor's recommended treatment options.
Symptoms of an anal fistula are similar to the symptoms of an anal abscess. When symptoms follow the drainage of an anal abscess, they likely indicate an anal fistula.
Anal fistula symptoms include:
Contact a doctor immediately if you have symptoms of an anal fistula or anal abscess. A prompt diagnosis can improve treatment outcomes and reduce the risk of complications.
Learn other possible causes of rectal discharge.
An anal fistula can develop for many reasons. Anal abscesses are the most common cause of anal fistulas.
In most cases, a person with an anal fistula has a history of an anal abscess. Up to 70% of people who receive a diagnosis for an anal abscess have already developed an anal fistula as well, according to a 2022 overview.
Certain conditions that can cause inflammation in the anorectal area can also lead to the development of anal abscesses that produce fistulas. These include:
Some anal fistulas can also develop spontaneously.
Learn more about potential complications of Crohn's disease.
According to a 2022 overview, researchers have identified trends and risk factors associated with the development of anal fistulas. These include:
Talk with your doctor about your individual risk for anal fistulas and steps you can take to lower your risk.
To diagnose an anal fistula, your doctor will first discuss your medical history and your symptoms.
Your doctor will perform a physical examination of the outside and inside of your anus. Because this exam can be uncomfortable, doctors typically perform it in an operating room and you will be under general anesthesia.
Tests your doctor may order to diagnose and evaluate an anal fistula include:
Your doctor will discuss your diagnosis with you and how it will determine your treatment options.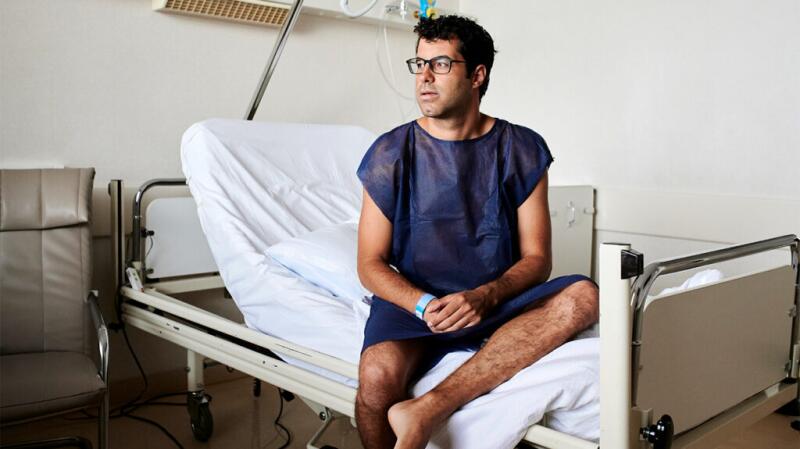 Surgery has traditionally been the most common treatment for an anal fistula. However, new treatment options may also be effective with fewer associated risks.
One longstanding treatment for an anal fistula is a fistulotomy. This procedure involves creating an incision and removing the infected area. The surgeon then stitches the area back up so it can heal.
Fistulotomy has a very high success rate, up to 97%, according to the American Society of Colon & Rectal Surgeons (ASCRS). However, the procedure carries the risk of damaging the anal muscles that control when you pass your stool. This can result in fecal incontinence.
Other surgical treatment options do not require cutting and dividing the anal muscles. These options can reduce the risk of incontinence:
The ASCRS notes that for people who develop anal fistulas with Crohn's disease, medical therapy is the first-line treatment instead of surgery.
An anal fistula is the formation of an abnormal tract that connects the inner anal canal to the outer skin. It is most commonly a complication of an anal abscess.
Symptoms of an anal fistula include severe pain, redness, swelling, discharge, and blood in your stool. Contact your doctor for any symptoms of an anal fistula. They can discuss prompt treatment options, including surgical removal.
Was this helpful?