What Diabetic Neuropathy Does to Your Feet and Legs
Medically Reviewed By William C. Lloyd III, MD, FACS
Was this helpful?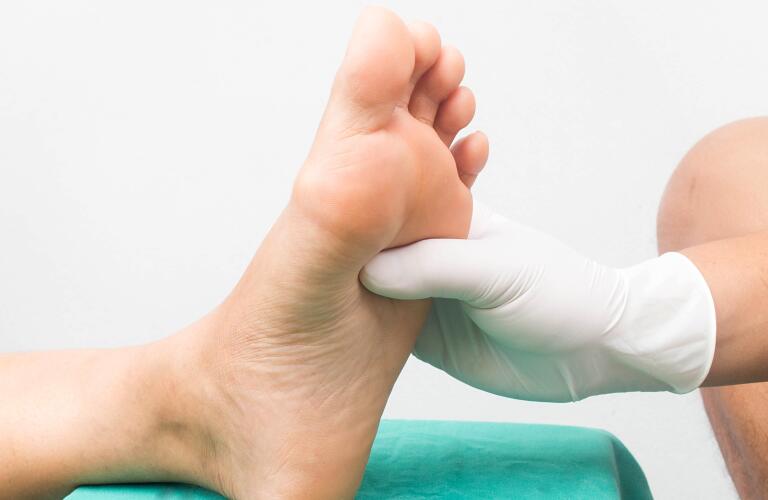 Diabetic neuropathy is a nerve disorder caused by diabetes that can affect your body's limbs. While causes may differ from person to person, researchers believe high blood glucose and other metabolic factors associated with diabetes—such as abnormal blood fat levels and low insulin levels—are the main causes of this damage to delicate nerves. About 60 to 70% of people with diabetes develop some type of nerve damage. Your risk increases as you age, and is often dependent on how long you have had diabetes.
Peripheral neuropathy is the most common form of diabetic neuropathy. It most often affects feet and legs first, and may progress to the arms and hands. Peripheral neuropathy can cause changes in how you walk, which may result in blisters, sores and cuts that can become infected. If a foot infection is ignored, it can spread to the bone and lead to amputation. Fortunately, most amputations are preventable if you treat issues promptly.
Neuropathy symptoms are typically mild at first, increasing over time as nerve damage occurs. The signs and symptoms can be worse at night, and include:
Tingling, or feeling "pins and needles" in your feet
Burning, stabbing or shooting pains in the foot
Feet that are increasingly sensitive to the touch
Ulcers or sores on the feet and legs that heal slowly
Loss of balance and coordination
Here are some of the best ways to prevent or lessen the chances you will develop peripheral neuropathy:
Keep your blood glucose levels as close to your normal range as possible by checking levels regularly and having A1C lab tests as prescribed by your physician.
Incorporate proper diet and exercise.
Take diabetes medication as prescribed by your doctor.
Take care of your feet and legs and examine them for injuries as part of your everyday routine.
Have a complete foot exam at least once a year, more often if you already have food problems.
You are the most effective treatment for diabetic neuropathy, because there is much you can do to prevent or delay nerve damage. If you suspect you may have peripheral neuropathy, see your doctor right away and let him or her know about any changes you may have noticed since your last visit.
Was this helpful?