SOCIAL VOICES

What I've Learned About the Reality of Eating with Type 2 Diabetes

Was this helpful?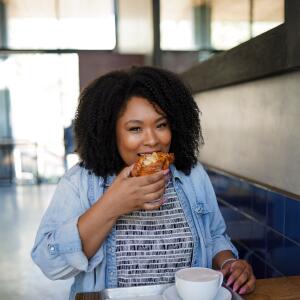 Many people with type 2 diabetes are told the same thing. Count carbs. Lay off the fats. Drink more water. However, it's much easier said than done. And there's a lot of judgment around food choices when you have diabetes, because people think it's simple. However, making huge diet changes is a challenge for anyone, and it's extra complicated when you have diabetes.
I received my type 2 diabetes diagnosis when I was 25, and it was overwhelming to try to figure out my meals. It's important to note that access to healthy food isn't always a given. Historically marginalized groups such as Black, Latino, and Native American communities are more likely to get type 2 diabetes than others, but they're also more likely to live in food deserts without a variety of affordable grocery options. And organic grocery stores are rarely located in these neighborhoods.
When someone says, "just buy organic" or choose "healthier brands," they speak from a perspective and privilege that not everyone has. Even with my decent paying job, buying diabetes-friendly foods is often too expensive. Access to quality produce is often not available or it's so expensive that if I want to ensure I can eat for the week, the lower quality alternatives are my only choice.
I also usually don't have the time or energy to make half the meals that I see on Instagram or Pinterest. I only have so much time and meal prepping isn't something I'm able to consistently do. I work a full time job. I'm building up my own business. I'm trying to maintain relationships and have some sort of social life. It's a lot to juggle.
That's not to say I don't do my best to make healthy food choices. I recognize that what I consume matters. I try to keep it as simple as possible within reasonable means. I look at portion size. I ensure that I'm not eating all carbs and sugar, and have some form of greens or veggies as well as protein in each meal. I know that foods with fat, fiber, and protein slow the breakdown of carbs and sugar, leading to fewer post-meal spikes in my blood sugar. I stand up after eating half my meal to get a sense of how full I am.
Overeating was a big issue for me in the past, because I would ignore my body's signs that say, "stop eating." I look at ingredient lists more than I used to. If there's a laundry list of things I don't understand, I move on. Paying attention to the ingredients in the foods I eat has actually opened up more affordable options to me, because I've learned some of the cheaper no-name food products have the exact same ingredients as the expensive brand-name items.
Enjoying meals with diabetes simply takes a little more strategy at times. My continuous glucose monitor (CGM) has helped in that strategy. I eat something, wait for an hour, then check my numbers. If they're in the green, then I know that the combination of what I ate did well. If I go a little high, then I might look at how much I ate. Were certain portions larger than others? Did I use extra condiments (looking at you, spicy ketchup that I love so much)? Did I have anything to drink with my meal? You can do this with a manual meter as well. Most refer to this strategy as "eating to your meter." It can be daunting at first, but it's helpful and empowering to be able to make decisions in real time to adjust.
After years of monitoring my blood sugar, I understand the choices that work for me. It's all about balance. It might take some experimenting, but I can eat all kinds of things. And sometimes I just get the damn cheeseburger and enjoy it.
At the end of the day, I've gone out to eat, bar-hopped, enjoyed late night snacks, and my blood sugar numbers have still been in range. I know my body, and I trust what I need to do to take care of it. I worked hard to get in a state of flow with it. It definitely took some time, but when I truly started listening to myself, things shifted for me.
I pay closer attention to hunger signs. I ask myself if I'm really hungry or if I'm just bored. I stopped beating myself up for my food choices and started asking myself, "what can I shift in this meal to ensure that it's well rounded?" Maybe it's getting the cheeseburger and a side salad instead of fries.
I personally sought out a sensuality coach to help me get more in tune with myself. It sounds a little "woo woo," but who knew that standing in front of a mirror and telling myself what I appreciate about my body would have such an impact? I can't trade this body in. It's important that I take the time to get to know my physical being just as much as my mental and spiritual one.
Having diabetes pushed me to learn ME. I had to accept that the path ahead was mine to figure out. Understanding my body and who I am is a journey. There's a new level to this journey every day, but by making that conscious effort, I wouldn't be where I am today. We all came into this world as human beings, and our value isn't determined by the conditions we live with. I am Taylor. I am not diabetes.
Was this helpful?