What Diabetes Does to Your Eyes
Was this helpful?
Eye problems are about twice as common in people with diabetes, and the disease is a leading cause of blindness.  Watch for eye symptoms and take steps to protect your vision.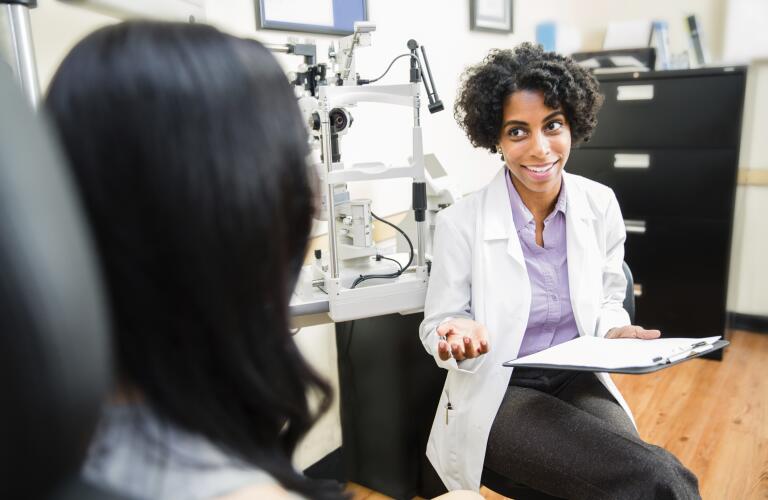 When you have diabetes, you need to be vigilant about eye health. The eye problems that can develop because of diabetes can affect one or both eyes. They also can affect different parts of the eye. To better understand how diabetes affects your eyes, it helps to know some basic facts about your eyes.
The cornea is the clear curved covering that protects the front of your eye.

The anterior chamber is the space behind your cornea. It's filled with a fluid called aqueous humor.

Light passes through the pupil. That's the dark center in the front of the eye. Around it is your iris, the colored part.

Behind the pupil is the lens. The lens focuses light on the back of your eye.

A fluid called vitreous gel fills the back of your eye.

Special cells that make up the retina cover the back wall of your eye. These cells convert light into signals that go to your brain via the optic nerve. This process creates your vision.

The macula is the center area of your retina. It's where cells for sharp vision are located.

Diabetic retinopathy is the most common eye problem for people with diabetes. Diabetes can damage blood vessels throughout your body, including the blood vessels that supply your retina. Early retinopathy may have no symptoms. However, if it is not treated, it can lead to blindness.
Retinopathy often follows this pattern:
Tiny blood vessels in the retina develop balloon-like swelling.

Some blood vessels become blocked.

New blood vessels grow to supply blood to the retina. But, they're weak and can leak into the vitreous gel. This causes blurry vision.

The macula can become swollen, a condition called diabetic macular edema.

Scar tissue can cause the retina to peel away from the back of the eye. This is retinal detachment. It can lead to blindness.

Treatment usually involves painless drug injections and/or eye surgery using a laser to repair damaged blood vessels. Timely treatment can prevent blindness for most people.
Glaucoma develops because of a slowdown in the draining of aqueous fluid in your anterior eye chamber. Pressure in the eye builds and can damage the optic nerve. This, in turn, can lead to vision loss. Though anyone can develop glaucoma, diabetes makes you 40% more likely to get it. The longer you have diabetes, the higher your risk of glaucoma.
Glaucoma has no symptoms at first. As it progresses, vision loss often starts with peripheral, or side, vision. Your eye doctor can detect glaucoma before this happens and treat it with drugs or surgery. However, once you lose vision, there's no treatment to restore it.
Cataracts are also more common when you have diabetes. Cataracts develop in more than half of all Americans, typically by age 80. Proteins in the lens of your eye change as you age, and this occurs at a younger age in people who have diabetes. Eventually, these changes form a cataract: clouding of the lens behind the pupil. Your lens needs to be clear to focus light to your retina.
Over time, your vision may become tinted brown. You might not be able to tell some colors apart. You can help cataracts from getting worse by wearing sunglasses throughout your life. Cataracts that interfere with vision are easily removed with surgery. An artificial lens replaces the one with the cataract.
The two best ways to protect your vision are by getting a yearly eye exam from an eye specialist and carefully controlling your blood sugar.
Work closely with your diabetes care team and let them know right away if you have any changes in your vision.
Was this helpful?