Starting Non-Insulin Injectables for Diabetes
Was this helpful?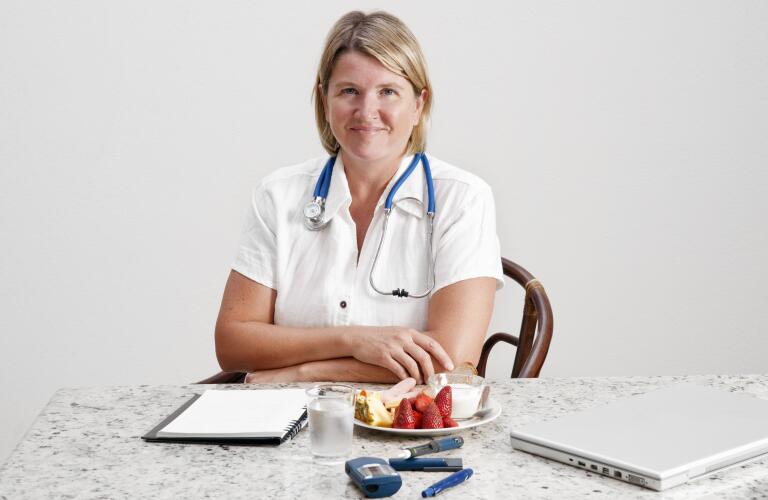 Living with type 2 diabetes often means making a lot of lifestyle adjustments. Aside from taking pills, you've probably been advised to adjust your diet, become more physically active and find ways to manage your stress levels, among other things. But sometimes even all those changes—no matter how faithful you've been—can't bring down your blood glucose (sugar) levels low enough for your diabetes to be controlled. When this happens, your endocrinologist may suggest you try another route: non-insulin injectables.
It used to be that type 1 diabetes was called "insulin dependent" diabetes and type 2 was called "non-insulin dependent" diabetes. People with type 1 diabetes can't produce insulin, so they manage their disease with regular insulin injections. People with type 2 diabetes do produce insulin, but either their pancreas doesn't produce enough or their body doesn't use the insulin properly. The first treatment for type 2 diabetes is usually an oral medication (pill) that helps the body produce and use insulin effectively.
But it turned out that not all people with type 2 diabetes can manage their illness with pills alone, and endocrinologists started to prescribe insulin. Because this was happening more and more, the names of the disease were changed to type 1 and type 2 diabetes.
Insulin does have some drawbacks, so doctors usually wait to prescribe it until they feel they have no other options. However, in 2005, the Food and Drug Administration (FDA) approved new injectable non-insulin drugs that do more than the oral drugs but are not insulin. The two drugs, glucagon-like peptide-1 (GLP-1) agonists and an amylin analog, are generally for people with type 2 diabetes, although some people with type 1 diabetes may also benefit from them.
The two types of non-insulin injectables work in different ways. The GLP-1 medications, sold as exenatide (Byetta and Bydureon), dulaglutide (Trulicity), liraglutide (Victoza), lixisenatide (Adlyxin), and albiglutide (Tanzeum), stimulate your pancreas into producing more insulin and slow down how quickly your liver produces glucose.
The amylin analog, sold as pramlintide (Symlin), slows down how quickly your stomach empties, so it takes longer for your food to be digested. Because your blood glucose levels spike while your body digests food, the slower your food is digested, the lower the likelihood of your blood glucose spiking.
If you're used to taking pills and aren't sure about switching to injections, you may be reluctant to start. But for many people, these new injectable medications are a safe and effective bridge between the pills and insulin. These non-insulin injectables even have some advantages over insulin that may be helpful:
You may lose weight. These drugs are not meant for weight loss, but studies have shown that many people with type 2 diabetes do lose weight while using non-insulin injectables.

Consistent dosage: People who take insulin must often calculate how much insulin to give themselves with each injection, based on what they have eaten, how much exercise they did or plan on doing, and other factors, such as illness. The non-insulin injectable doses do not change unless your endocrinologist adjusts the dosage.

Convenience: Insulin may be taken anywhere from once or twice a day, to much more frequently, depending on each person's needs. A few of these non-insulin injectables are given only once a day or perhaps twice a day. And the newer long-acting ones may only need to be injected once a week.
Giving yourself a non-insulin injectable is probably much easier than you imagined. The medications are injected subcutaneously, which means they use a very short needle, to get just under the skin. The manufacturers supply them in special injection pens, which are simple to use.
When your endocrinologist first suggests switching you to a non-insulin injectable, ask if you can see what one of the injecting pens looks like and if you can handle it. Either your doctor or someone else on your diabetes care team will show you how it works. The manufacturers' websites also usually have user manuals and sometimes videos to help you get used to their product.
If you are nervous about giving yourself an injection, ask your doctor's office if you can go over the procedure with someone when you first pick up your prescription. Or, you could ask your pharmacist for tips and tricks if you feel you need to learn more.
The idea of giving yourself an injection, no matter what type, can be stressful. After all, it goes against everything we feel – we're not supposed to stick ourselves with sharp objects! But these injectable pens really are easy to use and once you get used to using yours, you'll probably wonder why you were concerned in the first place.

Was this helpful?