SOCIAL VOICES

My Guide to Enjoying Cultural Foods with Diabetes

Was this helpful?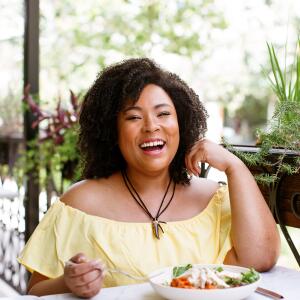 Fun fact: Not only am I a Black woman, but I'm also Thai (South Asian). Growing up, I was exposed to all kinds of foods that you wouldn't find in traditional American grocery stores. I was on the sriracha train before it was the cool new condiment in everyone's kitchen! Pho was a regular winter staple in my home. There was always rice in the rice cooker and it was the go-to side dish for every meal.
Oftentimes, when you're diagnosed with a disease that's heavily impacted by what you eat – in my case, type 2 diabetes – you're told to steer clear of your cultural foods. I've heard plenty of stories of people with diabetes going in to see their doctor or dietitian and being told that they should stop eating the very foods they grew up eating all the time. It's created this idea that our cultures, which impact our very identities, are the cause of our struggles with diabetes.
In reality? That's not true. Diabetes is a complex disease, and there are multiple factors at play. Living a healthy life and managing your diabetes is possible – and you don't have to give up a part of your identity to do it.
Navigating the diet changes that come with diabetes takes mental, emotional, and physical energy. People with diabetes should avoid foods that are fried, carb-heavy, and high in sugar. It's easy to get overwhelmed and start labeling certain beloved foods as "bad," especially if that's the message you're receiving from your healthcare team. However, your cultural food isn't "bad." No matter what, remember that above all else.
First of all, it's important to note that many cultural foods are great for people with diabetes. For example, Thai food is typically light on meat and full of vegetables. Many recipes include veggies that are steamed or stir-fried rather than fried, and although there's an emphasis on rice and noodles, it's all about portion size. Some of your favorite dishes might not even require big changes. If you immediately label your cultural foods as "bad" without thinking it through, you can lose out on something that's important to you. Instead, keep an open mind, learn as much as you can, and find ways to strike a balance.
Eating with diabetes means finding balance. There's a fundamental equation to ensure that your food breaks down and absorbs slowly without causing major spikes in blood sugar. A combination of protein, fat, and fiber with any carbs is the key. So for someone who eats a LOT of Thai food, that could look like a mix of veggies, rice, fish or chicken, and light use of oils or condiments.
When you look at it from that perspective, it can make your food choices easier. Do you have protein? Do you have fiber like leafy greens or veggies? Is your meal mostly made up of carbs? How can you add the other nutrients in to ensure that your meal is well rounded?
The other key is portion size. It's easy to take big scoops of rice, which is what I'm used to. Now, I make sure that my protein and fiber portions are bigger than any carb-heavy portions. Smaller meals may take some getting used to. However, my mom always said, "Start with one portion. If you're still hungry, you can always get more." Following this has not only allowed me to enjoy the foods I love from my childhood, but it also helps me avoid overdoing it, which can lead to post-meal spikes.
It can be intimidating to shift how you think about food, but you're not alone. Nowadays, there are many tools, tips, and ingredients to turn to so the foods you love from your culture fit a diabetes diet. You can try alternative sauces or oils with less sugar or salt (that are still packed with flavor). There are so many different types of fruits, vegetables, spices, and legumes.
That means you have a lot of options to choose from! A dietitian can help you make healthy adjustments, and you can also turn to the internet,from Pinterest to Youtube to blogs, it's chock-full of recipes for traditional foods with a diabetes-friendly twist; you might substitute zucchini noodles for rice noodles, or learn how to make a sauce sweetened with dates instead of cane sugar. Even if you're not confident in the kitchen, there are quick and easy cooking videos out there to guide you through.
Don't settle for anything or anyone that says your cultural foods are off-limits. There are plenty of doctors, dietitians, and health coaches who will lean into your culture and help you make it work. There's no reason that anyone on your medical team can't support you in making realistic, sustainable changes. If they push back or simply say no, find someone new.
Diabetes shouldn't prevent you from eating foods that you know and love. We are all unique. Our culture isn't something that needs to take a back seat. Food is a connector and the recipes that we've loved over time can still be enjoyed. By keeping in mind the balance of our meals, being intentional about portions, and maybe making a few creative swaps, there's nothing that can stop us from enjoying every aspect of our culture, especially the food.
Was this helpful?