PATIENT VOICES

My Diabetic Macular Edema Journey: Connecting With My Ophthalmologist

Was this helpful?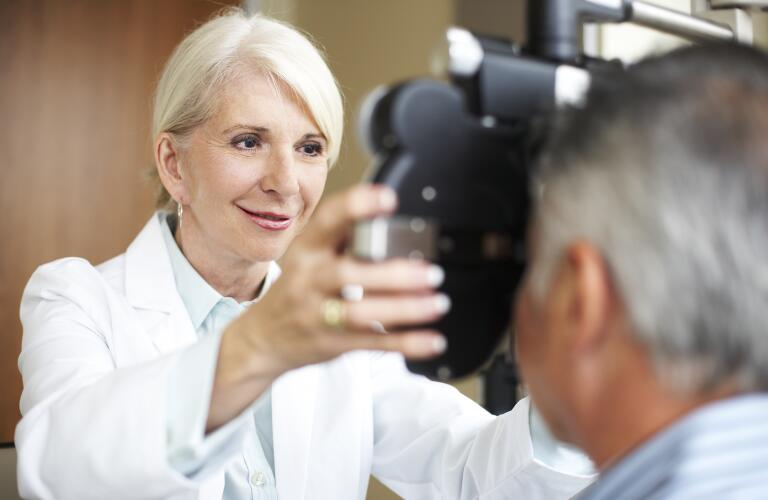 When I was first diagnosed with type 2 diabetes 20 years ago, I immediately told the doctor, "You're speaking to a girl from South Philly who eats big Sunday dinners every week. I'm not giving up rice, I'm not giving up bread, and I'm not giving up pasta." The doctor took my hand and said gently, "I can't do it for you—I can't hold your hand all the way through this. You're the one who has to get it under control."
It took me 20 years for that to really click. We all wish we could go back and tell our younger selves what to do differently, and I'm the same. I wish I had taken my diabetes more seriously, because today I live with diabetic macular edema (DME)—damaged blood vessels leak into my eye as a result of poor blood sugar control, limiting my vision. However, I finally feel like I'm in control of my diabetes and my DME, and I have high hopes for the future.
From the start, managing my diabetes was a roller coaster. I was diagnosed with gestational diabetes when I was pregnant with my daughter, but I was so sick during my pregnancy that the only foods I could keep down were rye toast and mashed potatoes—two high-carb items that didn't help me maintain healthy blood sugar levels. After my daughter was born, my gestational diabetes became type 2 diabetes, and I had a lot to learn.
After my diagnosis, I went to a diabetes awareness class, where I learned details about nutrition as well as diabetes do's and don'ts. My doctor put me on many different medications over the years, from metformin to enalapril. Today, I'm strictly on insulin. But the medications weren't enough to keep my diabetes under control; I also had to change my lifestyle, and like a lot of people, I struggled to do that. So when I began to notice I needed glasses to read, I knew it might be related to my diabetes.
Both my sisters have worn glasses since their 20s, and I was always proud I reached 50 with perfect eyesight. However, I started to need reading glasses and was experiencing floaters in my vision, so I went to the optometrist. She told me I should probably find an ophthalmologist who specializes in retina disorders because she'd noticed some retinopathy—that means the blood vessels at the back of the eye are damaged due to poor blood sugar control. I was concerned, but I tried not to stress out until I saw the eye doctor. I searched online for a retina specialist and found one nearby. Fortunately, from the start, I've absolutely loved her. She's a doll and I feel lucky to have her.
She examined my eyes and explained that I had diabetic retinopathy (DR) in both of them. I just started crying. I was afraid I would lose my sight and I couldn't believe I'd let my diabetes get so out of control. The doctor was such a lifesaver. She calmly told me we would work together to preserve my vision. She said we couldn't go back and reverse any damage, but we could move forward to prevent more. Unfortunately, like many people with diabetes, my DR progressed into diabetic macular edema. When I heard it had reached that level, I cried again—mostly out of anger. I was angry at myself. I knew I did this to myself. But it was the kick in the pants I needed to finally, after all those years, realize I'm the only person who can control my diabetes. The medicines and classes are tools, but everything else is on me. For every action, there is a reaction, and that's the truth.
Now, I see the ophthalmologist once a month, and receive special injections into my eyes that preserve my vision and prevent more damage from developing. I know a lot of people with diabetes are terrified of these shots, but honestly, they're less painful than most shots I get! Each time, the doctor dilates my eyes and examines them to compare them to the last visit. She'll decide if I need a shot that day and decide which eye to inject. She gives me a numbing eye drop so I can't feel anything in my eye, and then gives me a numbing shot on top of that. Then, finally, she injects the medication, called anti-VEGF therapy. Typically, the recovery is easy. Sometimes, there's a little blood that floats around in my eyeball, and that can take about two weeks to go away. But most of the time, it's no big deal.
My eyesight isn't as bad as it could be, because I'm treating my DME. I need to use magnifying glasses, and it can be hard to see things directly in front of me; because my retina is dysfunctional due to the DME, I see a little blurry spot in the center of my field of vision when I look straight ahead. But my peripheral vision is okay.
Now that I've had to face some consequences of my poor diabetes management, I've really kicked into gear. I know that once my eyesight is gone, it's gone, and it scares me to never be able to see my daughter again. I'm much stricter about controlling my diabetes. I think twice about grabbing candy and junk food, and I'm lucky my husband makes me truly delicious chopped salads to help me stay on track.
I'm really grateful for his support, and I feel fortunate to have found my ophthalmologist. She's very friendly and just has a good heart. She takes the time to explain things to me clearly and never makes me feel like I'm just a number. She hugs me as soon as she walks into the office! I have to see her every three weeks, so it was really important to me to find someone I trusted and got along well with, and I'm so lucky I did.
Was this helpful?