PATIENT VOICES

My Diabetes Journey: Connecting With My Endocrinologist

Was this helpful?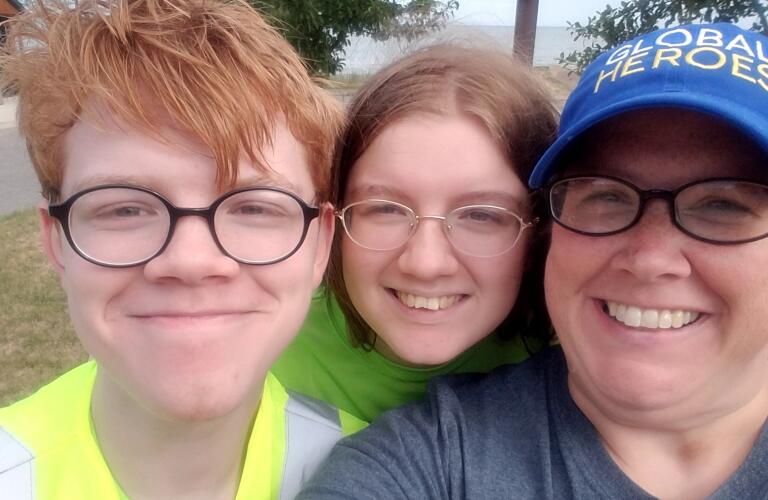 When I was diagnosed with type 2 diabetes, I cried. Knowing I was at risk due to family history, I had done everything I could do to prevent it. I trained for endurance races and lost a lot of weight, but I still developed the condition. Since my diagnosis, I've been able to stay healthy and in control of my diabetes, thanks to an amazing team of doctors caring for me—but it took me being proactive to find them.
Getting diagnosed with type 2 diabetes isn't the only health issue I've faced, but it is one of the more complicated ones. I also have polycistic ovarian syndrome (PCOS), which causes insulin resistance and weight gain. Insulin resistance means my body doesn't process sugar effectively, and, along with weight gain, this can lead to type 2 diabetes. Additionally, I have a neurological disease called intracranial hypertension that requires me to take steroid medications, which are known to affect blood sugar. Because my family history and other health issues increased my risk for type 2 diabetes, my doctor proactively monitored my blood sugar levels and I took steps to mitigate my risk. Before I was diagnosed, I lost 100 pounds by eating healthy and exercising. I swam, ran, and biked long distances every week.
Around the time of my diagnosis, I was feeling tired and worn down. When my bloodwork results came back with values in the diabetic range, my primary care doctor made the diagnosis. In that moment, I was devastated. She said I had been doing everything right—yet I still developed type 2 diabetes. I felt like a failure. Because type 2 diabetes is often associated with obesity and poor lifestyle choices, I blamed myself. But my doctor began working with me on a care plan that prioritized lifestyle interventions like exercise and nutrition over medication and insulin. She also referred me to a diabetes dietitian. Counting carbs is not fun, but through my dietitian's help and using food tracking apps, I've found what works for me.
Since my diagnosis, it has been a frustrating period of finger-pricking and trying to identify what factors affect my blood sugar on a daily basis. The hardest part has been figuring out proper nutrition for endurance training because my diabetes dietitian is not an expert that area. However, I am currently managing my diabetes through diet, exercise, and medications. I don't yet take insulin, and my goal is to manage my diabetes mainly with lifestyle interventions because insulin injections can place extra stress on ovaries already affected by PCOS.
My doctor recently referred me to an endocrinologist to help me meet my personal health goals. Endocrinologists treat diseases affecting the endocrine system, the mechanism the body uses to release hormones that regulate bodily functions. After reviewing my family and personal medical history, she ordered extensive bloodwork and compared it to my previous labs. When the results came back, she confirmed I had my diabetes under control. She made a few minor adjustments to my medications, and has helped me continue to stay on top of my diabetes.
Since my care plan was, and is, working, I don't to see my endocrinologist regularly, but getting her opinion and her thorough analysis of the state of my diabetes is a great source of confidence for me going forward. Under her direction, I check my blood sugar daily with my glucose meter and have my glucose levels (known as A1C) and other blood levels checked every three months.
My endocrinologist's support has also affirmed how important it is for your doctor to work with you to find treatments you're comfortable with. It took a lot of time and energy to find new doctors, especially since I wanted them all in one health system, but it was worth it. Since my endocrinologist, primary care doctor, and dietician are in the same health system, they can access all my patient records and easily communicate with each other. My other specialists, including a neurosurgeon and an OB/GYN, are also in the same system. Consolidating my healthcare like this is one of the best things I've done for my health, since we are all able to be on the same page.
Fortunately, I have open and honest relationships with my doctors and dietitian that allow me to be an active participant in my health. This hasn't always been the case for me. Early in my health journey, I saw doctors who did not review my health history or communicate with the other doctors I was seeing. I now know there is a better way to be cared for.
I would tell anyone with type 2 diabetes to not let your diagnosis define you. Don't underestimate what you can do on an individual level. Start making small changes in your life; they will add up to better health.
My goal is to run an ironman race. Since my brain surgeries have affected my balance and vision, I complete all my races with a guide, who also watches me for signs of low blood sugar and other diabetes-related safety concerns. I do things differently in my training and racing because I have diabetes; for example, I'm methodical about my hydration and nutrition in ways that other athletes aren't. However, knowing I'm capable of reaching my goals despite my diabetes has empowered me to do the things I want in life. Finding an endocrinologist and good team of doctors has been an instrumental part of that journey.
Kelly, 45, is a lawyer who lives in Michigan. She is an endurance athlete who competes in marathons and triathlons and is currently training for an ironman.
Was this helpful?