How to Give Yourself a Non-Insulin Injection
Was this helpful?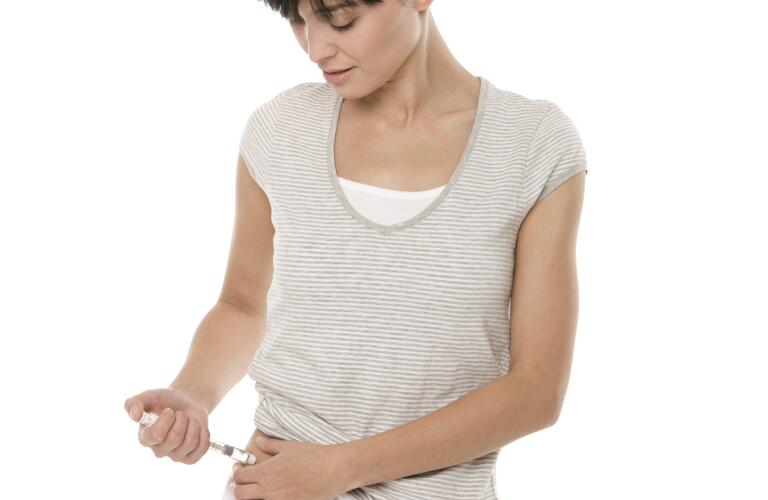 When you were first diagnosed with type 2 diabetes, you probably had to make some changes in your life, from adjusting your diet to taking pills to manage your blood glucose (sugar) levels. But sometimes this doesn't work well enough and your blood glucose levels are still too high. In the past, this would usually be when your endocrinologist would suggest you start taking insulin, but there are new options now that are like a bridge between oral medications and insulin: non-insulin injectables.
Unlike insulin injections, these medications stimulate your pancreas to make more insulin, slow down your liver's production of glucose, or slow down how quickly your body digests your food, depending on the drug you use. But like insulin, they are injectable medications and for many people, this makes them nervous.
If your endocrinologist has suggested that you start taking a non-insulin injectable, you have to make a decision. Is this something you can do? For millions of Americans, it's part of their regular routine, like brushing their teeth and getting dressed in the morning. Some people began injecting themselves when they were children, others only later in life. But as much as giving themselves injections is routine now, there was a time when they had to learn how to do it too.
When we were children, the needles used for injections may have seemed like they were so long. While not everyone was afraid of getting a "needle" or "shot," it certainly wasn't unusual to be scared or nervous. But a non-insulin injectable isn't the same type of injection and it's not nearly as scary.
The needle used for these types of injections is only about 4 to 5 mm long, which is about the same as the height of two quarters, one on top of the other. The needle is also very fine – not nearly as thick as a sewing needle or a safety pin. Some are even available in extra or super fine sizes.
Every effort has been made to ensure giving yourself a non-insulin injectable is as easy and stress-free as possible. The manufacturer has done all the prep work for you. The medications come in a disposable pen-like device that usually contains enough medication to last for up to a month. Some medications are injected once or twice a day, others less often. Since your medication and doses are unique to you though, check with your pharmacist to see how long your pen should last.
When you start taking this new medication, ask a member of your diabetes care team or your pharmacist how to use the pen injector. If you change manufacturers or your manufacturer comes out with a new model pen injector, ask to be shown again, because there may be small differences in how you handle the medication and the pen. Don't forget, the pens always come with a manual or a web site, where you can download the manual. This is a great resource if you're not sure about how to do something.
Each time you refill your prescription, you'll receive a new pen. You must manually dial in the dose you need before you use it for the first time. After that, the pen "remembers" the dose. You would only need to change this if your doctor changes your dose.
Giving yourself an injection with an injector pen is nothing like using an ordinary syringe and needle. Once you've put the needle on the pen, you're ready to go. A member of your diabetes care team will show you the specifics of how to inject yourself, but the basics are the same, regardless of your system:
Clean the area of your skin where you will inject yourself.

Place the injector against your skin.

Press the button.

Hold for about 10 seconds.

Remove the injector.

Remove the needle and dispose of it an an approved container.

That's it!
Getting used to using using a non-insulin injectable may be a bit stressful at first. But once you get the hang of it and you see improvements that the medication may provide, it will become a routine habit and you'll wonder why you ever worried if in the first place.

Was this helpful?