How Often Should People with Diabetes See Their Doctor?
Was this helpful?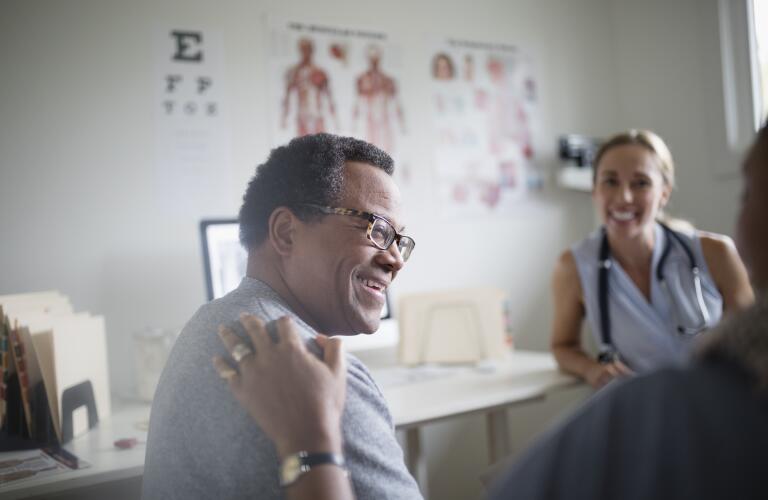 Managing type 2 diabetes is no small feat. From regular blood sugar checks to visits with your endocrinologist, there's a lot to keep track of. Fortunately, regular doctor visits are one of the best ways to ensure diabetes is controlled.
If you've just been diagnosed, or you've lived with diabetes for a while, your doctor can help you find which treatments work best and help prevent other medical problems from occurring. Depending on your particular needs, your doctor may recommend treatment with oral medications, non-insulin injectables, or insulin. But no matter which type of treatment you receive, scheduling a regular diabetes doctor appointment can help keep you as healthy as possible.
Ultimately, the frequency of your doctor's appointments depends on the severity of your type 2 diabetes and any other unmet health needs you may have. Generally speaking, those who take insulin injections should follow up with their doctors at least once every three to four months. If your doctor prescribes pills for diabetes, you may be able to follow up with them every four to six months.
However, if your blood glucose (blood sugar) isn't well managed, or if you notice new health problems, you should make an appointment to see your endocrinologist as soon as possible. Unfortunately, the longer your blood sugar remains uncontrolled, the higher your likelihood of developing significant complications as a result of the diabetes, such as heart disease, kidney damage, and eye problems.
Each time you visit your doctor, your blood pressure, weight, and the condition of your feet should be checked to make sure complications aren't developing. It's especially important for your doctor to check your feet for sores, calluses, or loss of feeling, since these symptoms may relate to infections or other issues which can be difficult to treat. Many doctors recommend follow up visits every three to six months if you've ever had foot ulcers.
During your visit, your doctor may also check your hemoglobin A1C level, which is a measurement of your blood sugar over a three month time period. It's also likely you'll have tests to check your cholesterol and kidney function, since these tests may also show if complications of diabetes are occurring. Be sure to always let your doctor know about any unusual or new symptoms you're experiencing—this is the best way to stop potential complications and stay healthy.
The use of telehealth, also known as telemedicine, has become more common in recent years and can help people with diabetes manage their condition more easily. With telehealth, doctors most often use video communication technologies to connect with their patients remotely. This method limits your exposure to potentially infectious diseases, and it also helps save you time and money associated with travel. Many patients actually prefer telemedicine since it's so much more convenient.
Virtual healthcare visits may not include all the tests your doctor recommends to make sure you're staying healthy. But if your doctor agrees to see you virtually, it's still possible to receive high-quality care for diabetes. Even when you're not in the office, your doctor can evaluate your weight and feet, manage your medications, and discuss any new symptoms or concerns you may have.
Also, many glucose monitoring systems and test kits are capable of sending your blood sugar test results directly to your doctor. Using this information, your doctor can determine how well your treatment is working and recommend changes that may help you achieve better blood sugar control.
Telehealth appointments can help you stay connected with your healthcare team even if you can't make it into the clinic. This type of visit may be a great option for checking in with your doctor between in-person appointments for laboratory work and other checkups.
Staying healthy with diabetes takes effort, but working closely with your doctor can help keep you well and living your life to the fullest. Expect to see your doctor every few months depending on your personal health needs. Ask your doctor how often you should follow up with them—they can help you plan out your visits and may even suggest telehealth appointments to help you check in.
Was this helpful?