SOCIAL VOICES

How I Use My Type 2 Diabetes Superpowers to Cope With the COVID-19 Pandemic

Was this helpful?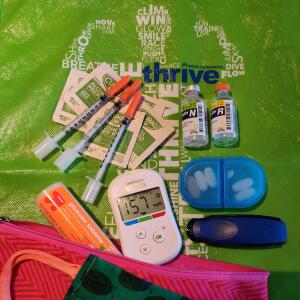 When the COVID-19 pandemic began, it seemed like the whole world was taken by surprise. In just a few months, everyday life was turned on its head and now nothing looks normal anymore. As a person living with type 2 diabetes, I am particularly affected because I'm at higher risk of worse outcomes if I get COVID-19, the disease caused by the novel coronavirus.
But, believe it or not, I've found a way to turn my experience managing diabetes into an advantage during this pandemic. Three practices in particular have helped me keep my sanity and manage the disruption, uncertainty, and stress that has come. I call these practices my diabetes superpowers.
As with any chronic condition, part of life with type 2 diabetes is actively managing your health. Throughout the day, my attention is drawn to how I'm feeling, where my blood glucose level is, when I took my medicine last, when I can fit in a walk, what I am going to eat, etc. At every juncture, I'm deciding what I'll do to support my overall health and keep my glucose levels in check.
So when health officials started telling us to change some of our habits to avoid getting infected with the coronavirus, my first thoughts were about how I would integrate those changes into my routine. Keeping a clean mask in my purse, along with always having a diabetes go-bag ready with my glucometer, insulin, and syringes, became second nature–as did making sure the soap containers at every sink in my house stayed full.
I didn't waste my time and energy looking at these changes as inconvenient or annoying. They're just one more thing in my already-long list of things I do to stay healthy.
In a world filled with people marketing the "ultimate, natural cure for diabetes," I've become a discriminating consumer of health news. I've learned how to suss out legitimate information, and that skill has helped me navigate the influx of new content about the virus.
I pay attention to the sources of the story. Well-established news outlets get my attention. Unrecognizable sources freely shared on social media are ignored. I understand the difference between reporting based on clinical studies versus a company's press release. I always look for the details. Hard data gets my attention. Anecdotal observations don't.
I have a general understanding of how viruses are spread and what people can do to avoid infection. I apply these scientific principles to the health news I see by asking some key questions: Does what they are saying make scientific sense? Are they sharing facts and data? Ultimately, I ask myself how useful this information is to me.
I also pay attention to who is speaking—who is telling the story? Is it a medical professional? A scientist? A public health official? Or is it a company spokesperson or politician? Medical doctors and scientists have more credibility in my book when it comes to health emergencies, so I listen to them more closely.
Every day, I make intentional choices aimed at maintaining my health and avoiding the complications that often come with type 2 diabetes. When it comes to COVID-19, I'm trying to do the same thing. When I feel overwhelmed or get stir crazy, I look for a safe way to find some relief. Sometimes that means getting on the phone with a friend or playing pub trivia online. Sometimes it means sitting on my back deck and looking at the trees or getting in the car and driving nowhere in particular.
Sure, we don't know everything there is to know about this virus. But we make the best decisions we can with the info we have. And we apply what we understand about the science of how viruses spread. Each of us works to find our own way as we manage life, let alone life with type 2 diabetes or life during a pandemic. I've found by using my diabetes superpowers, I can transform what some would say is a weakness (living with type 2 diabetes) into something powerful and life affirming.
While I've found ways to cope with life during COVID-19, if you or someone you know is finding it difficult, know that you are not alone. These are difficult and stressful times. If you or someone you know finds yourself having a mental health emergency call The National Suicide Prevention Lifeline at 800-273-TALK (8255) or call 911 immediately.
Was this helpful?