Choosing the Right Injectable Diabetes Medication
Was this helpful?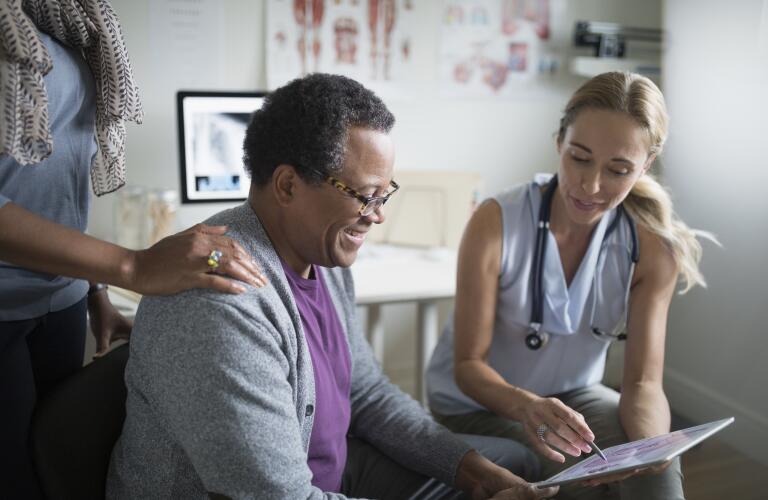 "Eat right, move more, and lose weight." If you've been diagnosed with type 2 diabetes, these are probably some of the first things your doctor suggested you try to help manage your blood sugar. But if lifestyle changes aren't enough or your diabetes worsens over time, medications will be needed to keep your blood sugar in a healthy range. In addition to injectable insulin and a growing number of oral medications, non-insulin injectable medications have recently come to the market and may help you stay in better control of your diabetes. So, how do you know which one is the best for you? It all depends on your specific situation. The first step is understanding the basics so you can have an informed conversation with your doctor.
Insulin is the primary treatment for people with type 1 diabetes, whose bodies no longer produce insulin naturally, but it can also be used to treat people with type 2 diabetes, whose bodies don't respond well to insulin they still produce. It comes in various forms, with different attributes: some insulins may start working immediately and peak right away, some may start working after a few hours, some may work all day, some may only work for an hour, etc. The type you use and how often you'll need to take it will vary from case to case. Risks include weight gain and hypoglycemia, though these risks appear to be lower in some of the newer ultra-long-lasting types of insulin. Insulin is also generally more affordable than some of the other diabetes injections.
If your doctor concludes it's time for you to start taking insulin, he or she will make that decision with you based on your blood sugar levels, how well your diabetes is controlled, and how likely it is that you can commit to taking the medication at their specified times.
Many people with type 2 diabetes don't need insulin quite yet; instead, they'll benefit from medications that help their bodies more efficiently use the insulin they make. Just like with insulin, you and your doctor will decide which non-insulin injectable is right for you based on your specific needs, including your daily schedule, your blood sugar control, and your body's ability to use insulin. Today, there are two types of non-insulin injectable diabetes medications, and they are used with different goals in mind.
One category of non-insulin injectables drugs are called glucagon-like peptide 1 (GLP-1) receptor agonists. These medications are used to manage type 2 diabetes by increasing the amount of insulin and decreasing the amount of a chemical called glucagon coming from your pancreas, helping to lower blood sugar.
Some GLP-1 injections, such as exenatide (Byetta), are taken twice a day. Others, such as liraglutide (Victoza), are injected once a day, and newer formulations including dulaglutide (Trulicity) are only given once a week. They may be recommended for people who struggle to take daily diabetes medications and need something that lasts longer. GLP-1 injections may help with weight loss by suppressing your appetite and keeping food in your stomach for longer. Certain GLP-1 receptor agonists, including semaglutide (Ozempic), have also been shown to help benefit your heart health.
However, as with all medications, there are some risks.GLP-1 injections slightly increase your chance of developing pancreatitis or thyroid tumors. Some people also report pain or irritation at the injection site. GLP-1 medications typically come in the form of an injector pen, which is fairly easy to use. Your doctor or diabetes educator will show you how to use the pen initially, but if you feel unsure, don't hesitate to ask for another demonstration.
Amylin analogs are the other type of non-insulin injectable for diabetes. There's only one currently on the market, called pramlintide (Symlin), which may be prescribed for adults with type 1 or type 2 diabetes who are unable to control their blood sugar sufficiently with insulin. It mimics a hormone in your body that helps regulate your blood glucose after meals and is usually given at the same time as insulin. Like GLP-1 receptor agonists, these injections come in the form of an injector pen, can make you feel full for longer, and may assist with losing weight. Side effects include hypoglycemia (low blood sugar levels) and nausea or vomiting.
There isn't just one right way to treat diabetes. Instead, it requires a personalized approach after a careful examination of your individual situation. When it comes to choosing a new injectable diabetes medication or adding on to your current treatment, expect your doctor to ask you questions similar to these:
How long have you had diabetes?

Which medications have you tried in the past?

Do you have other medical conditions, such as heart disease, high blood pressure, or kidney disease?

What medications are you currently taking?

Do you have concerns about your insurance coverage or ability to pay for your medications?

Are you afraid of needles?

Are you compliant with your current medication regimen?
From mechanism of action, to cost, to risks and benefits, each diabetes treatment is different. A proper discussion with your doctor is useful when determining which medication will work well for you and can help answer any questions you may have.
Diabetes is a lifelong condition, but with good disease management, you can lower your risk of developing serious health problems. And with more diabetes treatment options available than ever before, chances are good that you and your doctor can find a medication that not only controls your blood sugar but fits with your lifestyle and preferences.
Was this helpful?