PHYSICIAN VOICES

Avoid Complications with Diabetes

Was this helpful?
Complications of type 2 diabetes are more likely and more severe when your average blood sugars are abnormally high over time. Dr. Brad Bowman, Chief Medical Officer of Healthgrades, explains how to prevent or minimize these negative health effects.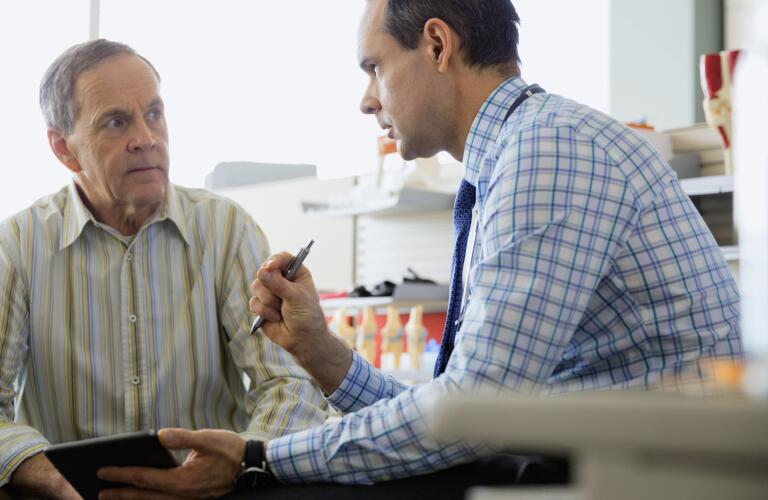 You treat your type 2 diabetes to keep your blood sugar levels in the normal range. However, having "normal" numbers is not the only reason for taking medication, eating right, and exercising. Following your treatment plan also decreases your chance of developing complications or at least minimizes their severity if they do occur.
Complications of type 2 diabetes are more likely and more severe when your average blood sugars are abnormally high over time. And how can you tell if your blood sugar average is running high? The hemoglobin A1c (HbA1c) test provides a glimpse into your average blood sugar levels over the past several months.
A result of 7% or lower indicates good control during that time period. Getting and staying in good control helps you avoid damaging the very small blood vessels in the body. Damage to these blood vessels is the cause of most diabetes complications.
When the very small blood vessels of the legs become narrow or blocked, severe skin ulcers can occur. Narrowed blood vessels in the kidneys reduce the kidneys' ability to remove toxins from the blood. And damage to the vessels of the nerves that let you feel, touch, or notice pain causes numbness and pain called diabetic neuropathy. The inability to feel an ulcer on the foot can lead to infection, which, if severe enough, may result in amputation.
High blood pressure and smoking also damage the small blood vessels and can lead to the same complications associated with high average blood sugar level. The combination of having diabetes and high blood pressure and being a smoker magnifies the damage done to the small blood vessels. This triple threat can cause additional complications.
If you are a smoker, becoming tobacco-free is an investment in your health. Undoubtedly, quitting smoking is a process; overcoming nicotine addiction involves a personalized plan. The good news is that your doctor can direct you to effective programs that combine medications, proactive coping skills, and group encouragement. Many people who smoke try different options before reaching success, but for people with diabetes, success comes with additional health benefits.
If you know you have high blood pressure, you're able to make lifestyle changes that improve your health. Whereas a fever tells you if your body temperature is too high, or your pulse tells you if your heart rate is too high, you can't "feel" when your blood pressure is elevated.
Fortunately, if your doctor has diagnosed you with high blood pressure, there are now numerous medications that can successfully lower blood pressure without causing serious side effects. Over time, you and your doctor can work together to find the right treatment regimen to bring your average blood pressure to levels that will not contribute to damaging small blood vessels.
Once you have placed smoking and high blood pressure in your rearview mirror, your focus can turn solely to managing your diabetes. By making the best food choices and consuming a well balanced diet, you'll make it easier for your body to handle blood sugar, regardless of what type of diabetes medications you may take.
Being active on a regular basis also helps to control blood sugar levels. A 20-minute walk four times per week and two sessions of strengthening exercises per week may be all it takes to help keep your numbers in good control, reduce the damage to your blood vessels, and minimize your risk of diabetes-related complications.

Was this helpful?