8 Glucose Numbers to Know for Your Diabetes Telehealth Appointment
Was this helpful?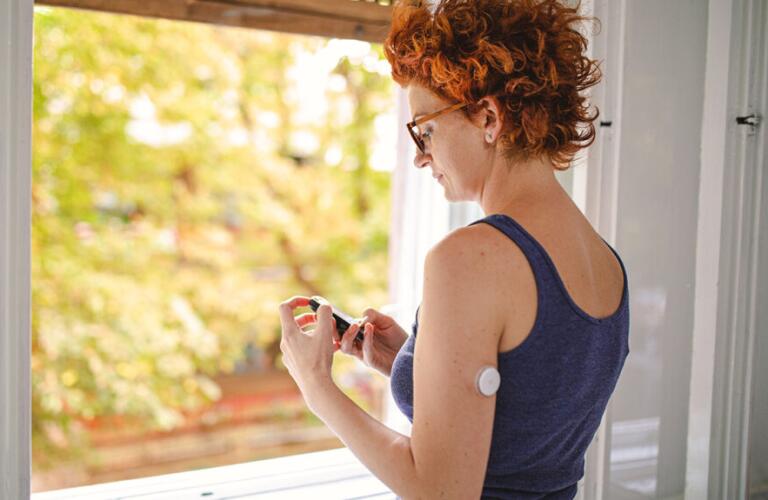 For years, research has shown people with type 2 diabetes can benefit from telehealth, but it wasn't until the COVID-19 pandemic that its use really skyrocketed. Telehealth visits are conducted with your doctor over phone call, messaging app, or most commonly, video chat–and they can help you effectively manage your diabetes from the comfort and convenience of your home. Just like a typical office visit, you'll discuss your glucose numbers during your telehealth appointment to determine if you need to make changes to your treatment plan. Here are the ones you should understand and be ready to share.
Traditionally, there have been two sets of numbers used to monitor diabetes. Your virtual endocrinologist will want to see:
Your daily serum glucose readings: If you have a standard blood glucose meter, you'll want to upload it prior to your appointment or have your written log handy. Blood sugar targets can vary from person to person, but generally you'll want to be in the range of 80 to 130 µg/dl before meals and less than 180 µg/dl two hours after meals. It's important to note if there are certain foods, activities, or times of day when your glucose gets too high or too low.
Your hemoglobin A1C: When your glucose is high, it attaches to a protein in your red blood cells called hemoglobin. This test measures what percentage of glucose is attached. It's used as an indicator of your average blood sugar levels over the last 2 to 3 months. For most people, the goal is to be under 7%. It should be checked at least twice a year in a lab.
Continuous glucose monitors (CGM) use a small sensor inserted under your skin on your arm or abdomen to measure your blood sugar throughout the day and night. As a result, CGMs provide a great deal of data and can be used to analyze your diabetes patterns and trends. You can upload your CGM reading or generate a report to share during your telehealth appointment. These additional numbers include:
Your glucose management indicator (GMI): This can be used to estimate your A1C without having to go to a lab. Similarly, you want this number to be below 7%. Keep in mind, you'll still need to have your A1C levels drawn periodically.
Your time-in-range (TIR): This indicates what percentage of the time you are in your target glucose range. Once again, this range will vary among individuals, but several guidelines suggest a range of 70 to 180 µg/dl. Most people will shoot for a TIR of 70% which translates to 16.8 hours each day. The higher the TIR, the better.
Your time-below-range: This indicates the percentage of time you are below your target glucose range. Ideally, this means less than 4% of the day under 70 µg/dl and less than 1% under 55 µg/dl.
Your time-above-range: This indicates the percentage of time you are above your target glucose range. In most cases, you'll aim for less than 25% over 180 µg/dl and less than 5% over 250 mg/dl.
Your glucose variability: Your variability represents how far apart your glucose levels are. It's best to keep your glucose fairly consistent without large swings up, evidenced by a reading under 36%. Your report may contain charts to help you visualize your highs and lows throughout the day.
Your glucose mean: This is a true average of your glucose readings. 150 µg/dl is a good target.
While this may seem like a lot to keep track of, don't feel overwhelmed. Ask your endocrinologist to review your glucose numbers and report during your telemedicine visit. These metrics are designed to provide more insight into your diabetes and individualize your care. With this knowledge, you can learn to keep your blood glucose in a healthy range and avoid complications down the line.
Was this helpful?