5 Misconceptions About Virtual Doctor Visits for Diabetes
Was this helpful?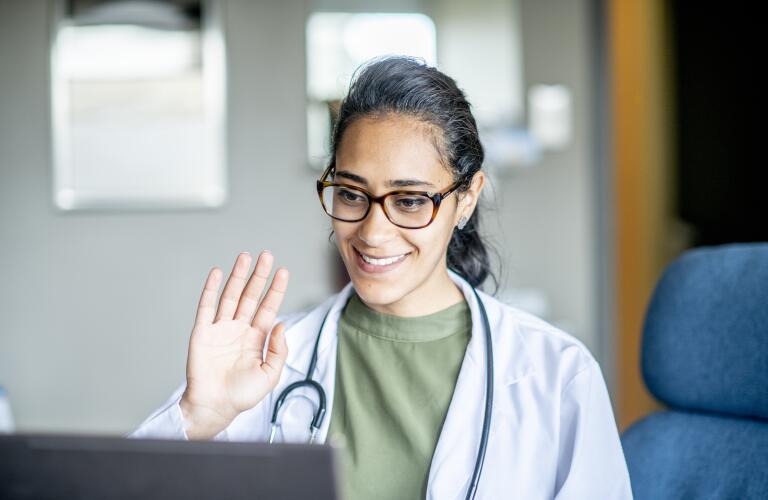 Telemedicine for diabetes can be tremendously beneficial if you live with this condition. To get started, ask your doctor about their telehealth services, and see if you can begin to take advantage of them. You may find that telemedicine helps you keep control over your diabetes and allows you to live more healthfully every day.
Thanks to evolving technologies and consumer demand, more doctors than ever now offer telemedicine for diabetes. Telehealth, also known as telemedicine, helps connect patients with their doctors remotely, so no face-to-face contact is necessary. In many cases, doctors provide the same services using telemedicine as they would if you visited their office.
A telehealth appointment for diabetes isn't quite like an in-person appointment, but that doesn't mean you won't benefit from one. In fact, research shows many people may actually value telehealth more than in-person doctor visits because of its convenience and ability to help patients monitor their health more consistently, among other reasons. Debunking common myths about telehealth for diabetes can help you decide whether this approach to managing your condition may be right for you.
Many people report frustration with traditional doctor's visits; some describe problems like having to wait for weeks to see a provider or feeling like their appointment was rushed. But telehealth can actually help improve your relationship with your doctor, since you'll be able to have access to them almost any time you need them. If you can't get a same-day appointment, many providers offer messaging services through patient portals, so you can ask questions and stay in touch. Many people find they actually have a better relationship with their healthcare providers, since telehealth is easier for all parties involved.
You may think diabetes telemedicine is only appropriate for urgent situations, but that simply isn't true. While it can certainly be used for immediate problems, doctors also use telemedicine to manage many chronic conditions, including diabetes, to help keep you as healthy as possible.
Most people find that telemedicine helps them stay better connected with their doctors, allowing them to check in frequently to make sure your specific treatment plan is as effective as possible. And because telehealth can use devices to monitor your progress, like tracking your blood sugar and weight, any problems that arise can be quickly addressed.
Unlike in-office visits, telemedicine services are often available around the clock, seven days a week. In many cases, it's also easy to get a telehealth appointment quickly, often the same day. A virtual doctor visit may be very similar to an in-person checkup—your doctor may ask you questions about your health and lifestyle routines, recommend and prescribe medications, and address any concerns you may have about your treatment plan.
Recent estimates place the cost of a telemedicine visit at $40 to $50, and many insurance companies are starting to cover these costs. Compare those numbers to an in-person office visit, which may cost you almost $200 each time. There's no question that diabetes telemedicine offers significant cost savings which can really add up. Plus, if you have a telehealth appointment for diabetes, there's no need to travel to and from your doctor's office. This is a great benefit, since it cuts down on your travel expenses and saves you time.
You may be hesitant to try telemedicine because you think your personal health information won't be protected. But telehealth providers are extremely concerned with maintaining your privacy and keeping all your information secure. Cyber security features are an essential part of any telemedicine program, and your doctor will be familiar with the methods these systems use to keep your information private.
In many cases, you must sign into a patient portal before your telehealth appointment for diabetes. These portals are username- and password-protected, and they must meet certain Health Insurance Portability and Accountability Act (HIPAA) standards for protecting sensitive medical information. Also, many safeguards are built into telehealth systems, such as facility access controls, unique user identification numbers, and encryption and decryption. These safeguards help prevent cyber attacks and protect your personal health information.

Was this helpful?