PHYSICIAN VOICES

Understanding Depression Medications

Was this helpful?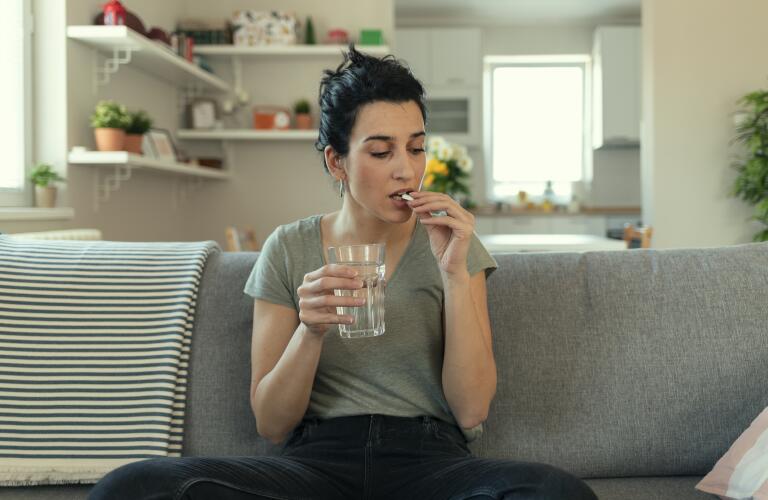 As a psychiatrist, when I diagnose someone with depression, I try to be honest about the treatment path ahead. I let them know it may be difficult and it can take a few tries, but ultimately most people with depression do get better. By working together, we can find the right treatment–and the good news is there are a wide variety of options to choose from.
When starting out with depression treatment, along with recommending talk therapy, I'll usually first prescribe a type of antidepressant medication called a selective serotonin reuptake inhibitor (SSRI). Put simply, these drugs increase serotonin in the brain, which is a chemical that helps regulate your mood. There's a long list of SSRIs, from older drugs like fluoxetine (Prozac) and sertraline (Zoloft) to newer ones like vortioxetine (Trintellix). About 60 to 70% of people will have a positive response to these. But there are often side effects, including changes in sleep patterns, changes in appetite, sweating, dry mouth, and, commonly, sexual side effects like reduced libido. Although some side effects are manageable and go away over time, some people can't tolerate them, so there are a number of other antidepressants we can turn to. We may also add a different type of medication to your treatment plan to reduce side effects, like bupropion (Wellbutrin), which can reduce sexual side effects in some people. We can also try bupropion on its own; for people with low energy and low motivation, it can activate them in the morning and it doesn't typically have the same side effects as SSRIs. We may also try mirtazapine (Remeron) alone or with other medications: with its sedating effects, it can often help people who are struggling with sleep.
There are also drugs called serotonin-norepinephrine reuptake inhibitors (SNRIs), including venlafaxine (Effexor) and duloxetine (Cymbalta). They increase serotonin as well as norepinephrine, another chemical in your brain involved in emotional regulation. SNRIs can help people who struggle to concentrate due to depression, as well as other symptoms. Side effects of SNRIs are similar to those of SSRIs.
If someone has a partial response to an SSRI or SNRI, with no significant side effects, we might bring in an additional medication that can sometimes boost their response. These drugs are known as atypical antipsychotics, and include ziprasidone (Abilify) and brexpiprazole (Rexulti). Lithium (Eskalith) may also be used as an add-on for people who have had an inadequate response to other drugs. The same goes for certain thyroid replacement options, like levothyroxine (Synthroid), especially if someone has any kind of hypothyroidism, which is very common in the context of depression.
If a patient isn't getting the support they need with these drugs, we can also turn to medications called monoamine oxidase inhibitors (MAOIs), which are very effective for some people but come with some dietary restrictions that are extremely important to follow. We also may consider using tricyclic antidepressants, which are older and can have some significant side effects including dry mouth and sedation. If a patient takes too high a dose, they can be toxic to the heart. These risks are weighed along with the benefits to determine if they're the right fit for the patient.
Additionally, ketamine is a newer option to treat depression. It's been around a long time and is often used in anesthesia. But more and more studies show it can effectively treat depression. It's usually given in a medical clinic via infusion, although there are new ketamine nasal sprays available as well. It does appear to be very effective, at least in the short-term, for relieving depression symptoms.
In some cases, medications aren't the right fit for a patient, but treatments that involve brain stimulation can be extremely effective. Repetitive transcranial magnetic stimulation (rTMS) involves placing a magnetic device directly on the skull that activates certain areas of the brain to resolve depression symptoms. And one of the oldest depression treatments, electroconvulsive therapy (ECT), is one of the most definitive treatments for depression, especially in people with severe depression. This therapy sends electrical pulses to the brain via electrodes placed on the head. It can resolve depression symptoms for long periods of time in many cases. Decades ago, it was overused and misused, but today, it's safe and extremely effective.
It's true that the depression treatment path can be complex: it involves landing on the right medication, which can take time, as well as helping someone change their mindset with talk therapy–and ultimately, establishing a whole wellness plan with them so everything comes together. By finding a psychiatrist you trust, and engaging in your care, you can gain the tools to manage your depression and get back to a life that's meaningful and fulfilling.
Was this helpful?