How to Get the Most Out of a Virtual Doctor Visit for Depression
Was this helpful?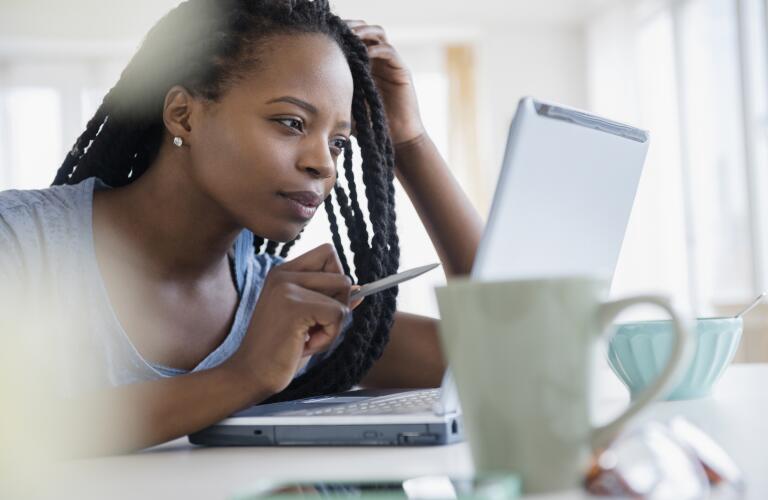 Your doctor suggested that you schedule a telehealth visit to address your depression. Now you're wondering how to get the most out of this new experience. The good news: telehealth for mental healthcare purposes has been around a long time, and many people have found that it's made a positive difference in their lives, especially if they prepare in advance.
If this is your first telehealth visit, you may want to spend some time preparing in advance. That way, you'll be ready when the time comes, and you won't be scrambling around to make sure your technology is working or try to remember what you wanted to discuss with your doctor.
Contact your provider to ask what telecommunications platform or program you'll be using for your telehealth visit. Typically, in order to have a virtual doctor visit, you need to have access to the following:
Computer, laptop or smartphone
High-speed internet connection
Web camera with a microphone
It also helps to have a little extra patience as you learn to navigate the program and figure out how it works.
In some cases, you may just be able to log in to a website, but other providers might ask you to download an app. You may need to contact the doctor's office to request registration information or other details. Once you know what you'll be using, go ahead and get it set up so you can make sure it works.
Once you have your technology in order, start to think about what you want to discuss with your doctor. If you normally spend some time preparing questions for your doctor in advance, take the same approach with your telemedicine visit. Make a list of questions or topics or even just thoughts. and have a pen and paper handy to take notes during your call. Also, find a space that's private and quiet, where you won't be interrupted. You want to be as honest as possible with your doctor about how you're feeling, so make sure you're in an area of your home where you feel comfortable sharing confidential information. You may want to set up a white noise machine (or smartphone app) by the door, or even talk to your doctor from your car.
When the day of your telehealth appointment arrives, you should have your technology all ready to go. But just in case, plan to log in about ten minutes early. At worst, you'll just have to wait for your doctor to appear on screen, and you can use that time to go over the questions you have prepared in advance or take a few deep breaths.
Remember that list of questions or concerns you put together in advance? Now's the time let it guide you. This is your time, and this is your health. Don't assume your doctor doesn't want to hear them or doesn't have time to respond to them. Your doctor can't address your concerns or questions if you haven't even brought them up!
Additionally, if you have any questions about the medication you're taking, this is a great time to ask. Are you experiencing side effects? Be sure to say so. Are you concerned you may need a higher dose of your antidepressant? Ask your doctor if that's a possibility. You can also request refills, if necessary. If you're seeing a psychiatrist, your doctor can file a prescription with your favorite pharmacy, so you can pick it up on your own time. If you're seeing another mental health provider, they should be able to connect with your prescribing physician to make sure you get the medication you need.
After your visit concludes, take stock. How did it go? Ask yourself these questions and be as honest with yourself as you can with your answers:
Did you feel like it was a productive experience?
How could it have been better?
How could your doctor have improved the situation?
Do you feel more comfortable with a virtual visit or an in-person visit?
Would you like to give it another try?
Your doctor might like to receive feedback, especially if you're hoping to have another telehealth visit. It might also help you to prepare better for your future telehealth visits.
Was this helpful?