Don't Skip Talking About Depression at Your Next Physical
Was this helpful?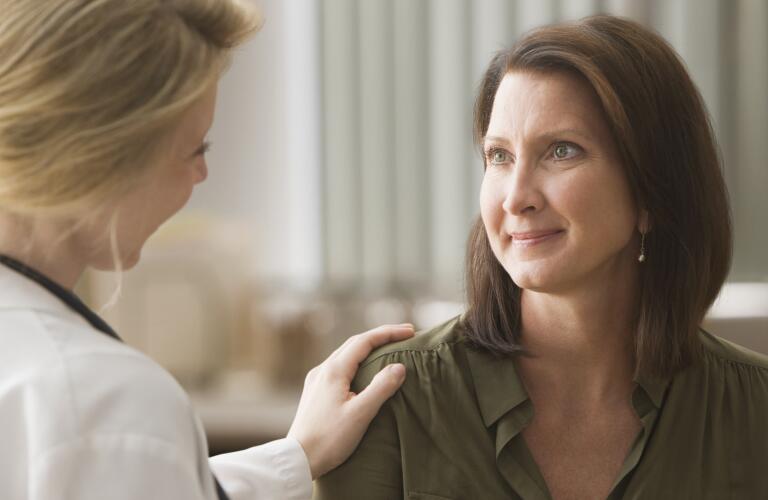 Time for your next physical! There doesn't have to be anything wrong to warrant a physical. In fact, you could think of a physical as the adult version of a well-child check-up at the pediatrician's office. Your doctor will check you out, assess your overall health, address any concerns that you might have, and talk about preventive health measures. You might be tempted to focus solely on your physical health, but don't gloss over your mental health concerns. Talking to your doctor about depression can and should be part of your physical, too.
A physical is a great time for you to raise concerns and ask questions about any health issues that are on your mind. For example, if you have a family history of diabetes, you might ask about your chances of developing diabetes and what steps you might take to reduce your risk. Or you might want to ask your doctor if you should schedule certain types of screening tests, like a colonoscopy.
But remember: your mental health concerns are every bit as important as your physical health concerns–and in fact, they can influence each other. People with certain physical health conditions are at greater risk for developing depression. This includes people with cancer, heart disease, diabetes, epilepsy, multiple sclerosis, Parkinson's disease, rheumatoid arthritis, psoriasis, and HIV, among other chronic health conditions. The treatments for some medical conditions can also trigger feelings of depression, according to the National Institute of Mental Health.
Conversely, your mental health can affect your physical health. People with depression have an elevated risk of developing cardiovascular disease, stroke, diabetes, and Alzheimer's disease. You might even develop back pain and other issues.
For many reasons, it's important to watch out for signs of depression so you can let your doctor know. That goes double for people who have chronic health conditions with a known association with depression. Common symptoms of depression include:
Feelings of sadness
Loss of interest in favorite activities
Changes in appetite
Trouble sleeping
Fatigue or loss of energy
Feelings of worthlessness
Thoughts of death or suicide.
Even if you're not currently experiencing any of these symptoms, it can be helpful to talk with your doctor about how your mental and physical health are connected. That way, you'll be more aware of any developing signs that might occur in the future.
If you suspect you may be suffering from depression, it might help to know that you're not alone. The Anxiety & Depression Association of America estimates that more than 16 million adults in the U.S. are affected by major depressive disorder in any given year. And that doesn't include millions of other people who are affected by persistent depressive disorder, postpartum depression, generalized anxiety disorder, or other related conditions.
Many of them start out by seeking care at their primary care doctor's office. Many primary care doctors–i.e., the very kind of doctor you're seeing for your physical–treat cases of mild-to-moderate depression quite effectively. They prescribe antidepressants and often make referrals for counseling or therapy. But in some cases, your doctor might believe you could benefit from more specialized care, especially if your depression seems to be more moderate-to-severe. In that instance, your doctor can refer you to a psychiatrist.
The bottom line is that depression help is available, and your doctor can help you–if you're willing to talk about it.
If you're still hesitant, this might be reassuring: you might not even have to bring it up with your doctor yourself. Many doctors' offices now offer depression screening tools or questionnaires to their patients upon arrival for appointments. If your answers indicate some signs of depression, your provider will probably initiate a conversation about your results during your appointment. This is your chance to ask about further evaluation and what kind of treatment for depression might be appropriate for you.
However, if your doctor does not ask about your mental health, don't assume that you shouldn't bring up the topic yourself. Or if your doctor asks a general question about how you're feeling, and you know that something isn't right, you can just start with that and go from there. Look at it as an opportunity to learn more about your mental health needs and how to meet them.
Was this helpful?