Black People with Depression: 3 Tips for Getting the Right Treatment
Was this helpful?
Black people with depression may face barriers to care, but there are resources and tools available to help them find the right treatment. By connecting with a culturally competent doctor, finding support, and accepting help from loved ones, you can manage your depression and feel better.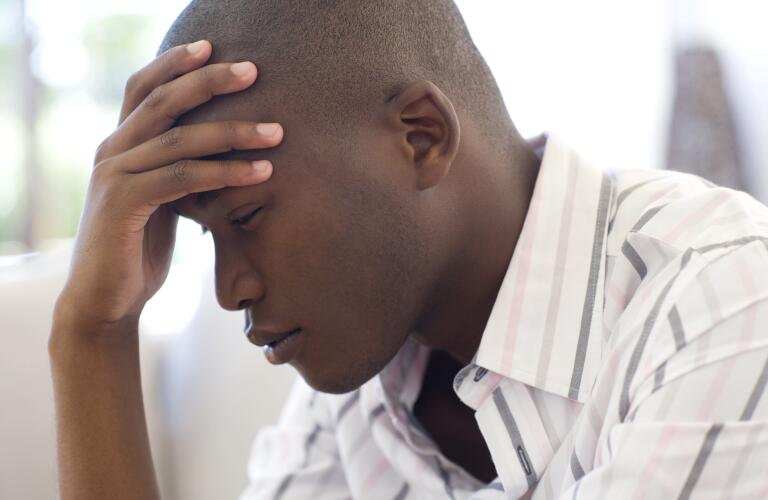 Mental health in the United States has been a topic of great importance in societal conversation for a number of years. The identification, diagnosis, and treatment of depression in particular is crucial not only to alleviate its impact on quality of life but also due to its direct influence on various kinds of comorbidities, which are conditions that can develop or worsen as a result.
Historically, doctors have misdiagnosed and undertreated depression in Black Americans, in part due to a lack of research examining the prevalence and impact of depression in these individuals. That is changing, and we now have a better understanding of how depression presents itself in Black Americans and just how deeply it affects the Black community.
Extensive research over the past 10 years indicates that Black Americans have decreased access to treatment options and mental health services compared with people of other races in the U.S. However, there are ways in which Black people with depression can navigate decreased access to quality care and overcome symptoms by getting the right treatment.
Symptoms of depression in Black people are numerous, including prolonged sadness, loss of interest in things you used to enjoy, sleep paralysis, memory loss, and severe insomnia. These symptoms can develop into more severe disorders, placing Black people at higher risk of comorbidities. Managing your depression can be daunting, but there is support available, and you are not alone.
Consider these tips for getting the right treatment for your depression.
1. Find quality, culturally competent care
An important step to getting the right treatment for depression as a Black person is to find a mental health professional who is culturally competent – someone who, according to the National Alliance on Mental Illness (NAMI), understands the role that one's culture plays in life and health. A culturally competent medical professional will be trained to recognize the realities of the Black American experience so they are equipped to provide actionable, relevant, and effective treatment recommendations.
Finding a culturally competent physician or therapist can be difficult for individuals of African descent in the U.S., in part because medical training programs have not historically provided education on how to navigate the nuances of race and cultural background when working with patients or clients.
However, finding one is possible. An increasing number of physicians are taking steps toward becoming proficient in this area. If you are not sure where to start, a great first step is looking for referrals. Don't be afraid to ask trusted friends and family members about mental health professionals they would recommend.
If that option is not available, your medical insurance provider may have some suggestions. You may even be able to search on your insurance company's website for providers of the same cultural or ethnic origin as you in your area. You can also turn to organizations and directories such as Melanin and Mental Health, Therapy for Black Men, Inclusive Therapists, the Association of Black Psychologists, and Black Mental Health Alliance.
If you're seeing a psychiatrist, psychologist, or another medical professional who doesn't provide culturally competent care, don't settle. By finding someone with whom you have a connection, you can ensure that you receive the care you need to feel better and improve your health.
2. Find support groups for Black people with depression
Black culture in the U.S. is heavily dependent on community support and communal healing. Research suggests that, for African Americans, strong social support can decrease the number of depressive episodes a person experiences.
Finding a depression support group is a very resourceful step toward managing the symptoms of depression and possible recurrence of episodes. Joining a support group, either in person or online, can connect you with people who know what you're feeling and who may be able to share tips and an understanding ear. Within these groups, there may also be spiritual or meditative elements that serve as a tool for grounding and release.
A great advantage to support groups is that you can learn coping skills while attending the meeting and then apply them independently. There is power in community and a lot of knowledge to be garnered from these spaces.
3. Accept help delegating personal, home, and work tasks
A great tool that you can utilize independently without the assistance of a physician or a support group is the habit of delegating personal, home, and work tasks for the sake of personal development and mental health.
Many people with depression find their symptoms are related to mental, physical, and spiritual exhaustion. For Black Americans, this exhaustion may arise from a complex generational expectation to always serve those in your community before yourself. Although African American culture's focus on community can be a strength for many, this communal identity can often give way to feelings of guilt once someone decides to invest in habits that nurture self-care.
Delegating tasks when you feel overwhelmed is a great way to start putting your mental healthcare first. You are not alone; accepting help from others and taking time for yourself is crucial to managing depression. When your depression is better managed, you will be more able to help others when they need a hand.
Managing depression can be difficult and overwhelming, especially for Black Americans, for whom resources aren't always available.
However, by finding a healthcare professional versed in your unique cultural needs, turning to support groups, and accepting help from others, you are taking important steps to a better quality of life. Getting the right treatment may be challenging, but it is imperative for Black people struggling with depression. Help is out there.
Was this helpful?