7 Tips for Talking to Your Doctor About Switching Depression Treatment
Was this helpful?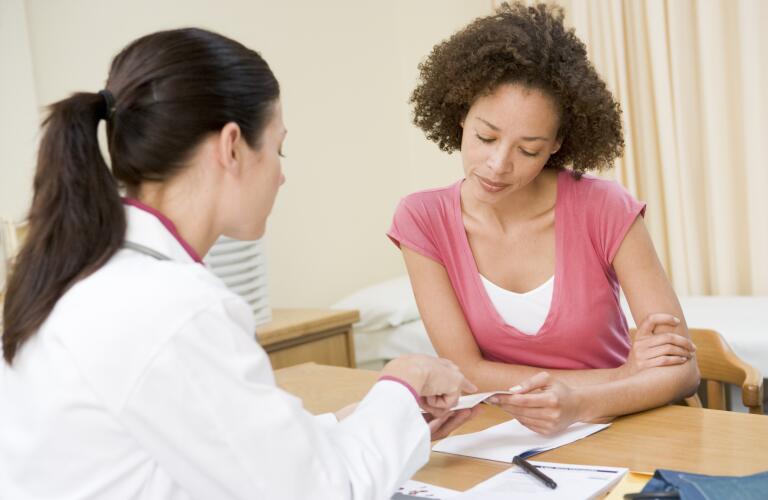 Antidepressant medications can relieve sadness and other challenging depression symptoms, but they don't work for everyone. About half of people who try a depression medication don't respond to it. Others have side effects that make taking the drug unpleasant.
If you don't see any real improvement with the first antidepressant you try, or you can't tolerate the side effects, don't stop taking it on your own. Have a conversation with your doctor about next steps. A few tips can make talking to your doctor about depression much easier.
Your doctor will assume you're doing well on your current medication unless you say otherwise. If your doctor doesn't bring up your medication, it's up to you to start the conversation.
There's more than one way to treat depression with medication. Over two dozen different drugs in more than five different classes treat this condition, including:
Selective serotonin reuptake inhibitors (SSRIs) such as citalopram (Celexa), escitalopram (Lexapro), paroxetine (Paxil), and vortioxetine (Trintellix)
Serotonin and norepinephrine reuptake inhibitors (SNRIs) such as duloxetine (Cymbalta) and venlafaxine (Effexor)
Tricyclic antidepressants such as amitriptyline (Elavil) and nortriptyline (Pamelor)
Atypical antidepressants such as trazodone (Desyrel), bupropion (Wellbutrin), and brexpiprazole (Rexulti)
Monoamine oxidase inhibitors such as selegiline (Emsam) and isocarboxazid (Marplan)
If the first depression medication you try doesn't help you, ask if you can switch to another drug in the same class, or to a drug in a different class. Keep in mind it could take a few tries to find the medication that best manages your symptoms. Also, your doctor might want you to give the first drug a little more time to start working.
When talking to your doctor about depression, give an honest assessment of how you feel. Describing depression symptoms isn't always easy, but the more details you can provide, the easier it will be for your doctor to find the right treatment for you. If your depression symptoms get worse while you're on the medication, make sure to tell your doctor, as a small number of people experience worsening depression or an increase in suicidal thoughts due to medications that are meant to help.
If your doctor does recommend switching depression treatment, don't just stop your medication cold turkey. Many antidepressants cause withdrawal symptoms such as headache or nausea if you go off them too quickly. Your doctor will tell you how to taper off the medicine slowly to avoid these side effects.
Some of the other things going on in your life might be affecting how well your antidepressants work. Ask your doctor whether any of these factors could be interfering:
Increased stress
Other medications you take (go through the list with your doctor)
Pregnancy
Alcohol or drug use
Sometimes it's not the medication you're on that's the problem, but the dose. Your response to a certain depression medication may not be as robust as your doctor had expected. Bumping up to a higher dose could be enough to ease your symptoms without a medication change.
Each class of antidepressant acts on different brain chemicals and affects them in slightly different ways. Sometimes, adding a drug from a different class to the one you're on can give you better results. Another option is to add another type of medication that addresses your depression symptoms in a different way, such as a mood stabilizer or an anti-anxiety drug.
Treating depression with medication isn't a perfect science. Your symptoms alone might not be enough to guide your doctor to the right depression medication for you, and often finding the right treatment is a trial-and-error process. However, a new, simple test could help pinpoint the best option by analyzing how your body metabolizes specific medications. These genotyping tests evaluate a sample of your DNA from a cheek swab, saliva sample, or blood test. Your genes can offer important clues about how your body might react to certain antidepressants so you and your doctor will better understand the right choice for you. These tests aren't always covered by insurance, so talk to your doctor and insurance provider about next steps.
Talking to your doctor about depression doesn't always have to focus on medication. There are other ways to manage symptoms. One is cognitive behavioral therapy (CBT). Therapy can be an add-on to medication, or an alternative to it (with your doctor's approval).Other techniques, such as electroconvulsive therapy (ECT), can also be helpful for treating depression that's resistant to medication. Or, you can try lifestyle approaches to relieve depression, such as exercise, meditation, or yoga.
Depression can be difficult to manage and live with, but your doctor is on your team. Find a psychiatrist you trust and connect with, and don't hesitate to reach out to them when you need help or feel it's time to make a change.
Was this helpful?