What to Expect with Laser Hair Removal
Was this helpful?
Laser hair removal is a minor procedure that treats unwanted or excessive hair. It uses intense pulsed light (IPL) technology to penetrate the skin and damage the hair follicles. This process removes hair and inhibits its regrowth. It may take multiple IPL hair removal treatments and occasional maintenance appointments to achieve long lasting results.
This article explains what laser hair removal is, why people get it, and what to expect when getting the procedure.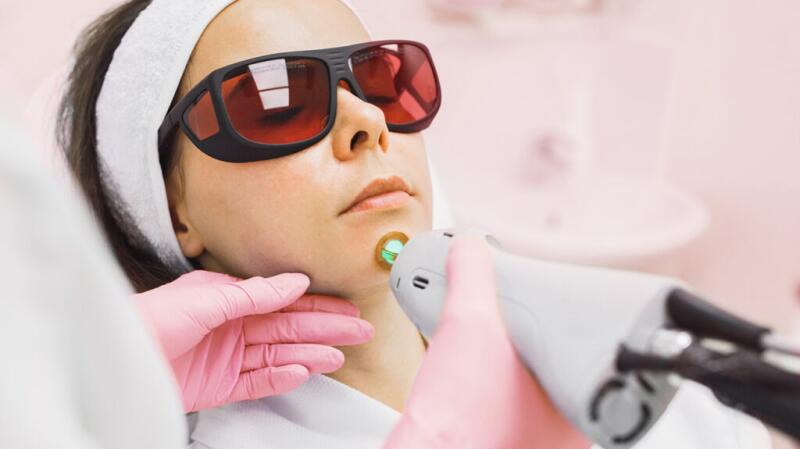 Laser hair removal is a common cosmetic procedure in which highly concentrated light is beamed into the hair follicles. The pigment in the hair follicle absorbs the light, which destroys the follicle.
Laser hair removal is only one method of treating unwanted hair. Be sure to discuss all treatment choices with your doctor to understand which options are right for you.
Your doctor may recommend laser hair removal if you want to reduce the growth of unwanted hair.
Laser hair removal also treats excessive hair due to the following medical conditions:
Hirsutism: This refers to excessive hair growth on women in places where it usually grows on men, including the face and lower abdomen.
Hypertrichosis: This is the excessive growth of body hair in a typical or atypical pattern.
Laser hair removal is effective for removing unwanted hair in various places, including the face, arm, legs, and bikini area.
It is also an alternative to other methods of hair removal, such as waxing and shaving, and it leaves the surrounding areas of the skin undamaged.
After six sessions or more, it usually results in near-permanent hair loss.
Many types of medical and non-medical practitioners offer laser hair removal. You should choose a licensed doctor who has training and experience in laser hair removal, such as a plastic surgeon or a dermatologist.
Plastic surgeons specialize in correcting physical issues that affect a person's appearance or ability to function. Dermatologists specialize in the medical and surgical care of the skin, hair, and nails.
Your doctor will either perform your laser hair removal or supervise a board-certified laser technician.
Your laser hair removal session will take place in a doctor's office or at an outpatient medical clinic. The procedure takes a few minutes to an hour, depending on the size of the treatment area.
The process can include:
Examination: Your doctor will complete a medical history check and physical exam to evaluate possible medical causes of excessive hair. If your doctor suspects a medical cause, they can refer you to another specialist for further evaluation and treatment. Medical causes of excessive hair include hormone problems, malnutrition, tumors, metabolic disorders, and medication side effects.
Preparation: A care team member may shave your unwanted hair and fit you with special goggles to protect your eyes from the laser. The practitioner may apply an anesthetic cream or gel to the treatment area to reduce discomfort.
Procedure: The practitioner will apply a handheld laser instrument to your skin. The laser beam will pass through your skin to damage the hair follicles, where hair growth originates. This will reduce hair growth in the future.
Will I feel pain with laser hair removal?
Your comfort and relaxation are important to you and your care team. You may feel some skin discomfort, such as a mild, hot pinching sensation that generally goes away quickly. Most lasers have a cooling device that reduces discomfort from the laser.
Tell your practitioner if any discomfort does not pass quickly. They may recommend applying ice or an aloe gel to the area or possibly taking pain medications.
Complications of laser hair removal are uncommon, but any medical procedure involves risks and potential complications. Complications may become serious in some cases. They can develop during the procedure or your recovery.
Risks and potential complications of laser hair removal include:
blistering and herpes outbreaks at the treatment site
infections
severe eye injuries, if the treatment site includes the eyelids or skin near the eyes
skin discoloration, which is more likely to affect dark skin but is usually temporary
skin irritation, including mild discomfort
swelling and discoloration, which can last from several hours to a few days
The cooling device on most lasers protects the top layer of skin from excessive heating and potential changes in pigmentation.
Reducing your risk of complications
You can reduce the risk of certain complications by:
avoiding other hair removal procedures, including plucking, waxing, and electrolysis

Shaving is generally fine, as recommended by your doctor.

not using lotions or creams, as these can affect your results
immediately notifying your doctor of any concerns, such as pain, skin discoloration, or swelling
staying out of the sun and tanning beds, and not using sunless tanning products for up to 6 weeks, as directed by your doctor

Having a natural or artificial tan increases your risk of skin discoloration.
The steps you take before laser hair removal can improve your comfort during the procedure and your outcome.
Preparation for laser hair removal includes:
answering all questions about your medical history and medications, including prescriptions, over-the-counter drugs, herbal treatments, and vitamins
avoiding the sun, lotions, creams, sunless tanning products, and hair removal procedures, including plucking, waxing, and electrolysis
shaving the treatment area, as instructed by your doctor
Contact your doctor or dermatologist with any concerns or questions before your procedure and between appointments.
It is also a good idea to bring a list of questions to your appointment. Questions can include:
Am I a good candidate for laser hair removal? Why or why not?
What are my other options for treating unwanted hair?
What results can I expect? How often will I need laser hair removal?
How long will the procedure take?
How should I take my medications?
When should I follow up with you?
Knowing what to expect after laser hair removal can help you get back to your everyday life as soon as possible.
What results can I expect?
Laser hair removal is effective in removing unwanted hair. However, laser hair removal is not necessarily a permanent treatment for unwanted hair. You will likely need multiple sessions and occasional maintenance treatments to achieve long lasting results.
Results of laser hair removal vary from person to person. Laser hair removal generally works best for people with light skin and dark hair.
Your doctor will likely advise you to avoid sun exposure and use sunscreen with an SPF of 30 or higher after your treatment.
Most people go home and return to everyday activities right after laser hair removal.
You should keep your follow-up appointments after laser hair removal. Also, contact your doctor or dermatologist if you have any concerns between appointments.
Call your doctor right away if you have:
blistering
skin discoloration
swelling
Here are some other commonly asked questions about laser hair removal. These questions have all been answered by Cynthia Cobb, DNP.
Is laser hair removal permanent?
Laser hair removal is not permanent. Lasers will damage the hair follicle, causing a delay in future hair growth. Most hair will regrow over time unless you regularly have the procedure. Often, however, the regrowth will be softer, lighter, and finer hair.
Individuals will have varying responses as to the permanence of the treatment. Most should plan for "maintenance" treatments to keep the hair regrowth under control. Hormones and medications may also affect hair growth.
Is getting laser hair removal worth it?
This depends on the individual who makes the decision to get laser hair treatment.
Not everyone will feel that it is worth it, but there are those who wish they had undergone the procedure sooner.
Laser hair removal requires multiple appointments and often maintenance visits. This means that the person receiving the treatment will need to decide if they can commit and ensure that they are completing the treatments in a timely manner, such as when the hair follicles are present.
Many people feel it is worth it, as they will no longer experience the issues or inconvenience associated with shaving or ingrown hairs.
How long does it take to see a change?
This also varies from person to person. Some may see changes sooner than others, as hair in the "growing stages"
is most responsive to being "damaged" by the laser, thus causing the most impact in delayed hair growth.
Others may not see any change until after three or four treatments. Many facilities will offer packages of laser hair removal treatments due to needing multiple sessions to see the best results. This can vary, but it is usually at least six to eight treatments.
What are the cons of laser hair removal?
Cons will also vary for each person. For example, it can seem expensive, and the time and commitment required for an effective treatment cycle may also be problematic. Other people may have issues with the discomfort of the procedure.
Laser hair removal is a safe and effective way to remove unwanted hair. It uses targeted light beams to damage hair follicles. It may take six sessions or more to remove the hair.
There are various laser treatments that are suitable for people with different skin and hair types.
Was this helpful?