What COVID-19 Does to Your Body
Medically Reviewed By William C. Lloyd III, MD, FACS
Was this helpful?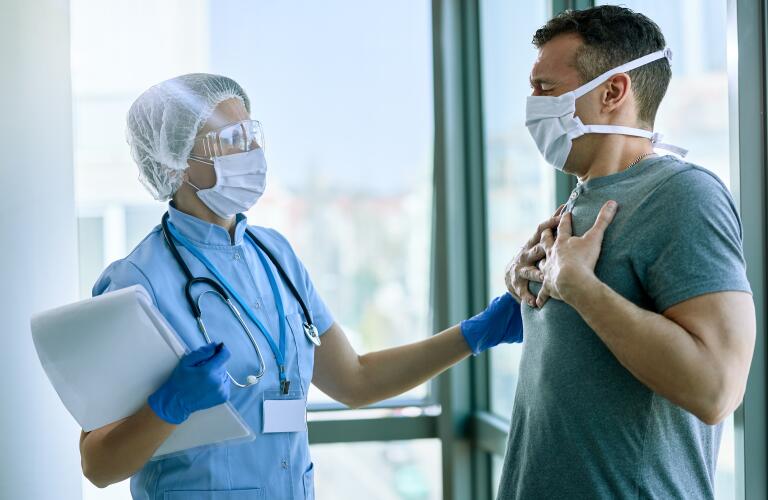 Fever, cough, and shortness of breath.
In the early days of the COVID-19 outbreak, those symptoms were considered the hallmarks of the disease, which came to the world's attention after a cluster of unusual pneumonia cases was noted in Wuhan, China. As the novel coronavirus spread, physicians noticed other symptoms, including diarrhea and loss of smell and taste. Increasingly, it became apparent that COVID-19 doesn't stop at the lungs; it affects the whole body.
Here's what we know so far about COVID-19 and the lungs, heart, kidneys, brain and gut.
In most cases, SARS-CoV-2, the novel coronavirus that causes COVID-19, enters the body via the airway. The virus uses a special protein (angiotensin-converting enzyme 2, or ACE2) to sneak into cells and reproduce. Lung cells have a lot of ACE2, which is one reason why the lungs are often hard hit by COVID-19.
Some people with COVID-19 develop pneumonia, an infection of the air sacs of the lungs; symptoms may include cough, fever, and rapid breathing. Usually, the pneumonia affects both lungs.
A few people go on to develop acute respiratory distress syndrome (ARDS), which causes blood oxygen levels to drop dangerously. People who develop ARDS may need intensive hospital care and a ventilator to help them breathe.
COVID-19 infection can scar the lungs and affect breathing even after recovery. For most people, the lungs eventually heal, but full healing may take a year or more.
Doctors and researchers have noticed a startling link between coronavirus infection and heart attacks. According to an ABC News report, emergency calls for heart attacks in certain New York City neighborhoods increased to 5 to 6 times the usual amount a few weeks before those same neighborhoods were noted as coronavirus hotspots. And the autopsy report of the first American victim of COVID-19 noted a ruptured heart.
Scientists are still trying to figure out if the virus directly attacks and damages the heart, or if the virus's overall effect on the body simply stresses the heart. To date, it appears that people who have pre-existing heart disease may be more likely to develop heart damage if they become infected with SARS-CoV-2.
Evidence also suggests that COVID-19 may cause increased blood clotting—which can cause strokes, heart attacks, and decreased blood flow to the fingers and toes.
Some people with COVID-19 also develop irregular heart rhythms.
The kidneys filter blood and help the body maintain fluid balance. A few studies have reported kidney dysfunction in people with COVID-19. In one small Chinese study, 34% of coronavirus-infected patients had protein in their urine, a sign of kidney damage, upon hospital admission. Another Chinese study of 710 patients noted that 15% of patients experienced decreased kidney function. Doctors in New York City estimate 20 to 40% of the most critically ill COVID-19 patients had severe kidney damage; some required dialysis.
It's not clear how COVID-19 affects the kidneys. One possibility is that COVID-19-caused blood clots may disrupt the flow of blood and oxygen to the organs. Medical treatment can also inadvertently cause kidney damage. Some drugs, including remdesivir, an antiviral medication recently approved for COVID-19 treatment, are hard on the kidneys; ventilators are also associated with kidney damage. Serious illness can cause the kidneys to shut down too.
Doctors have noticed brain and nervous system symptoms in some seriously ill COVID-19 patients. A study published in JAMA Neurology found that 36.4% of 214 patients hospitalized in Wuhan, China experienced neurologic symptoms, including dizziness, headache, stroke, and loss of taste and smell. Some patients had impaired consciousness; at least one had a seizure.
Scientists know that SARS-CoV, the coronavirus that caused the 2003 SARS epidemic, can infect brain cells and cause brain infections. A team of Japanese researchers said they discovered traces of SARS-Cov-2, the virus that causes COVID-19, in the spinal fluid of at least one patient, but more evidence is needed to fully understand the virus's possible effect on the brain and nervous system.
Approximately 20 to 50% of novel coronavirus-infected patients develop diarrhea. Other possible gastrointestinal (GI) symptoms include nausea, vomiting, and abdominal pain. In some cases, patients have GI symptoms but no cough or other respiratory symptoms.
Researchers in China have detected the SARS-CoV-2 virus inside the digestive tract of infected patients and in stool samples. Additional research is needed to learn more about COVID-19 and the gut.
A finding from a small study that may explain these diverse effects on the body was published in The Lancet Haematology. Previous studies had found evidence of endothelial cell infection or damage in COVID-19 patients, as well as dangerous and fatal blood clot formation. Endothelial cells line the inside of all blood vessels of the vascular system—arteries, veins and capillaries. The new study finds higher levels of markers of both endothelial cell injury (endotheliopathy) and blood clotting ability in 48 critically ill and 20 non-critically ill hospitalized patients compared to 13 healthy individuals.
More studies are necessary to validate this small study, but the healthcare community is increasingly seeing COVID-19 as a vascular disease. Targeting the vascular system and endothelial cells in particular with existing and new drugs may improve survival for patients with signs of endotheliopathy.
Was this helpful?