How Air Purifiers Can Help People With COPD
Was this helpful?
Improving the air quality in your home can help ease COPD symptoms and prevent flare-ups.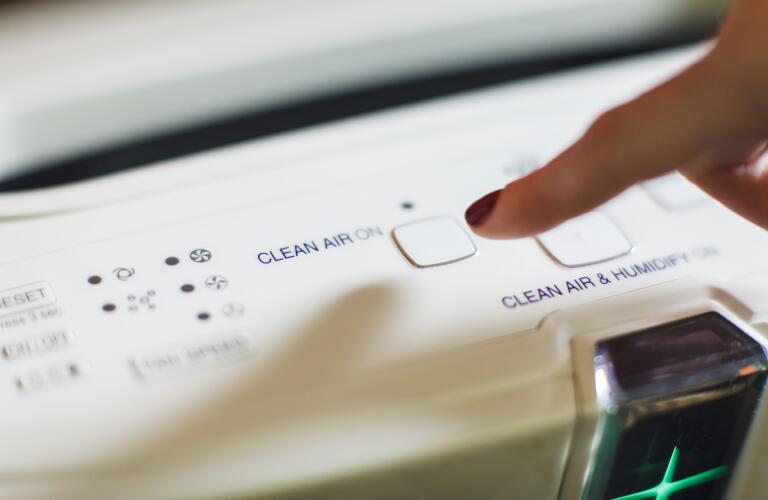 At least 12 million people in the United States are living with chronic obstructive pulmonary disease (COPD), a group of conditions that includes bronchitis and emphysema. COPD blocks airflow and causes breathing problems such as coughing, wheezing, and shortness of breath. COPD can't be cured, but it can be effectively treated. Along with medication and other therapies, improving the air quality in your home can help ease symptoms and prevent exacerbations—COPD flare-ups when symptoms suddenly get worse.
Pollution inside and outside of your home can make your COPD worse and harder to manage. While it's unlikely you can control the air quality outside, it's important to keep the air inside your home as clean as possible. Surprisingly, indoor air can be even more polluted than the air outside.
There are three main kinds of air pollution in our homes:
Allergens: dust mites, pet dander, mold, and pollen
Irritants: air fresheners and smoke from cigarettes, fireplaces, and candles
Chemicals: pesticides, cleaners, and paint
To improve indoor air quality, the Asthma and Allergy Foundation of America (AAFA) recommends using an indoor air cleaner. The AAFA certifies air purifiers as "allergy and asthma friendly" if they remove pollution effectively. Air purifiers that meet AAFA standards carry its certification label so you can spot them easily as you're comparing alternatives.
First, think about your budget and the space you have available. Air purifiers come in a variety of forms, from portable units that target the air in a single room, to furnace and HVAC filters that cover the air throughout your home. No air purifier can remove indoor air pollution completely, but some work better than others.
If you opt for a portable air purifier, look for one that filters both gasses (like smoke) and particles (like dust mites). Some products only filter one type of pollutant. Products that filter particles have a clean air delivery rating (CADR). The higher the number, the larger the space the product covers and the more particles it traps. Products with high-efficiency particulate air (HEPA) filters tend to have higher CADR ratings.
Home air filtration systems
If you decide to go with a whole-home air filtration system, be aware that most of them only filter particles. Home systems have a Minimum Efficiency Reporting Value (MERV). The higher the number, the more particles the system removes. A MERV of 13, for example, means the removal of at least 50% of the smallest particles.
Whichever air purifier you choose, be sure to change its filters regularly according to the product instructions. Otherwise, the air purifier won't work properly and can cause damage to your HVAC system.
If you think you might have COPD but haven't been diagnosed, it's important to talk with your doctor. Millions of people have COPD but don't know it, so they aren't getting the full complement of treatment they need to breathe easier and live better.
Was this helpful?