COPD Symptoms Can Be Worse in Winter
Was this helpful?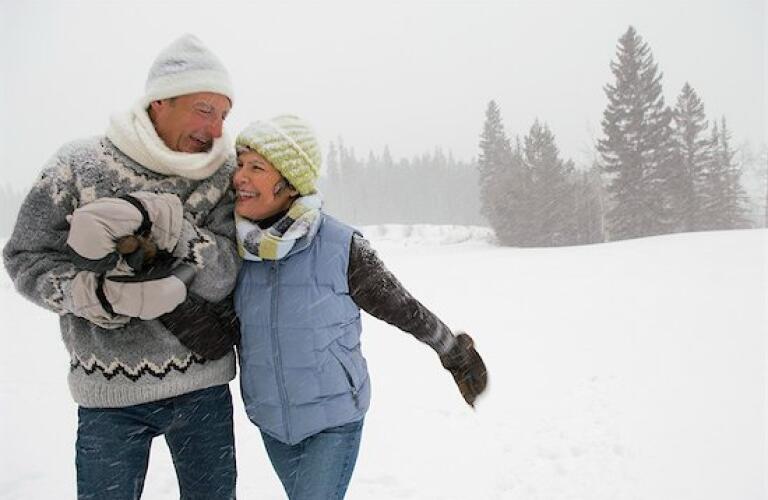 Temperatures drop. Snow falls. Sidewalks freeze. But if you have chronic obstructive pulmonary disease (COPD), there's likely another fact of winter: Your disease flares.
Exacerbations, or periods when your coughing and other symptoms are worse, tend to be more common and severe in cold weather. Between the months of November and February, you're more likely to:
Visit the doctor or hospital
Feel anxious or depressed because of your disease
Have trouble doing your daily activities
More colds, flus, and other respiratory viruses make the rounds in cold weather. When you have COPD, you're more prone to these illnesses, which can cause your symptoms to quickly worsen.
Some research suggests the holiday season further complicates your health. Festive gatherings may double as breeding grounds for germs. You or the members of your health care team may travel, disrupting your normal care routines.
5 Things You Didn't Know About COPD
You can take steps to safeguard your health even before frost forms on your windows. Ask your doctor if you should get vaccinated against both influenza (flu) and pneumonia. The vaccines dramatically decrease your risk of developing these illnesses.
Further protect yourself from respiratory infections by staying away from sick people when you can. Wash your hands frequently with soap and water, or use alcohol-based sanitizers when you're away from the sink. Avoid touching your eyes, nose, and mouth; germs are commonly spread this way.
Check the weather before you go outdoors, paying close attention to the wind chill. Try to stay indoors when it drops to low levels. Also, continue to check air quality reports; pollution doesn't disappear in cold weather.
If you must go out, dress warmly. Wear a knit scarf or mask around your face and mouth, a hat, mittens, and several layers of loose-fitting clothing. Choose a weatherproof outer layer, such as a wind-resistant jacket.
Avoid exposing yourself to other factors that may aggravate your COPD. These include secondhand cigarette smoke, smoke from wood-burning stoves, chemical fumes, and dust. Check your furnace or other heating unit each year to be sure it's not leaking irritating particles.
Throughout the winter, continue to see your doctor regularly and follow his or her advice on taking care of your health. If you're not already participating, ask your doctor about pulmonary rehabilitation programs. They can help keep you active and healthy, even when the weather's bad.
Finally, talk with your health care team if you're feeling depressed or anxious. There are many ways to cope with these feelings to improve your health and your life. For instance, counseling or support groups let you talk through your emotions in a friendly environment. Light therapy or more sunlight exposure can lift your mood in darker months.
COPD symptoms such as coughing tend to be more common and severe in cold weather.Ward off low wind chills by dressing appropriately for winter.
People with COPD are more prone to colds, flus, and other respiratory viruses, which can cause symptoms to worsen.
Ask your doctor about vaccinations for flu and pneumonia, and wash your hands often.
Ward off low wind chills by dressing appropriately for winter.
Was this helpful?