COPD Linked to Greater Risk for Falls
Was this helpful?
Chronic obstructive pulmonary disease, or COPD, is a progressive lung disease that can make it hard for you to breathe. But COPD can affect more than just your lungs. COPD is also associated with an increased risk of falls.
The link between the two may not seem obvious, so let's examine why this is the case.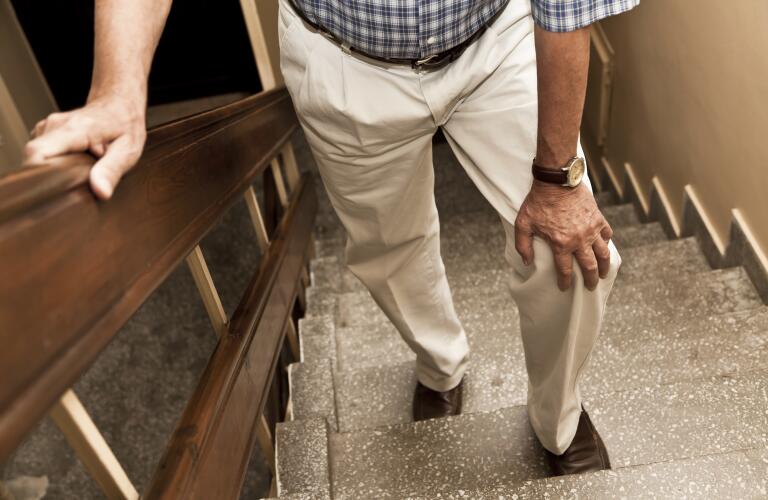 As COPD progresses, less air is able to pass in and out of your lungs, making it difficult for the tissues in your body to get the oxygen they need. You may feel short of breath, easily fatigued, and struggle to perform physical activities. Low levels of oxygen in your blood may even affect your heart, brain, and other organs.
This can lead to several factors that may contribute to an increased risk for falls in the COPD population. Many of these factors tend to overlap. They include:
Dizziness: Being short of breath and not getting enough oxygen can leave you dizzy and unsteady on your feet.

Muscle weakness: Exacerbations of COPD can make it hard to stay active, and in some cases, may even result in bed rest or hospitalizations. Over time, this can lead to loss of muscle strength.

Malnutrition: When you don't feel well, you may not have a great appetite. Some people with COPD don't eat enough food or have a diet that's lacking in important vitamins and minerals. This can further contribute to dizziness and muscle weakness.

Balance difficulties: COPD can affect your stability and range of motion when walking or changing positions. The exact cause of this is not known, but it may be related to nerve damage.

Medications: Many people with COPD take multiple medications. The more medications a person takes, the greater the risk of falls, due to different side effects and medication interactions. Also, corticosteroids, which are commonly used to treat COPD, can lead to muscle weakness and vision impairments.

Fear of falling down: People with COPD have more anxiety about falling as compared to healthy individuals. Unfortunately, being afraid of falling affects your balance and leads to less physical activity and loss of muscle strength.

The risk of falling down appears to be highest in individuals with COPD who have previously fallen in the last year, who have additional medical conditions, and who smoked for a long time.
Several things can help people with COPD avoid falls. Take note of these ways to reduce your risk.
Pulmonary rehabilitation is recommended for nearly everyone with COPD and can help decrease the incidence of falls. Through exercise and education, pulmonary rehab is designed to help you breathe better, improve your strength and endurance, and allow you to live a more active life. Most programs last 6 to 12 weeks, with sessions from 2 to 3 times per week. Some rehab programs also incorporate balance training, which may further lower the risk of falls.
Make any modifications needed in your home to keep you safe from falling. Remove any potential tripping hazards, such as throw rugs or clutter on the floor. Move furniture as required, so you have an adequate walking path. Consider installing grab bars in the bathroom. Ensure you have proper lighting, both inside and outside your home so that you can see clearly.
Stick to your treatment plan
Lastly, follow your doctor's advice for managing your COPD so you remain as healthy as possible. Be sure to ask if you have any questions regarding your medications or how to properly use any medical equipment, such as supplemental oxygen.

Was this helpful?