Why It's Important to Lower LDL Cholesterol for Heart Health
Was this helpful?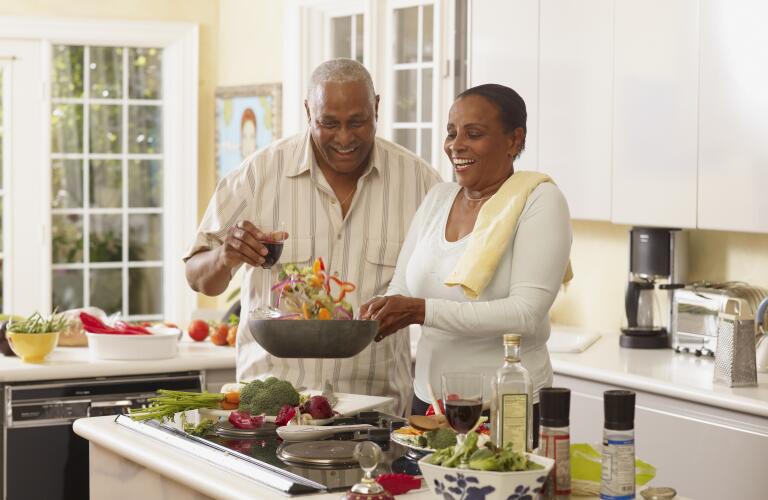 Cholesterol and heart health have a complex relationship—it's true cholesterol is essential for several important bodily functions, such as building cells and making certain hormones. But too much "bad" cholesterol, which is also known as low-density lipoprotein (LDL) cholesterol, can increase your risk of major problems like heart disease and stroke. Even if you have high cholesterol, it's still possible to lower your LDL cholesterol levels so you can live more healthfully. Regular check-ins with your doctor can help you stay up-to-date on your cholesterol numbers and find different ways to bring those numbers into a healthy range.
Cholesterol is a fat-like, waxy substance that's made by your liver. In fact, your liver makes all the cholesterol your body needs, but you also get cholesterol from animal products in your diet. In the right amounts, cholesterol helps your body build certain parts of cells, digest any fatty foods you eat, produce certain hormones, and even make some vitamins like vitamin D.
Doctors generally recognize two types of cholesterol. High-density lipoprotein (HDL) cholesterol is also called "good" cholesterol. HDL helps return excess cholesterol to your liver, where it's eventually flushed out of your body. However, high levels of LDL cholesterol can lead to serious problems, like heart disease. When looking at your cholesterol numbers, your doctor will also likely assess your triglyceride levels. Triglycerides are a type of fat that are linked to heart disease and high cholesterol. High cholesterol results from several factors, such as lack of exercise, smoking, and unhealthy eating habits. It can also be hereditary, meaning it runs in your family.
To keep your heart healthy, each type of cholesterol should not exceed certain levels inside your body. LDL cholesterol should be less than 130mg/dl for healthy people, and less than 100mg/dl for people with diabetes, heart disease, or high total cholesterol. If your LDL cholesterol increases over this level, your heart health can be directly affected. Cholesterol in your arteries can build up, along with fats and other substances, to create plaques. These plaques stick to the artery walls and eventually prevent blood from flowing to and from the heart. Your blood carries oxygen to your heart, but when blood flow is restricted, your heart muscle can weaken, causing chest pain (angina). When plaques build up to the point where blood flow is completely blocked, your heart doesn't receive any oxygen, which causes a heart attack. If part of a plaque breaks off and blocks flood flow elsewhere in your body, it can lead to a stroke. This is why it's crucial to lower high cholesterol levels and keep your heart and blood vessels healthy.
If your doctor determines you have high cholesterol, you can take action to help drop your numbers considerably. Healthy lifestyle changes are key to lowering cholesterol levels—first, try only eating foods low in saturated and trans fats and avoid animal products. These types of foods include plenty of fruits, vegetables, whole grains, legumes, and nuts.
It's also possible to lessen high cholesterol dangers by working to maintain a healthy weight. Eating a healthier diet will certainly help, and so will becoming more physically active in your daily life. And if you smoke, make a plan to quit for good.
Some people need a little extra help to manage LDL cholesterol levels, and that's where medications come in. If needed, your doctor can recommend drugs, like statins, fibrates, or Niacin, that are likely to help lower LDL cholesterol levels with few or no side effects. Lipid-lowering medications are most important if your inflammatory biomarkers like CRP (C-reactive protein) are elevated. Newer medications like PCSK9 inhibitors can be effective in people with hereditary high cholesterol that's difficult to manage. Be sure to take any medications your doctor recommends as prescribed, and have your blood cholesterol levels checked regularly to help determine if the treatment plan is working.
High cholesterol and heart disease are connected, but it's possible to lower cholesterol to healthy levels so you can avoid potential complications. If you're concerned about your cholesterol numbers, ask your doctor about making healthy lifestyle changes or starting a prescription medication to bring cholesterol levels back under control.
Was this helpful?